Ah, the salty breeze, the sound of crashing waves, and the golden sun casting its warm embrace on your skin—nothing compares to the magic of a beach party! And what better way to make a splash than with a stunning, head-turning outfit that captures the essence of the ocean and the carefree spirit of the shore? From playful prints to flowing fabrics that dance with the wind, we've curated an exceptional collection of beach party outfits to help you stand out as the epitome of beachside chic.
So, whether you're sipping on fruity cocktails by the shore or dancing the night away in the moonlight, these fashion-forward ensembles will have you feeling like the ultimate beach goddess. Let's pack our beach bags and get ready to make unforgettable memories in style!
---
Beach Party Outfits
---
1. Boho Maxi Dress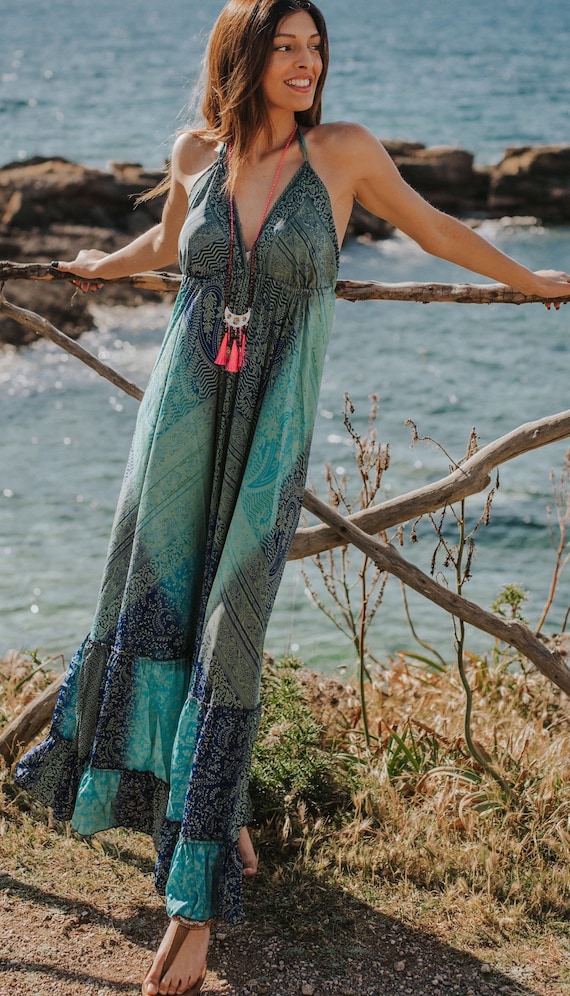 Image: Source
The boho maxi dress is a perfect choice for a beach party. Its flowy and lightweight design offers comfort and style, while vibrant patterns and colors exude a carefree, bohemian vibe. The breathable fabric keeps you cool in the summer heat, making it ideal for dancing and socializing by the sea.
2. A Breezy Top and Chino Shorts
Image: Source
This is a perfect ensemble if you're looking for beach party outfit ideas for summer. A breezy top paired with chino shorts creates an ideal beach outfit for summer. The lightweight and breathable fabrics keep you comfortable in the heat, while the casual yet stylish look exudes effortless charm. You can choose vibrant colors or tropical prints for a fun and trendy beach vibe.
3. Co-Ord Set With A Hat
Image: Source
Ring in the New Year at the beach with a chic and bohemian-inspired outfit. We think that this is one of the best night beach party outfits. Start with a trendy crop top paired with a floral-printed boho jacket and matching pants on a light-colored base. Complete the look with a stylish hat for a touch of sun protection and added flair. This ensemble strikes the perfect balance between festive and relaxed, making it the ideal choice for a beach party celebration under the stars.
4. A Bralette And A Side-Slit Long Skirt
Image: Source
Dress to impress at the beach party with a bralette and side-slit long skirt ensemble. The bralette offers comfort and style, while the skirt adds an alluring touch with its side-slit design, perfect for showing off your beachy vibes. This outfit allows you to feel breezy and confident while dancing the night away by the ocean.
5. A Long High-Waisted Flowing Skirt
Image: Source
What to wear to a beach party in a club? Consider this gorgeous combination. A yellow long high waisted flowing skirt worn with a lace bralette. For a beach party at a club, opt for a stylish yet comfortable outfit. A long high-waisted flowing skirt paired with a lace bralette offers a chic and flirty look. The ensemble is perfect for those seeking a trendy and alluring attire to dance and enjoy the night at the beach club.
Also Read
25 Chic Pleated Skirt Outfits: How to Style a Pleated Skirt
6. A Cut-Out Skater Dress
Image: Source
Get ready to dazzle at the beach party in a blue printed cut-out skater dress. The playful design and vibrant print add a touch of fun and elegance to your look. Its comfortable fit and flared silhouette make it ideal for dancing and soaking up the sun by the shore.
7. A Bright-Colored Romper
Image: Source
A bright-colored romper makes for an excellent beach dress choice due to its playful and vibrant appeal. The one-piece design offers ease of wear, while the lightweight and breathable fabric keep you comfortable during beach activities. Its versatility allows you to transition from beachwear to casual outings effortlessly.
8. A Floral Off-Shoulder Gown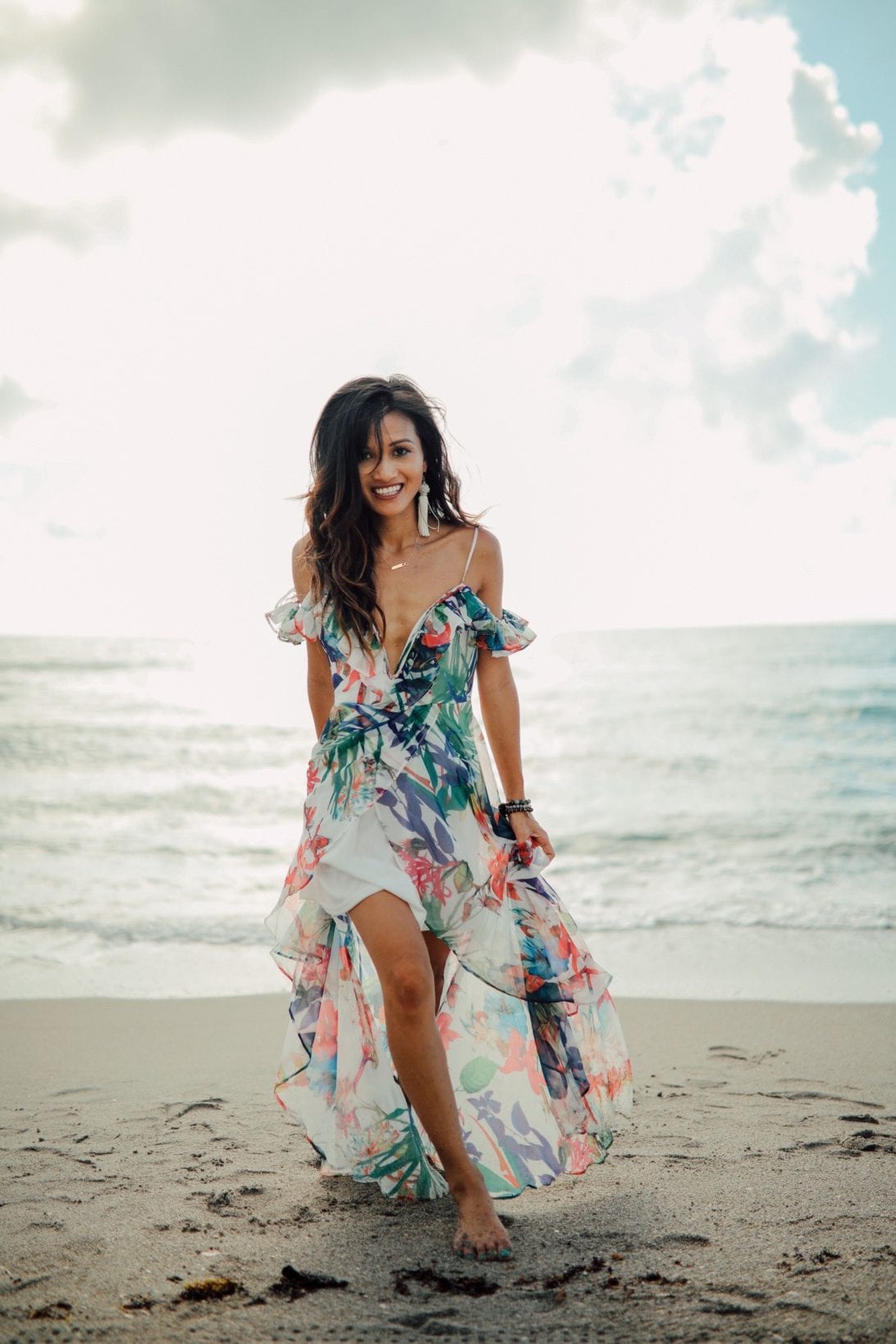 Image: Source
One of the stunning beach party wear ideas to stand out from the crowd. A floral off-shoulder gown exudes grace and elegance. The off-shoulder neckline adds a touch of romance, while the floral pattern brings a vibrant and feminine charm. This gown is a timeless choice for making a statement at any sophisticated gathering.
9. A Sweater And A Long Summer Jacket
Image: Source
Whether you're gathering around a bonfire or enjoying a movie under the moonlit sky, it's essential to layer up and stay cozy against the cool ocean breeze. That's why, we have included this amazing combo in our list of beach party outfits. It's trendy, ensures comfort, and will keep you toasty all night, letting you enjoy the party in a carefree mood.
10. Shorts And A Hakoba Top
Image: Source
Beach party outfits for plus size can be both stylish and comfortable with shorts and a hakoba top. The shorts offer ease of movement, while the hakoba top adds a breezy and chic flair. Embrace your curves and enjoy the festivities with confidence at the beach.
Also Read
30 Styling Tips for Short Curvy Women
Sexy and Classy Plus Size Valentine's Day Outfits
What to Wear in Winter If I'm Fat: 14 Chubby Girl Winter Outfits ( Plus Tips)
11. A Wide Leg Pant And A Crop Top
Image: Source
The wide leg pant and crop top combination is a versatile and flattering plus size beach outfit that complements all body types and ages. Its chic and relaxed style ensures comfort while radiating confidence, making it a go-to choice for beach parties and summer gatherings.
12. A Short Slip Dress
Image: Source
For beach party outfits, a short slip dress is a fantastic option. Its lightweight and flowy design keep you cool and comfortable under the sun. Choose vibrant colors or fun patterns for a playful and stylish beach look that's perfect for dancing and enjoying the seaside festivities.
13. A Tunic With Denim Shorts
Image: Source
A tunic paired with denim shorts makes for a versatile and chic beachwear ensemble. The tunic offers a loose and breezy fit, while the denim shorts add a touch of casual style. This combination provides comfort and fashion, allowing you to enjoy your beach night to the fullest.
14. Swimwear Layered Up With A Kimono
Image: Source
Layer your swimwear with a kimono for a stylish beach look that offers both coverage and flair. The kimono adds a bohemian touch, while allowing you to transition seamlessly from the beach to beachside cafes or strolls along the shore, making it a practical and fashionable choice.
15. A Crochet Cover Up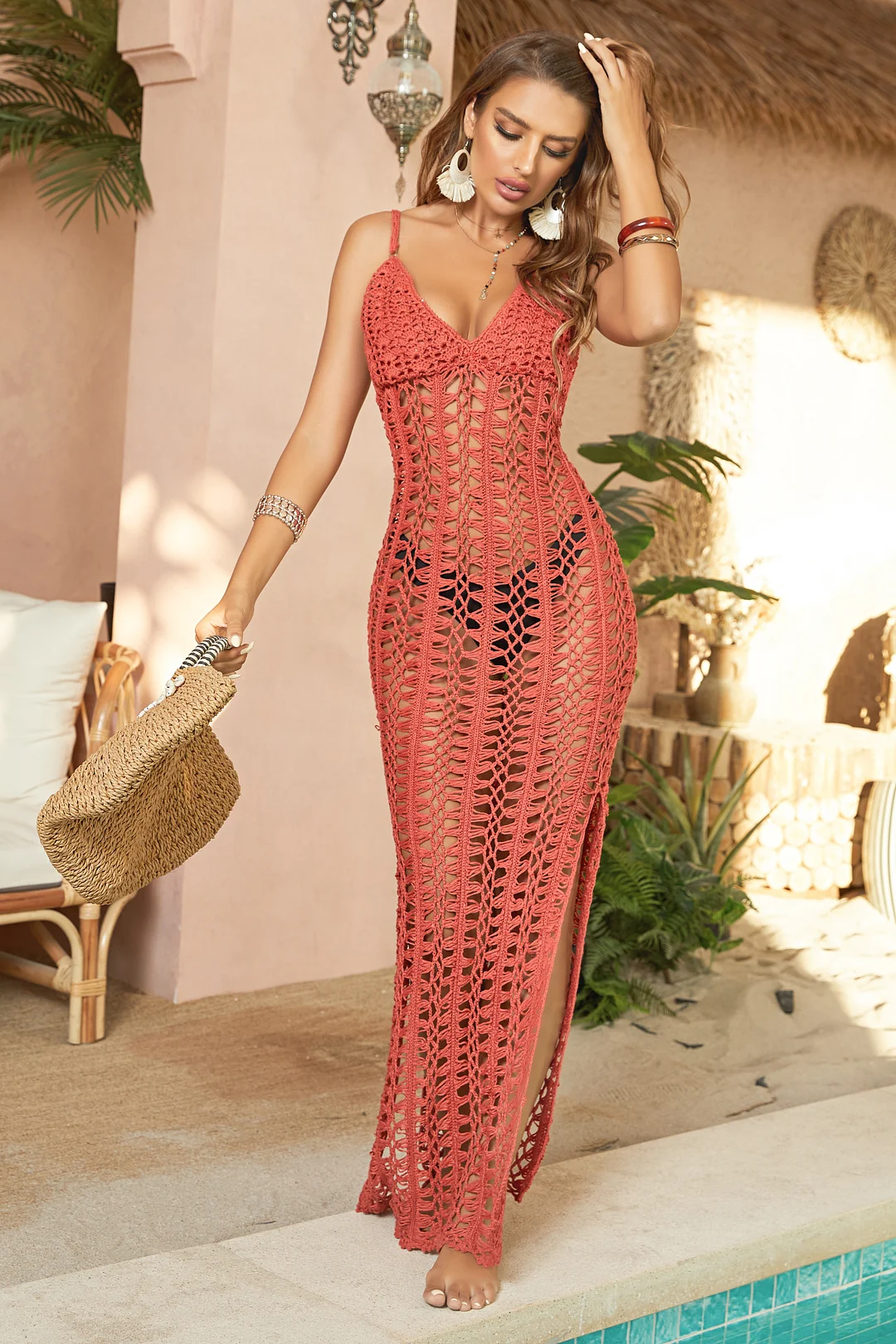 Image: Source
A crochet cover-up is an excellent beach party outfit idea. Its intricate and airy design provides just the right amount of coverage while still showing off your swimwear. The bohemian flair adds a touch of elegance, making it perfect for beachside gatherings or poolside lounging.
16. Neon Hollow Dress for Night Time Beach Party Outfits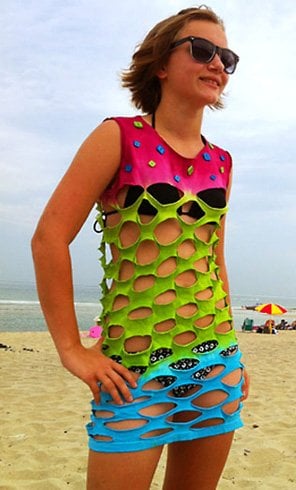 Image: Source
 For a lively beach party, rock a short neon dress adorned with hollows. The neon hues will illuminate the night, creating a vibrant and energetic atmosphere. The hollows add a playful twist to your outfit, ensuring you stand out and shine on the dance floor.
17. T Shirt Dress 
Image: Source 
One of the cute summer beach party outfits. For a laid-back and effortlessly chic beach party look, opt for a T-shirt dress. Its relaxed fit and lightweight fabric offer comfort, while the simplicity of the design allows you to accessorize and style it to suit your personal taste. Enjoy the sun and waves in style with this versatile beach outfit.
18. A Front Tie-Up Top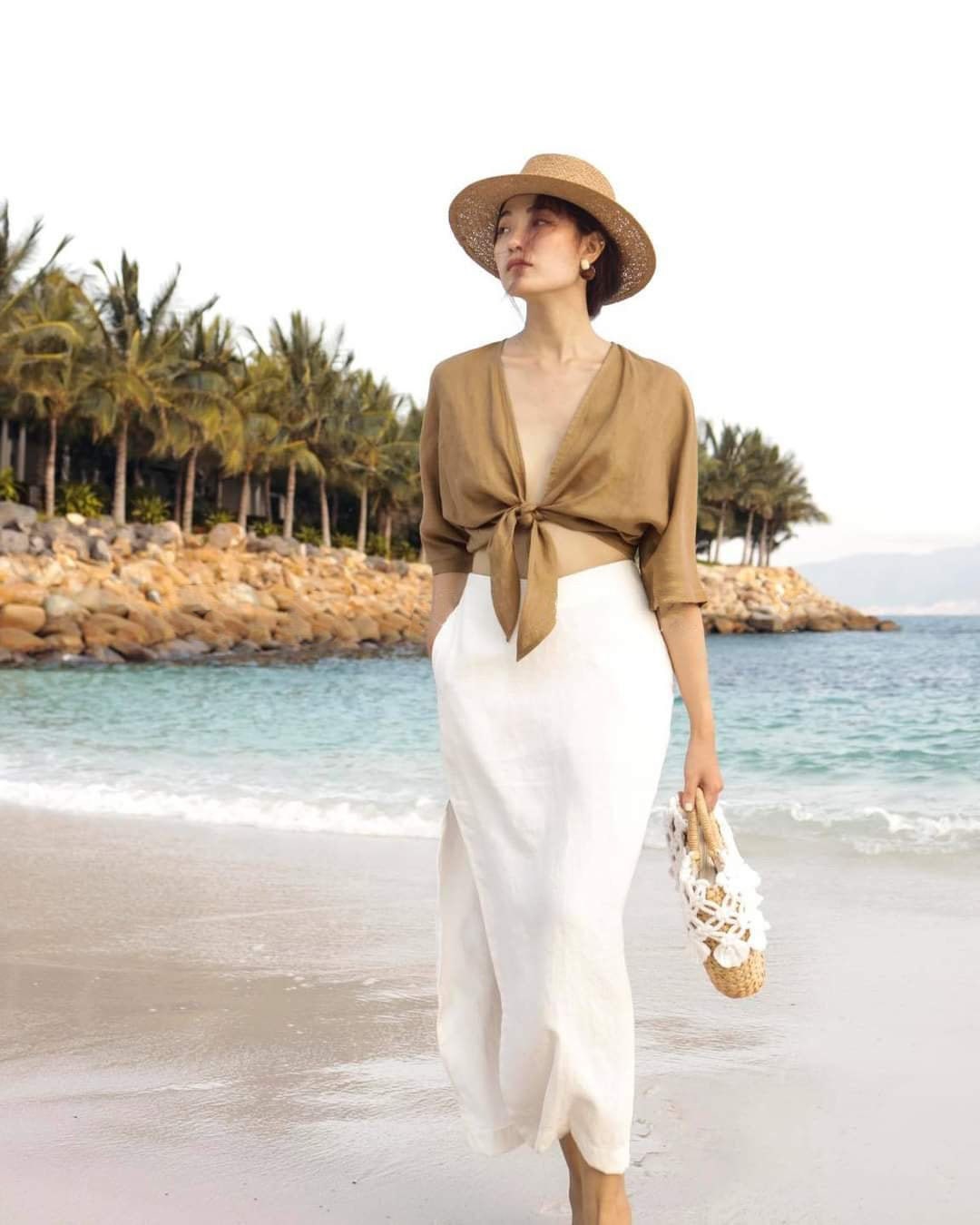 Image: Source
For beach party outfits for women, a front tie-up top is a trendy and playful choice. The adjustable tie adds a flirty touch, allowing you to customize the fit. Pair it with shorts, skirts, or flowy pants for a stylish and comfortable beach look that's sure to turn heads.
19. A Long Shirt
Image: Source
In search of more beach party outfits? Consider a long shirt as a versatile and stylish option. Wear it as a cover-up over swimwear or as a dress. The lightweight and flowy design offer both comfort and a touch of bohemian charm for your beach celebrations.
20. Colorful Katan Long Dress
Image: Source
The colorful Katan long dress is an ideal choice for a beach party due to its vibrant hues that exude tropical vibes. Its flowing silhouette keeps you cool and comfortable, while the eye-catching design ensures you stand out stylishly amidst the seaside festivities.
21. Ruffle Dress
Image: Source
For beach party fancy dress ideas, the ruffle shoulder tiered dress in orange is a show-stopping choice. The vibrant color adds a touch of summer flair, while the ruffle details create an elegant and playful look. You'll be the center of attention at the beach festivities in this stunning outfit.
22. Wrap Dress
Image: Source
A long satin wrap dress is an elegant and glamorous choice for a beach party. The luxurious fabric drapes gracefully, making it perfect for a sophisticated beach soiree. Its versatile style allows you to adjust the fit and embrace a touch of beachy chic while celebrating under the moonlight.
23. Dungaree Shorts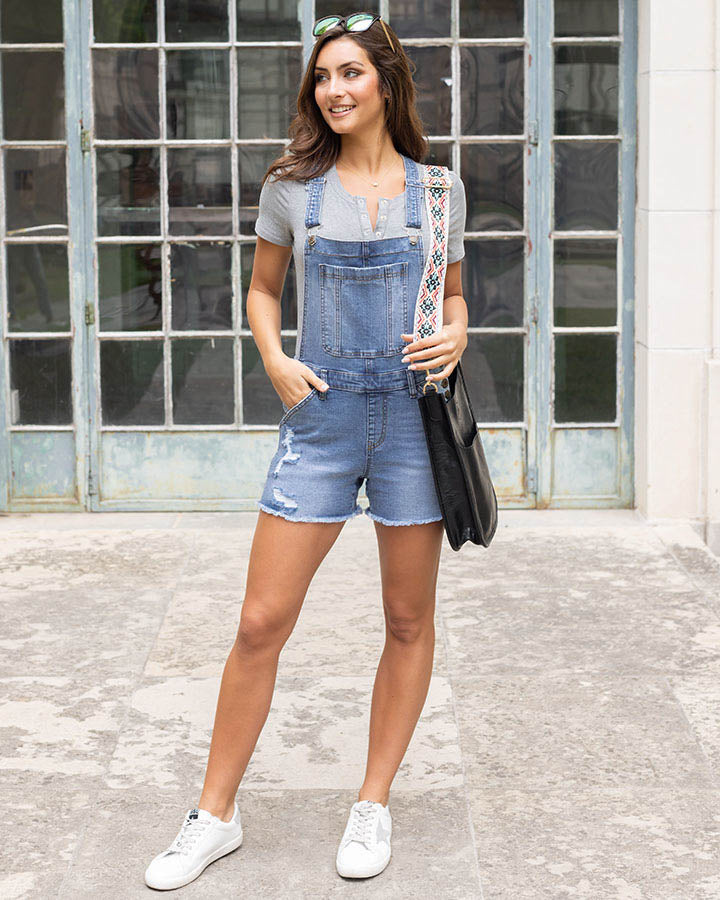 Image: Source
When seeking beach party outfits, don't overlook dungaree shorts. They offer a trendy and playful look, perfect for carefree beach festivities. Pair them with a cute crop top or a breezy tank for a fun and comfortable beach party ensemble that's ready for sand, sun, and dancing.
24. A Plaid Lace Up Dress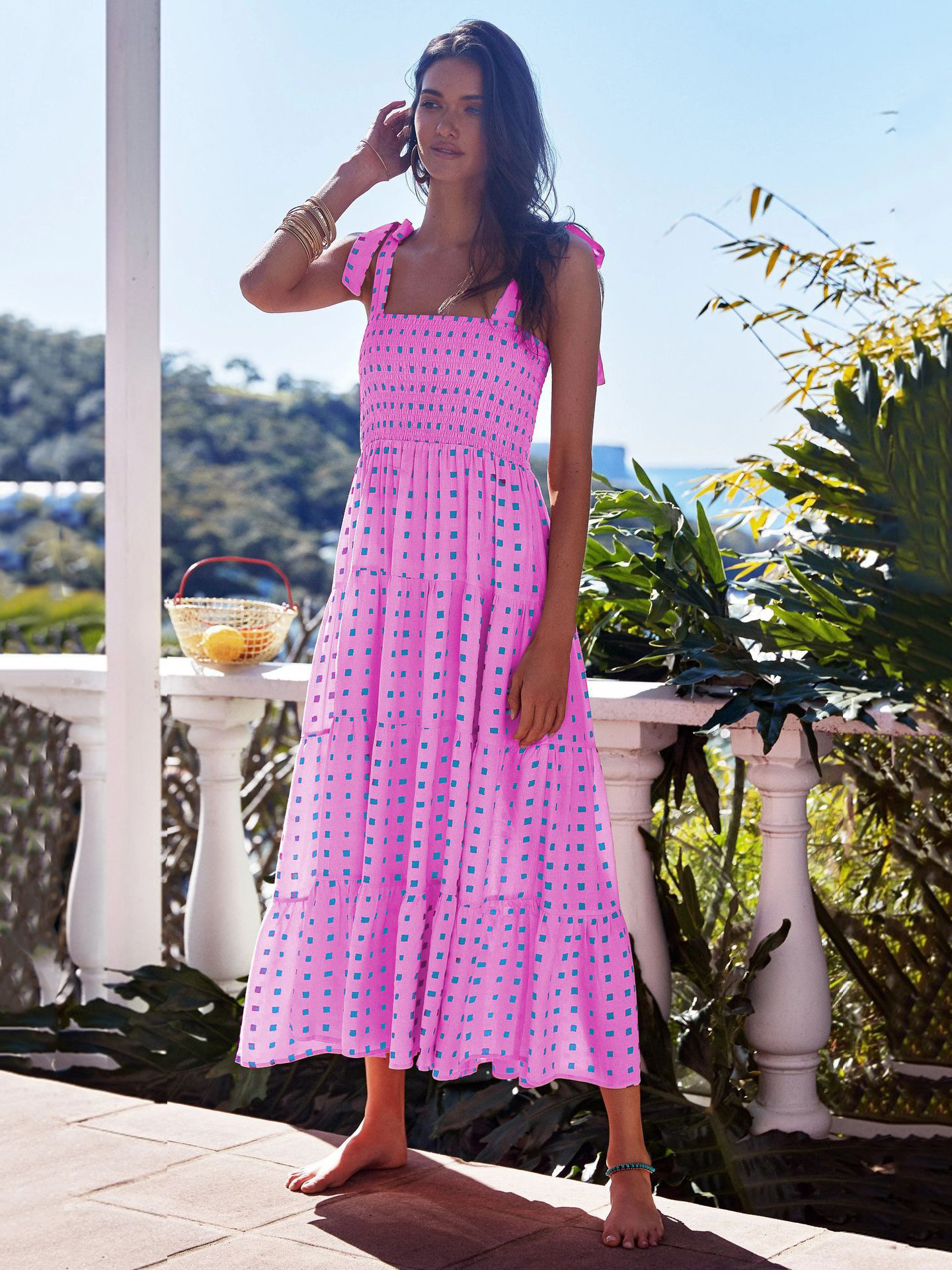 Image: Source

The plaid square neck dress with lace-up sleeves is a chic and fashionable choice. The square neckline adds a touch of sophistication, while the lace-up sleeves offer a trendy detail. This dress combines classic patterns with modern style, making it a standout option for spending a fun-filled night at the beach.
25. Asymmetrical Chiffon Dress
Image: Source
An asymmetrical chiffon dress is a fabulous choice for a beach party. Its flowing and breezy design keeps you cool and comfortable, while the asymmetrical hem adds a touch of uniqueness and movement. The lightweight chiffon fabric creates an ethereal and elegant look, making you feel like a beach goddess at the party.
26. Two Piece Set
Image: Source
For a stylish and comfortable beach party ensemble, opt for a halter neck crop top paired with wide-leg pants. This is one of the casual beach party outfits that also look gorgeous. The halter neck offers a flattering fit and keeps you cool, while the wide-leg pants allow ease of movement and a trendy, relaxed look. Perfect for fun in the sun!
27. Tube Hawai Dress With Belt
Image: Source
Looking for more beach party outfits? Embrace the tropical vibes with a tube Hawaiian dress adorned with a belt. This chic ensemble combines breezy comfort with a touch of elegance, allowing you to dance the night away while looking effortlessly stylish.
---
Tips for Beach Party Outfits
---
Embrace light and breathable fabrics: Choose outfits made from materials like cotton, linen, or chiffon to stay cool and comfortable in the warm beach weather.
Opt for vibrant colors and prints: Beach parties are all about fun and excitement, so don't be afraid to go for bold and lively colors or playful patterns that match the beach atmosphere.
Consider flowy silhouettes: Flowy dresses, maxi skirts, or loose-fitting pants not only look effortlessly chic but also allow for easy movement and ventilation.
Don't forget your swimwear: If the party involves water activities, make sure to wear a stylish swimsuit underneath your outfit for a quick and easy transition from beach to party.
Accessorize thoughtfully: Choose accessories that complement your outfit without being too overwhelming. Hats, sunglasses, and a few simple pieces of jewelry can add a touch of elegance without sacrificing comfort.
Comfortable footwear: Sandals, flip-flops, or espadrilles are ideal choices for beach parties, as they are easy to slip on and off and won't get ruined by sand or water.
Layer up for the evening: If the beach party continues into the night, consider bringing a light cover-up, like a kimono or a beachy cardigan, to keep warm and stylish.
Pack a beach bag: Complete your beach party look with a trendy beach bag to carry your essentials like sunscreen, a towel, and a bottle of water.
Be mindful of the dress code: If the beach party has a specific theme or dress code, make sure to respect it while still adding your personal touch.
Confidence is key: Whatever outfit you choose, wear it with confidence and a big smile. The best accessory you can have at a beach party is your radiant energy!
---
The Bottom Line
---
When it comes to beach party outfits, the key is to prioritize comfort, adaptability, and style. Opt for breathable fabrics, vibrant colors, and flowy silhouettes to match the beach ambiance. Thoughtful accessorizing and appropriate footwear complete the look. Embrace your unique flair and exude confidence, making your beach party experience truly enjoyable and unforgettable.
---
FAQs
---

Which color suits for the beach?
Bright and vibrant colors tend to suit the beach environment best. Colors like turquoise, coral, yellow, mint green, and pastel shades complement the beach's natural surroundings and create a fun and lively atmosphere.
What is the beach casual dress code?
Beach casual dress code typically involves relaxed and comfortable clothing suitable for a day at the beach. It can include items like shorts, sundresses, tank tops, t-shirts, flip-flops, and sandals. Flowy and lightweight fabrics are popular choices to beat the heat.
Can I wear leggings to the beach party?
While you can technically wear leggings to the beach party, they might not be the most comfortable or practical choice. Leggings can be quite hot in the beach weather and may not offer the breathability and ease of movement that other beach-appropriate attire does. Consider opting for loose-fitting pants or a flowing skirt for a more suitable beach party look.
Is it okay to wear makeup to the beach party?
Yes, it's absolutely okay to wear makeup to the beach party if you wish to do so. However, keep in mind the beach atmosphere and the potential heat. Opt for a natural and lightweight makeup look with waterproof products to ensure it stays put throughout the day. Minimal makeup can enhance your features without feeling heavy or uncomfortable.
Do you wear shoes at the beach?
While it's not necessary to wear shoes directly on the sandy beach, it's a good idea to bring along a pair of flip-flops or sandals for walking to and from the beach area, as well as for protection from hot sand or sharp objects. Once you're settled on the beach, many people prefer to go barefoot to enjoy the sand and water comfortably.