Achieving a salon-worthy look from the comfort of your own home is a delightful endeavor, and when it comes to styling long layered hair, the possibilities are as boundless as your imagination. Therefore, if you want to know how to style long layered hair at home, you've arrive at the right place. Long layered hair is a versatile canvas that opens doors to an array of captivating styles, allowing you to effortlessly switch from casual chic to elegant sophistication. With the right techniques and a touch of creativity, you can master the art of how to style long layered hair at home, unveiling a world of textured beauty and personalized flair.
In this guide, we will delve into the realm of DIY hairstyling, offering step-by-step instructions and expert tips to help you transform your long layered tresses into stunning works of art.
---
How To Style Long Layered Hair At Home
---
Styling your long layered hair at home can be an enjoyable and rewarding experience, allowing you to experiment with various looks without the need for a professional hairstylist. Here's a step-by-step guide to help you master the art of styling your long layered locks:
Step 1: Prep and Wash: Start by washing your hair with a suitable shampoo and conditioner to ensure a clean and manageable base. Gently towel-dry your hair to remove excess moisture.
Step 2: Apply Heat Protectant: Before using any heat styling tools, apply a heat protectant spray to shield your hair from damage caused by high temperatures.
Step 3: Choose Your Style: Decide on the style you want to achieve. Whether it's loose waves, sleek straight hair, or a romantic updo, knowing the end result will help guide your styling process.
Step 4: Create Loose Waves: To achieve soft, effortless waves, divide your hair into manageable sections. Wrap each section around a curling wand or curling iron, holding for a few seconds before releasing. Remember to alternate the direction of the curls for a more natural look. Once all sections are curled, run your fingers through the waves to loosen them up.
Step 5: Straight and Sleek: For a sleek, straight look, use a flat iron to straighten small sections of hair at a time. Slowly glide the flat iron down each section, starting from the roots to the tips. Be sure to keep the iron moving to avoid heat damage.
Step 6: Effortless Updo: To create a simple updo, gather your hair into a high ponytail, leaving out a few face-framing strands. Twist or braid the ponytail and then wrap it around the base to form a bun. Secure the bun with bobby pins. Let the face-framing strands fall naturally for a soft and romantic finish.
Step 7: Finishing Touches: Once your desired style is achieved, you can apply a lightweight hairspray to set the look and add some shine. You can also use a texturizing spray for added volume and dimension.
Step 8: Accessories (Optional): Enhance your style with hair accessories such as clips, headbands, or decorative pins to add a touch of personality and flair.
Step 9: Regular Maintenance: To keep your styled hair looking fresh, maintain it by touching up with a curling iron or flat iron as needed. Use dry shampoo to refresh and extend the life of your style between washes.
Remember, practice makes perfect, so don't be discouraged if your first attempt doesn't turn out exactly as you envisioned. Over time, you'll become more comfortable and confident in styling your long layered hair at home, allowing you to experiment with different techniques and create stunning looks that suit your unique personality and preferences.
---
Long Layered Hairstyles To Do At Home
---
1. Cinnamon Roll
Image: Source
Creating a chic and time-efficient hairstyle like a "Cinnamon Roll" for your long layered hair is an excellent choice for a polished look that's suitable for the workplace. This elegant yet practical hairstyle adds a touch of sophistication to your appearance while keeping your hair neatly in place.
2. Waterfall Layers
Image: Source
Waterfall layers derive their name from the cascading elegance of a waterfall, offering a haircut that emulates this fluidity with clean lines and a natural cascade effect, best suited for wavy or curly hair. These layers work harmoniously to create an elegant structure for long hair, effectively balancing facial proportions; notably, for round face shapes, the upper portion gains volume, while elongated strands flow gracefully beneath the jawline, resulting in a beautifully balanced and flattering look.
3. Soft Waves
Image: Source
Unleash the captivating allure of loose curls, crafting a striking declaration of style through an intricately layered haircut. This technique involves fashioning multiple tiers of hair, allowing each strand to seamlessly intertwine, creating an intricate play of soft, undulating waves that exude a gentle and enchanting charm.
---
How to Style Long Layered Hair At Home Without Heat
---
Image: Source
Create heat-free layered hair by dampening it, dividing into sections, and twisting each section. Secure twists with pins or elastics and leave overnight. In the morning, release the twists for effortless, natural-looking waves and texture.
Also Read
7 Easy Hairstyles That Won't Damage Hair
24 Stunning Cocktail Party Hairstyles to Turn Heads and Raise Glasses
---
How To Style Long Layered Hair At Home With Bangs
---
4. Textured Updo
Image: Source
For an updo, gather your hair into a loose bun or twist at the nape of your neck, leaving out the bangs. Secure with bobby pins and let the bangs frame your face. This creates an elegant yet relaxed style.
5. Side Swept Bangs
Image: Source
Blow-dry your bangs using a round brush to sweep them to the side. This adds a touch of sophistication while keeping your face open and visible.
6. Half Up Half Down
Image: Source
Gather the top section of your hair, leaving out the bangs, and secure it with a hair tie or clip. This style adds volume and showcases both your layered locks and bangs.
Also Read
27 Sassy And Chic Short Haircuts With Bangs To Transform Your Look
---
How To Style Long Layered Hair At Home With A Flat Iron
---
7. Straight and Sleek
Image: Source
For a straight and sleek look, take a small section of hair and clamp the flat iron near the roots. Slowly glide the flat iron down the hair shaft, following the natural curve of your head. Repeat this process for each section, working your way up. Be sure to keep the flat iron moving to avoid creating lines or kinks.
8. Face-Framing Layers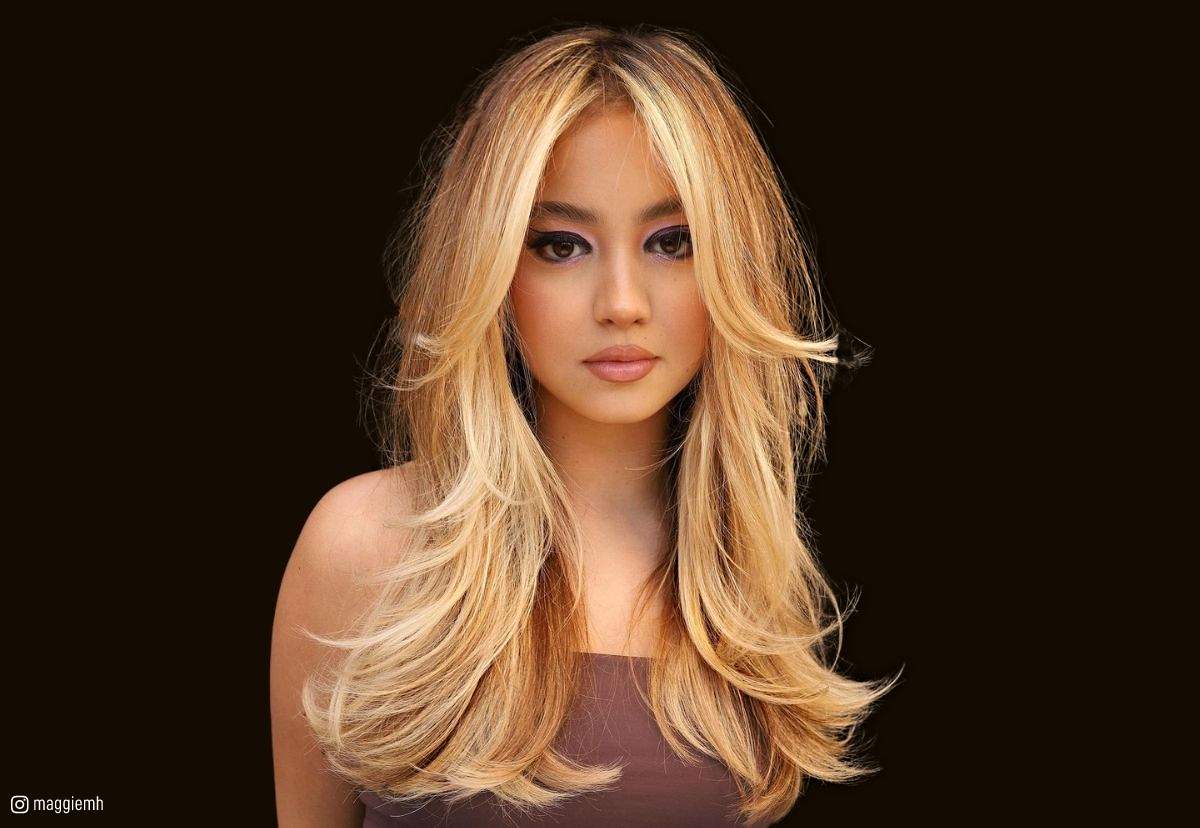 Image: Source
If you have bangs or face-framing layers, use the flat iron to style them as desired. For a subtle curve, bend the flat iron slightly as you glide down the section of hair.
9. Beach Waves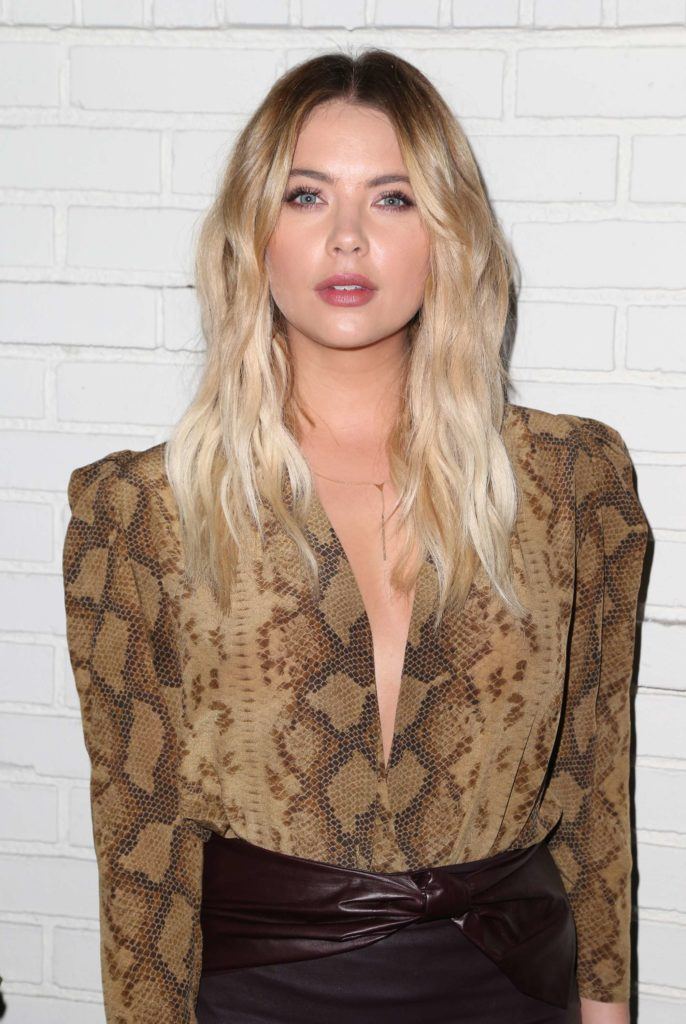 Image: Source

Who can resist the allure of beachy waves? Ashley Benson has mastered this carefree look, exuding a rock-chic vibe. To achieve it, clamp a hair section a few inches from your scalp with a flat iron, gliding down while twisting away from your face. For an effortless finish, cool the waves and use your fingers to create a disheveled texture.
---
How To Style Long Layered Hair At Home With Curtain Bangs
---
10. Long Layered Braid With Curtain Bangs
Image: Source
Achieve an enchanting look with a long layered braid complemented by graceful curtain bangs. This hairstyle beautifully intertwines textures, framing the face with a touch of elegance and depth.
11. Centre Parting
Image: Source
Create soft waves with a central parting through strategic heavy layering. This technique brings forth waves in voluminous hair while eliminating extra bulk, granting a defined structure and graceful flow.
12. Korean Style Long Hair Curtain Bangs
Image: Source
Experience the charm of Korean-inspired long hair paired with trendy curtain bangs. This fusion combines layering for texture and movement with face-framing elegance, offering a captivating and fashionable look.
The Bottom Line
In the realm of home hairstyling, the journey to masterfully styling long layered hair is both an art and an adventure. Armed with the knowledge and techniques shared in this guide, you hold the power to transform your tresses into captivating statements of self-expression. From the allure of loose curls to the polished sophistication of straight strands, from the whimsy of updos to the elegance of bangs, your canvas is limitless.
With patience, practice, and a touch of creativity, you can embrace the role of your own stylist, unveiling an array of stunning looks that resonate with your personality and elevate your confidence. As you embark on this journey, remember that your hair is more than just strands; it's an extension of who you are, and styling it is a celebration of your uniqueness and individuality. So go ahead, indulge in experimentation, and make your long layered hair a captivating work of art, all from the comfort of your own home.