Tattoos have long been a form of self-expression, allowing individuals to adorn their bodies with meaningful artwork that reflects their unique personality, beliefs, and experiences. Among the various canvases available for tattooing, the back stands out as a particularly captivating and versatile location. In this blog, we delve into the realm of back tattoos for women, exploring the diverse designs, styles, and inspirations that make them truly special.
A back tattoo holds immense potential for making a bold statement. With its ample space and expansive canvas, the back allows for intricate, detailed, and captivating designs. From delicate and feminine creations to powerful and symbolic masterpieces, back tattoos offer an opportunity for women to showcase their individuality, strength, and creativity.
In this blog, we'll address practical considerations such as pain levels, tattoo placement, and aftercare tips to ensure a smooth and enjoyable experience. We understand that getting a tattoo is a deeply personal decision, and we aim to empower women with the knowledge they need to make informed choices and create tattoos that resonate with their own unique story.
So, whether you're seeking inspiration, information, or simply a glimpse into the world of captivating back tattoos for women, join us as we explore this art form that combines beauty, creativity, and self-expression.
---
Back Tattoos for Women
---
1. Elegant Mandala Back Tattoos for Women
Image: Source
Mandala back tattoos hold significant importance for women, symbolizing harmony, balance, and spiritual growth. These intricate circular designs not only create a captivating visual impact but also serve as a reminder of the journey towards self-discovery, inner peace, and a connection with the universe.
2. Flowers in the Diamond
Image: Source
A back tattoo featuring flowers with a diamond-shaped background combines the elegance of nature with the brilliance of precious gems. The flowers symbolize beauty, growth, and femininity, while the diamond shape represents strength, resilience, and the pursuit of excellence. This design celebrates the perfect blend of delicate grace and unwavering strength within a woman's spirit.
3. Bird of a Dreamcatcher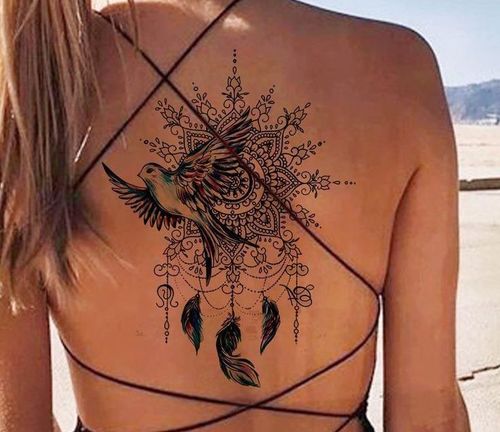 Image: Source
A bird and dream catcher tattoo on the back of a female embodies freedom, spirituality, and protection. The bird represents soaring ambitions, while the dream catcher acts as a guardian, filtering out negative energy and capturing dreams and aspirations. Together, this tattoo symbolizes the pursuit of dreams with a sense of guidance and protection along the journey.
4. Little Birds Back Tattoos for Women
Image: Source
A mesmerizing tattoo adorning the side of the back, featuring little birds in flight leading to a feather, evokes a sense of freedom, grace, and transformation. The birds symbolize liberation and exploration, while the feather represents spiritual growth and connection to higher realms. This design embodies the beauty of embracing change, spreading wings, and finding one's own path in life.
5. 3D Lotus Tattoo on Back for Women
Image: Source
This 3D lotus tattoo on the back of a woman, meticulously colored to create a lifelike appearance, exudes a sense of serenity, purity, and spiritual enlightenment. The intricate details and vibrant hues bring the lotus to life, symbolizing resilience, growth, and the blossoming of inner beauty. This stunning tattoo serves as a reminder of the transformative power within, capturing the essence of grace and tranquility in the most visually captivating way.
6. Tribal Back Tattoos for Women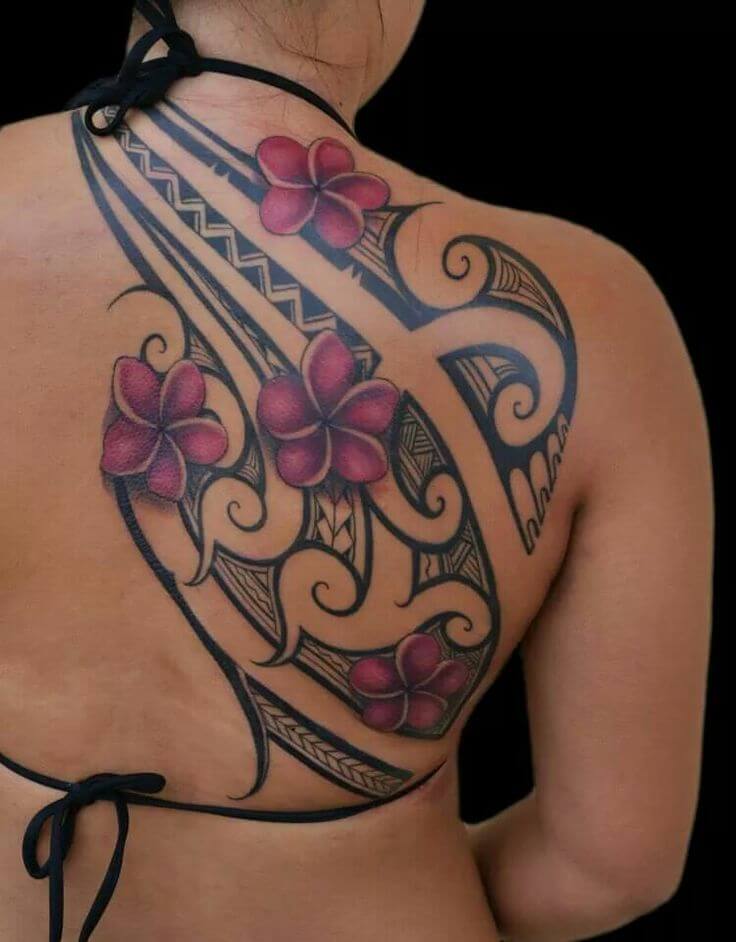 Image: Source
Tribal back tattoos for women are a captivating choice, combining bold patterns and feminine elegance. These intricate designs often symbolize strength, resilience, and cultural heritage, making them a popular and empowering choice in the world of body art.
7. Ornamental Tattoo on Back
Image: Source
An ornamental tattoo on the back is a stunning choice, featuring intricate and decorative patterns. These tattoos often showcase intricate lace-like designs, mandalas, or filigree motifs, creating a visually captivating and aesthetically pleasing body art piece.
8. Colorful Flowers Spine Tattoos
Image: Source
Colorful flowers and leaves tattooed in a line along the spine create a vibrant and naturalistic design. This artistic choice combines the beauty of blooming flowers with the elegance of trailing leaves, resulting in a visually striking and symbolic tattoo.
9. Feminine Lion's Face
Image: Source
A feminine lion's face tattoo on a woman's back exudes strength and grace. This majestic design often portrays a lioness, symbolizing courage and empowerment. It blends fierce and feminine qualities, making it a powerful and captivating choice in body art.
10. Full Back Tattoo for Women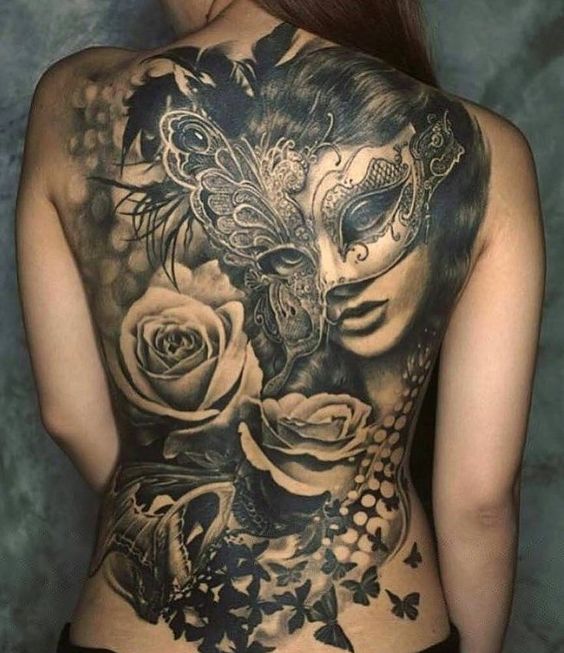 Image: Source
A full back covering tattoo in black ink featuring black roses and a masked woman's face is a dramatic and mysterious design. The dark and enigmatic aura of black roses juxtaposed with the concealed identity of the masked woman creates an intriguing and thought-provoking piece of body art.
11. Colorful Feathered Back Tattoos For Girls
Image: Source
Colorful feathered back tattoos for girls offer a vibrant and free-spirited aesthetic. These designs often incorporate vivid feathers in various hues, symbolizing freedom and individuality. They create a visually stunning and expressive statement piece for those seeking a unique and lively tattoo.
12. Lower Back Tattoos For Women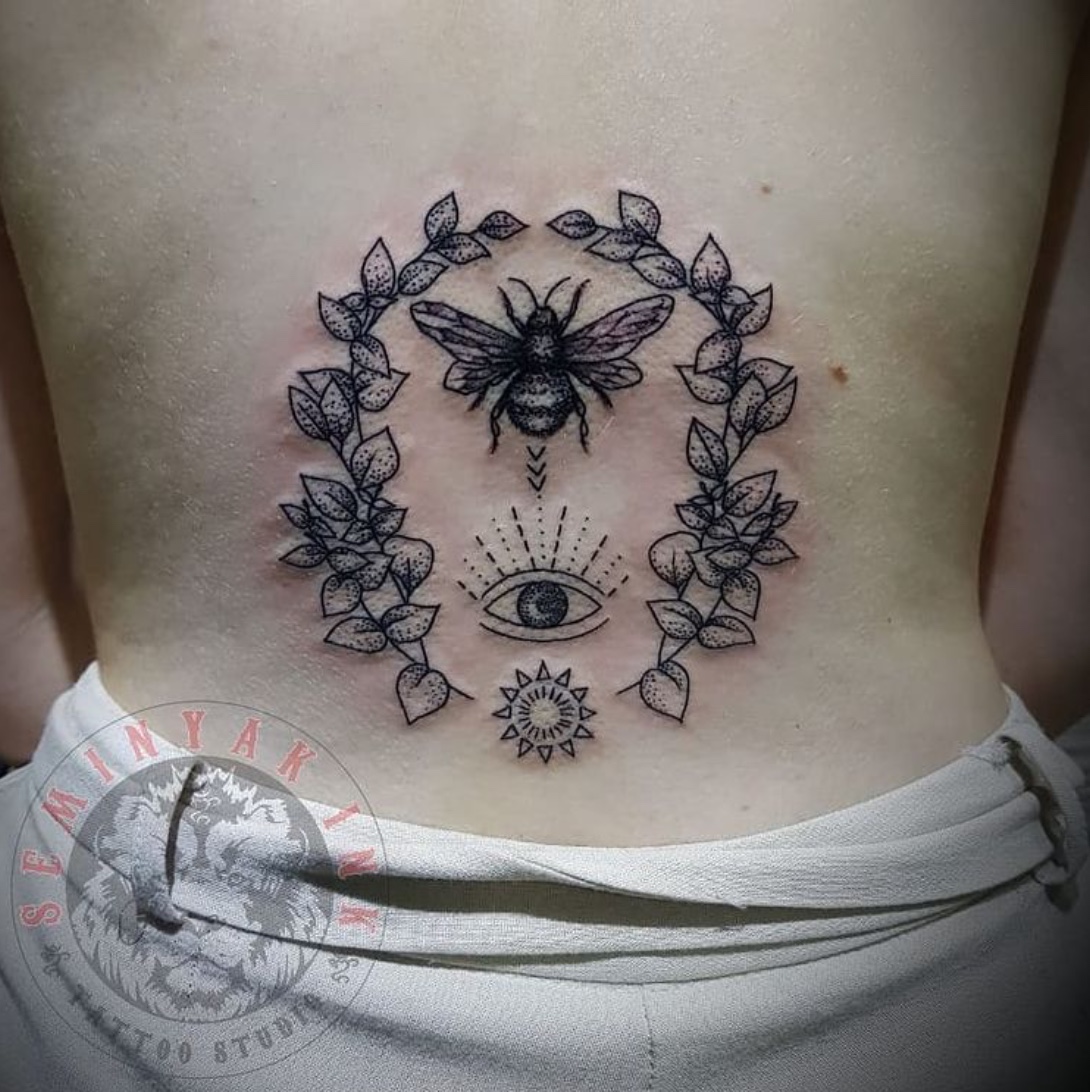 Image: Source
A tattoo featuring a Masonic eye and a honeybee at its center, encircled by a border of leaves, represents a fusion of symbolism. The Masonic eye often symbolizes enlightenment and spiritual insight, while the honeybee can signify diligence and community. The surrounding circle of leaves adds a natural and harmonious touch to this unique and meaningful design.
13. Divided Mandalas
Image: Source
A tattoo consisting of two mandalas divided by a vertical line is a captivating design that can carry deep symbolic meaning. Mandalas, circular and intricate geometric patterns, often represent unity, balance, and the harmony of the universe. When divided by a line, it can symbolize duality or the contrast between two opposing forces, such as light and dark, yin and yang, or even different aspects of one's personality. This tattoo serves as a reminder of the interconnectedness of these opposing elements, suggesting that they are essential for creating a harmonious and complete whole. It can also reflect personal growth and the journey towards finding balance in life.
14. Initials on Back
Image: Source
Butterfly letter tattoos combine the elegance of butterflies with the personal touch of letters or initials. Typically, the chosen letters or words are incorporated into the wings or body of the butterfly, adding a unique and symbolic element to the design. These tattoos often represent transformation, growth, or a deep connection to the letter(s) used, such as initials of loved ones or meaningful words. The combination of the delicate and graceful butterfly with the written word creates a visually appealing and sentimental piece of body art.
15. Love For Music Back Tattoos For Women
Image: Source
"Love For Music" back tattoos for women often feature a red music sign intertwined with a heart symbol. This design beautifully expresses a deep passion for music, symbolizing the profound connection and love one has for melodies and rhythms. The red heart adds an extra layer of emotion, conveying the heart's beat that music can evoke. It's a powerful and visually appealing way to showcase one's adoration for the art of sound.
16. Tree Back Tattoos For Women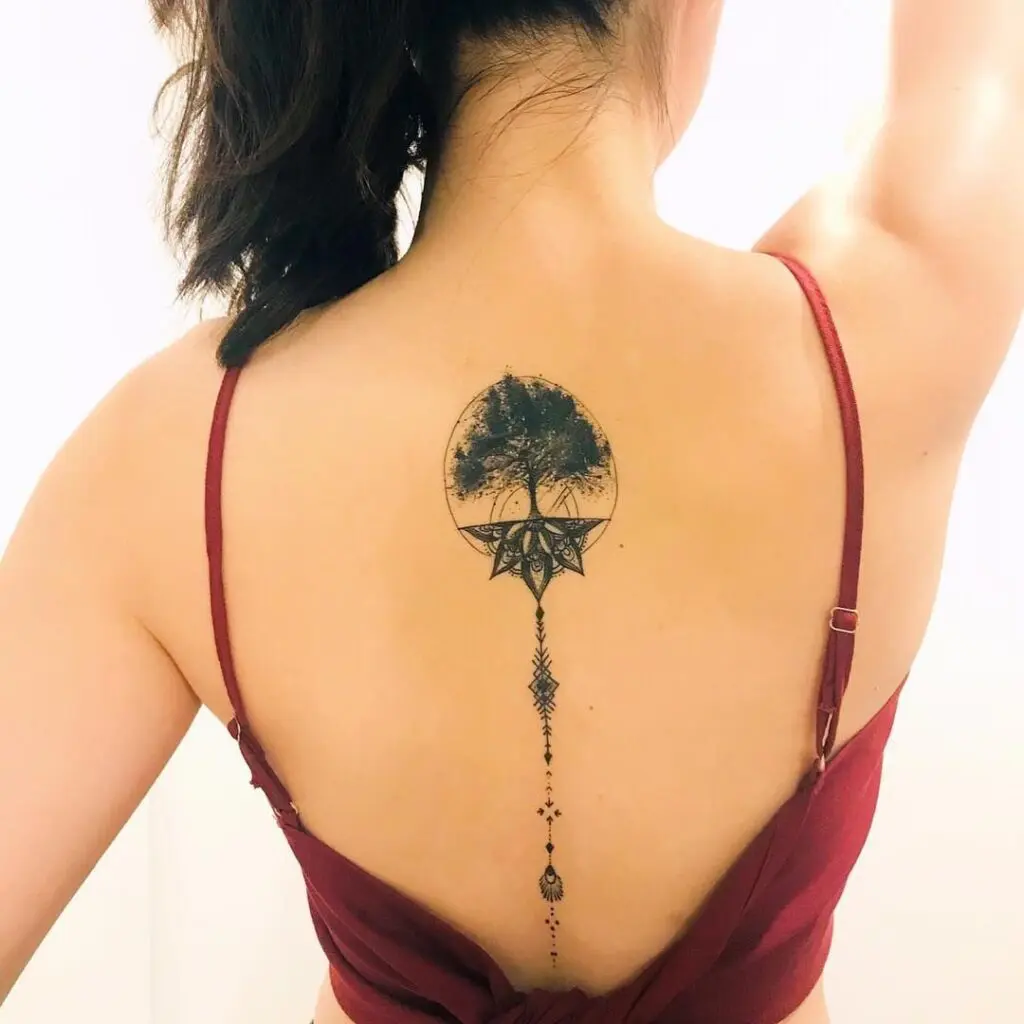 Image: Source
A "Tree of Life" tattoo enclosed within a circle with linear small designs running across the spine is a profound and intricate design. The Tree of Life, a symbol found in various cultures, often represents growth, connection, and the cycle of life. Placing it along the spine signifies strength and stability. The linear designs along the spine can accentuate the central image and add an element of elegance or cultural significance, making it a visually striking and meaningful piece of body art.
17. Two-Headed Snake Tattoos On Back of Women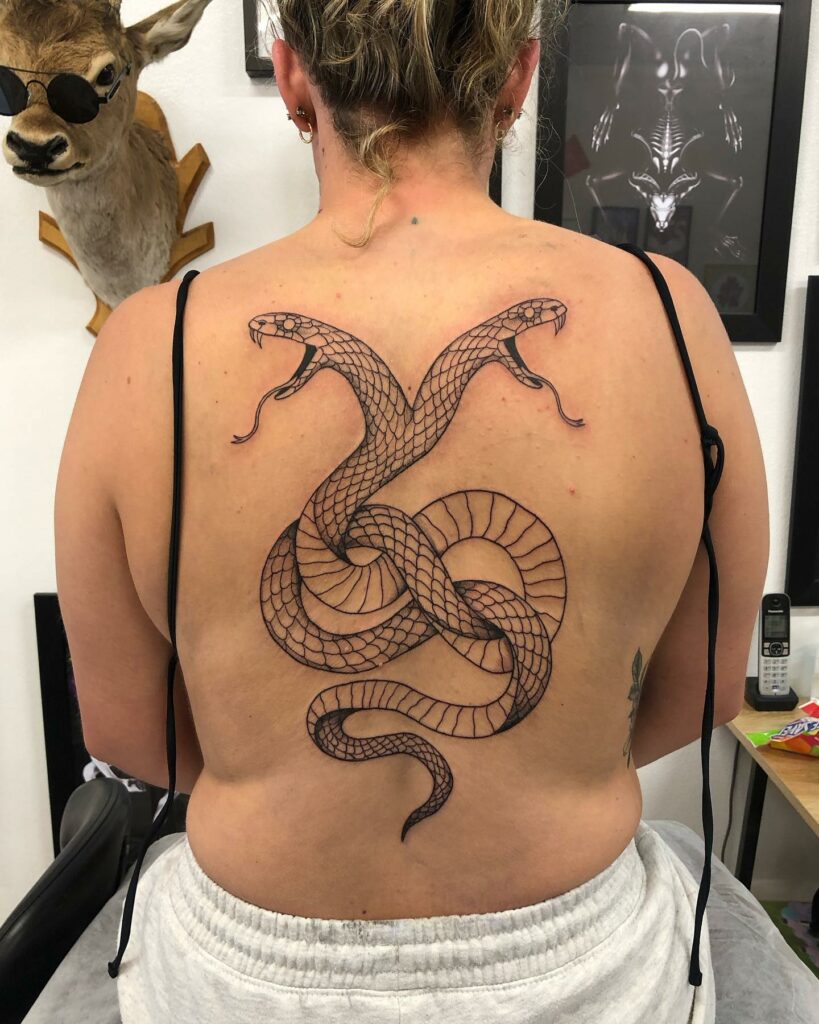 Image: Source
A two-headed snake tattoo on the back is a striking and symbolic choice in body art. This design often represents duality, balance, and transformation. The two heads can symbolize opposing forces or dual aspects of one's personality, such as good and evil, life and death, or yin and yang. Snakes are also associated with rebirth and shedding of old skin, making this tattoo a powerful emblem of personal growth and change. The placement on the back can add an element of mystery and intrigue to the design.
18. A Cute Anchor Tattoo On Back
Image: Source
A cute anchor tattoo on the back with a red ribbon tie is a charming and nautical-inspired design. The anchor symbolizes stability and strength, while the red ribbon adds a touch of elegance and a pop of color. This tattoo can be a symbol of a strong foundation or a reminder of a special connection to the sea, making it a delightful and visually appealing choice for body art.
19. Cupid Tattoo Representing Love
Image: Source
Cupid is a well-known symbol of love that includes a magic bow and arrow. It is believed that whoever he decides to shoot with the arrow will fall in love. A cupid can come around with a heart or a dove. This can be a great way to show your love in the most elegant way.
20. Dagger Back Tattoos
Image: Source
Dagger back tattoos are a bold and striking choice. The dagger is often associated with bravery, protection, or the willingness to face adversity. When placed on the back, it can symbolize inner strength or the idea of guarding one's vulnerabilities. These tattoos can range from simple and minimalist designs to highly detailed and ornate daggers, making them a versatile option for those seeking a powerful and visually captivating piece of body art.
21. Star Tattoos On The Back of Women
Image: Source
This vertical line of black star tattoos, with sizes increasing downward, symbolizes personal growth and the journey of reaching for higher aspirations. Its elegant design creates a visually captivating and meaningful body art statement.
22. Geometric Tattoo Of Arrow And Moon
Image: Source
A geometric tattoo featuring an arrow intersecting with a crescent moon combines precision and mysticism. This design can represent direction and dreams, blending visual aesthetics with symbolic depth. Incorporating sharp angles and lunar curves, this geometric arrow-moon tattoo embodies a unique fusion of direction, spirituality, and artistic geometry.
23. Necklace Designed Back Tattoos For Women
Image: Source
A full-back tattoo resembling a delicate necklace design can be a stunning choice for women. It adds elegance and intricate beauty to their upper body, creating a captivating and symbolic art piece. This intricate back tattoo transforms the skin into a canvas, intertwining jewelry-inspired elements to celebrate femininity and adorn the entire back with artistry and grace.
24. Simple Cross Tattoo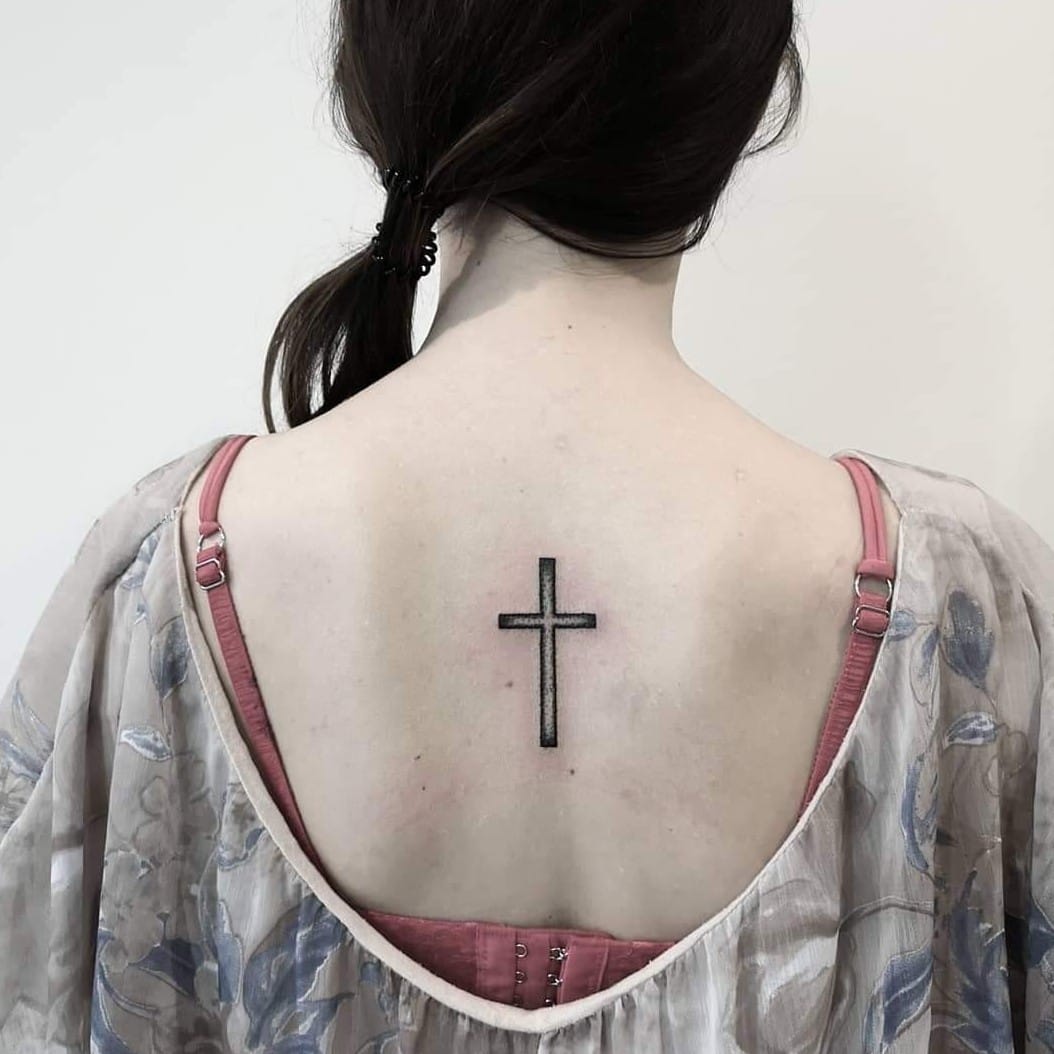 Image: Source
A simple cross tattoo on the woman's back symbolizes faith and spirituality. Its understated elegance adds a meaningful and timeless touch to her skin. This minimalist cross tattoo, etched gracefully on her back, embodies faith's enduring beauty and serves as a personal and profound expression of belief.
25. Blue Gemstone Back Neck Tattoos Women
Image: Source
Blue gemstone-inspired tattoos adorning the back of women's necks offer a touch of elegance and symbolism, resembling precious jewels that enhance their beauty. These kinds of captivating blue gemstone neck tattoos for women symbolize inner strength and beauty, adding a touch of allure and mystique to their appearance.
26. A Sitting Angel Tattoo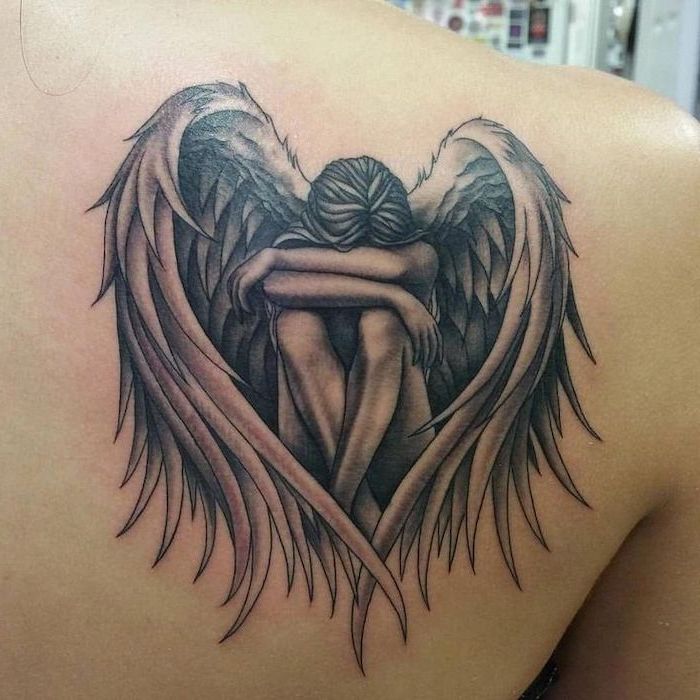 Image: Source
A sitting angel tattoo, wings outstretched, veiling her face in despair, embodies a poignant portrayal of sorrow and vulnerability, a symbol of inner struggle and emotional depth. This tattoo evokes a powerful narrative, depicting the angel's emotional journey, a beautiful fusion of artistry and storytelling etched into the skin.
27. Small Flame Back Tattoo Ideas For Women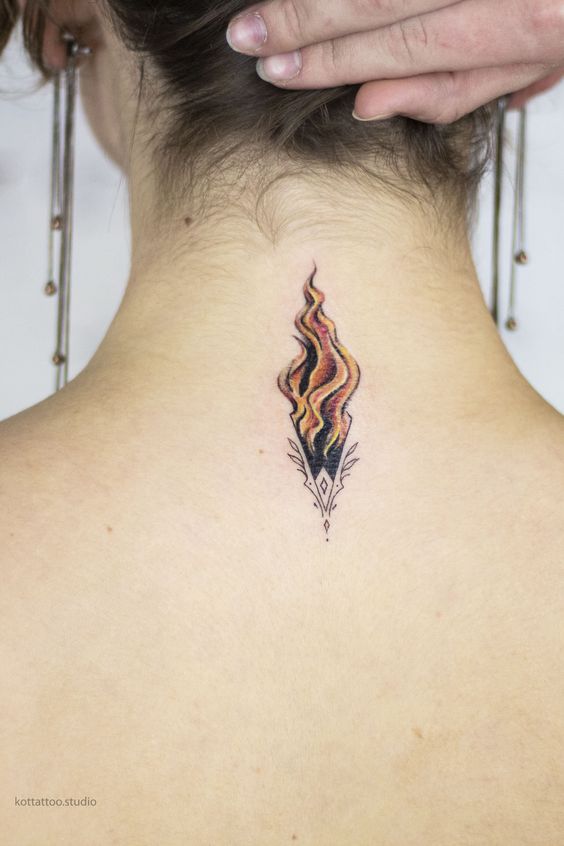 Image: Source
Small flame back tattoo ideas for women can symbolize passion, resilience, and transformation. These delicate yet fiery designs add a touch of mystique to the upper back, igniting a sense of inner strength and unwavering determination, creating a captivating and empowering body art statement.
28. Watch Tattoo Designs on Women's Back
Image: Source
A tattoo featuring autumn leaves intertwined with a vintage pocket watch on a woman's side represents the passage of time and the beauty of change. It's a poetic fusion of nature's ephemeral splendor and the ticking clock, reminding us to cherish every moment and embrace life's seasons.
29. Dragon Back Tattoos For Women
Image: Source
A colorful Japanese dragon tattoo adorning a woman's back is a breathtaking fusion of artistry and tradition. Symbolizing strength, wisdom, and protection, this intricate design showcases vibrant hues and intricate details, creating a stunning and empowering masterpiece on her canvas of skin.
30. Colorful Unicorn Tattoo
Image: Source
A colorful unicorn tattoo bursts with enchantment and whimsy. With its vivid hues and mythical charm, it embodies magic and dreams, adorning the skin with a symbol of beauty, grace, and limitless imagination.
31. Cute Animal Back Tattoo Ideas
Image: Source
An orange squirrel tattoo, nibbling on vibrant green leaves on a woman's back, portrays a scene of nature's simplicity and charm. This delightful design captures the essence of woodland life, radiating a sense of playfulness and connection to the natural world.
32. Phoenix Back Tattoos For Women
Image: Source
Phoenix back tattoos for women symbolize rebirth, strength, and resilience. These majestic creatures, with vibrant plumage and fierce grace, represent the ability to rise from the ashes and start anew. Such tattoos inspire a sense of empowerment and renewal, adorning the back with a captivating symbol of transformation.
33. Eye With Tears
Image: Source
An eye with tears tattoo embodies complex emotions. Whether it symbolizes sadness, empathy, or personal experiences, this design speaks to the depth of human feelings and serves as a poignant reminder of life's ups and downs.
34. Black Rose Back Tattoo Designs For Women
Image: Source
Black rose back tattoo designs for women convey mystery, strength, and elegance. These dark blooms, set against the canvas of the back, symbolize the beauty that can emerge from adversity. Such tattoos blend aesthetics with meaning, creating a striking and enduring representation of resilience and beauty in darkness.
35. Compass Back Tattoos For Women
Image: Source
Compass back tattoos for women are a symbolic journey of self-discovery and navigation through life's adventures. These intricate designs, often with ornate details, guide the way and remind women to follow their own path. They blend aesthetics with a profound sense of direction, adding an empowering and beautiful element to their backs.
---
The Bottom Line
---
In conclusion, back tattoos for women are a canvas for self-expression, empowerment, and artistry. They offer a vast spectrum of design possibilities, from delicate and elegant to bold and meaningful. These tattoos can symbolize personal stories, inner strength, and the beauty of the female form, making them a powerful and visually captivating form of body art. Whether it's floral, mythical, geometric, or any other style, a back tattoo for a woman can be a timeless and beautiful addition that tells her unique story and adds to her sense of identity and confidence.
---
FAQs
---
Does back tattoos hurt?
Yes, back tattoos can be painful as the skin is relatively thin and sensitive in some areas. However, pain tolerance varies among individuals, and the level of discomfort can depend on the specific location and size of the tattoo.
Why do women get back tattoos?
Women get back tattoos for various reasons, including self-expression, aesthetics, symbolism, or commemorating personal experiences. Back tattoos can empower and beautify, serving as a canvas for meaningful and artistic designs.
Are back tattoos a good idea?
Back tattoos can be a great idea for those who've carefully considered their design and its significance. They're versatile and can be hidden when desired. However, it's essential to choose a reputable artist, plan thoroughly, and understand the commitment of a permanent tattoo.