No matter the season, pleated mini skirts always rule because of their availability in various lengths and fabrics. Though pleated skirts look trendy in all lengths, their mini version is great to turn heads and look smart. That being said, many short pleated skirt outfit ideas have come along for the ride. So, fret not. You have endless options.
Deciding what to wear on top requires a bit of thought. Like most things in life, it's all about balance: pair a simple white with your short pleated skirt for summer and swap a blazer over it during winter.
Need many such short pleated skirt outfit ideas? Check out the styles listed below for an instantly polished look.
Short Pleated Skirt Outfit Ideas
---
1. With a Long-Sleeve Sweater Top
---
Image: Source
Casual chic and totally classic. This is the perfect daytime outfit for when you're running errands or meeting the girls for a cup of coffee. A flowy, pleated, mini skirt paired with a long sleeve sweater top. The combination takes this skirt easily into fall and winter. To bring a change to this grey and black outfit, you can choose maroon for your heeled shoes.
---
2. With a Black Moto Jacket
---
Image: Source
A black moto jacket is a versatile wardrobe piece, which can give you a rockstar edge. Oversized, cropped, or vintage, a leather motorcycle jacket adds a grunge essence to an outfit. Up the ante on a night out, and add a fresh twist to a favorite getup by pairing it with a plaid mini skirt and a white tee. If you're confused about how to finish, a pair of belted ankle boots and sunnies will do the trick.
---
3. With a Crop Top
---
Image: Source
Whether it's a cropped tee or a button-down blouse, crop tops are damn comfy. There's no age limit to owning a crop top. Cropped pieces are perfect for easy summer dressing. You could perhaps get a little creative when it comes to pairing your short pleated skirt with a crop top. It is one of the common short pleated skirt outfit ideas you may have seen on the streets.
---
4. With a Floral Printed Blouse
---
Image: Source
Floral blouses add cheerfulness and extra energy to your outfits. They look breezy, feminine, and refreshing. If you're looking for pleated mini skirt outfits that will give you a ladylike yet simple look, consider pairing the skirt with a floral blouse. Such a pairing will instantly and effortlessly elevate your outfit. To take your look to a more sophisticated path, stick to minimal jewelry and choose heeled pumps.
---
5. Go Colorful
---
Image: Source
For all pleated skirt outfits, colors play a crucial role. If you're a lover of vibrant colors, then this outfit for the short pleated skirt is especially for you. Both the skirt and the top are colorful enough to make you stand out from the crowd. To beat the heat and to rev up the get-up, keep the upper two buttons unbuttoned. Finally, complete the ensemble with a pair of sunnies and a black small clutch-like bag.
---
6. With a Matching Cropped Blazer
---
Image: Source
If you're bold enough to bare most parts of your legs, opt for the trending low-rise pleated skirts. Match the skirt with the same colored cropped blazer. Such an outfit will be perfect for the office but with a twist. This will be one of those short pleated skirt outfit ideas that will make you look and feel in charge. Accessorize with loafers and knee-high socks for the ultimate professional vibe.
---
7. With a Cropped Cardigan
---
Image: Source
A cropped cardigan is a great way to feel put together but not go the blazer route. It won't make you feel too stuffy. This tennis skirt outfit works great when the temperature has just started to drop. Cardigans are a fashion-girl favorite, offering endless styling possibilities. They serve as a chic and practical layering piece, making them a natural staple for fall. Pair a cardigan with your short pleated skirt on a weekend for a casual look.
---
8. With a Tee and a Denim Jacket
---
A denim jacket can be your year-round uniform. It just pairs well with anything while ensuring comfort and style. Lighter shades of denim are a good option when you're planning to use it as a layer. You can go for a boxy, boyfriend-style jacket to wear it over your t-shirts. These classic pieces will never fail you. Moreover, it's a good street-style look and gets a more edgy feel.
---
9. With an Oversized Sweater
---
Image: Source
As the bitter cold of winter falls upon us, we all take out that grandma-styled oversized sweater from our wardrobe. Its wide variety of silhouettes, from perfect pullovers and chunky cable knits to oversized tunics, can be styled effortlessly with your pleated skirt. If you wish, you can wear a shirt underneath. It's a combination that has been done repeatedly, yet we never get tired of it.
---
10. With a Turtleneck Top
---
Image: Source
A turtleneck top can be a versatile and functional garment. Stretchy and soft, turtleneck tops can ensure more comfort as compared to dress shirts. You can make it the focal point of your look by wearing the turtleneck top with your short pleated skirt. It will be one of those short pleated skirt outfit ideas you can choose to wear to the office. If you wish, you can wear a stocking with it.
---
11. With a Trench Coat
---
Image: Source
Not a fashion season has passed without the trench putting in an appearance, and the most recent shows were no exception. Any trench coat is an excellent investment because of its versatility. The neutral color palette, showerproof gabardine fabric, and easy-to-layer weight mean you can wear one anywhere and everywhere, all year round. Make the outfit classier by pairing it with your pleated skirt and knee-length boots.
---
12. With a Ruffle Sleeve Top
---
Image: Source
Ruffle tops are simply super feminine. The frilly, flowy ruffle tops are experiencing as a top trend in the fashion industry. The fluted multilayers may take you to the age of four, but this girlish childlike statement has achieved a top fashion makeover in the last few years. Ruffles add volume in all the right places. To bring more twist, you can pair a leather pleated mini skirt with your ruffle top.
---
13. With a Simple White Shirt
---
Image: Source
A classic white shirt is perhaps the most versatile piece you can have in your closet. The trans-seasonal wonder is not only suitable to wear all year round but also has the ability to take you from a morning at the beach to a meeting in the boardroom. This can be another simple outfit idea for short pleated skirts. It will be a foolproof formula that is chic and laid-back. Finally, wear a pair of socks and black shoes to get a college-girl look.
---
14. With a Vest
---
Image: Source
The rise of the sweater vest is a wonderfully nerdy staple. It is only becoming more ubiquitous now that fall has officially arrived. Look for thick, comfy knits that are perfect for layering up in the winter or snuggling up in at home. Layer up a vest on a white shirt and choose a khaki pleated mini skirt for your bottom. It can also become one of your short pleated skirt outfits. To elevate the appeal of the outfit, take a brown bag and swap in a pair of ash colored sneakers.
---
15. With a Fur Coat
---
Image: Source
Looking for more short pleated skirt outfit ideas? Here's another unique option. Fur coats never go out of style. Wrapping yourself in a fur coat will make the winter more bearable for you. It can add instant glamour to any outfit. Inject style into your daily casual routine by pairing your fur coat with a short pleated skirt. If you take fashion seriously, complete the ensemble with stockings, and black knee-high boots.
---
16. Use Woolen Shrug for Layering
---
Image: Source
A woolen shrug can amp up your style quotient. If you choose a loosely knitted shrug as is shown here, it will make you look stunning while protecting you from the cold outside. You can wear a simple tee or a heavy-fabric top underneath to ensure comfort. Layering with a woolen shrug like this one will be a completely new idea to style short pleated skirts.
---
17. With a Sheer Lace Bralette
---
Image: Source
Bralettes are lifesavers if you hate structured underthings that end up digging into your ribcage. Sheer lace bralettes are meant to be seen and make the wearer look super sexy, especially when you're them with short pleated skirts. Matched with your favorite seamless underwear, your whole body can feel supported in that warm hug kind of way. Finally, opt for black or nude heeled pumps for the ultimate wow effect.
---
18. With a Jumper
---
Image: Source
A jumper with a skirt is one of the well-known winter outfits. They're so dang comfy and so dang cute. Sloppy jumpers worn with midi skirts have kind of been a fashion "thing" for years now. However, while it's not a new trend, the combination of said tops and bottoms is rife throughout the runways. If the temperature has gone down severely, you can wear knee-high suede boots with them to keep yourself toasty.
---
19. With a Gingham Bodycon Dress
---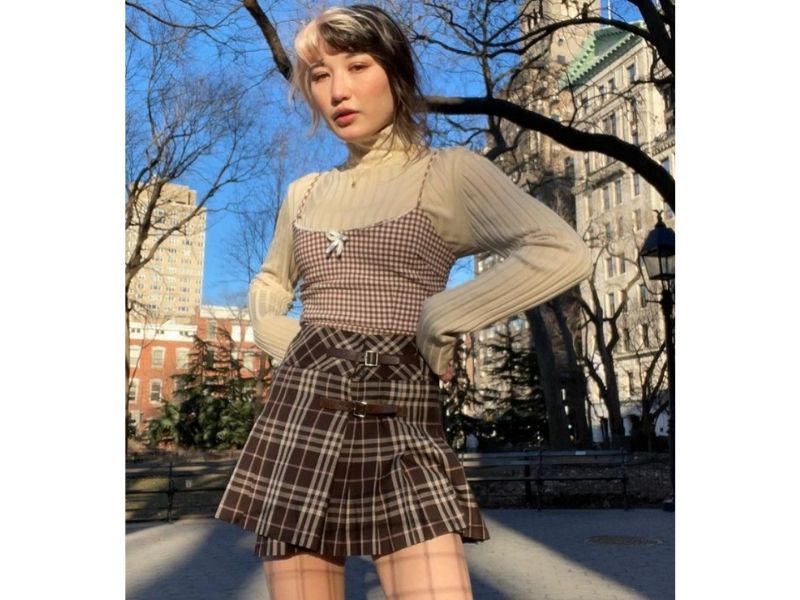 Image: Source
Summer is just getting started, and gingham is already everywhere. Ashley from @best.dressed takes layering to the next level by using her mini bodycon dress as a top. She keeps this dark academia look cohesive by mixing similar prints—gingham and plaid—and coordinating them in a similar color scheme. It is one of those short pleated skirt outfits that you may not see everywhere.
---
20. With a Hoodie
---
Image: Source
A hoodie can be worn with a skirt for a contrasting and bold look. This comfortable classic isn't exclusively for lounging around the house; it's surprisingly versatile and can be worn in a lot of different ways. The casual piece gives your outfit an effortless feel and ensures you won't look overdone. A hoodie and a short pleated skirt are the ultimate laidback combination that can be dressed up or down.
---
21. With a Corset Top
---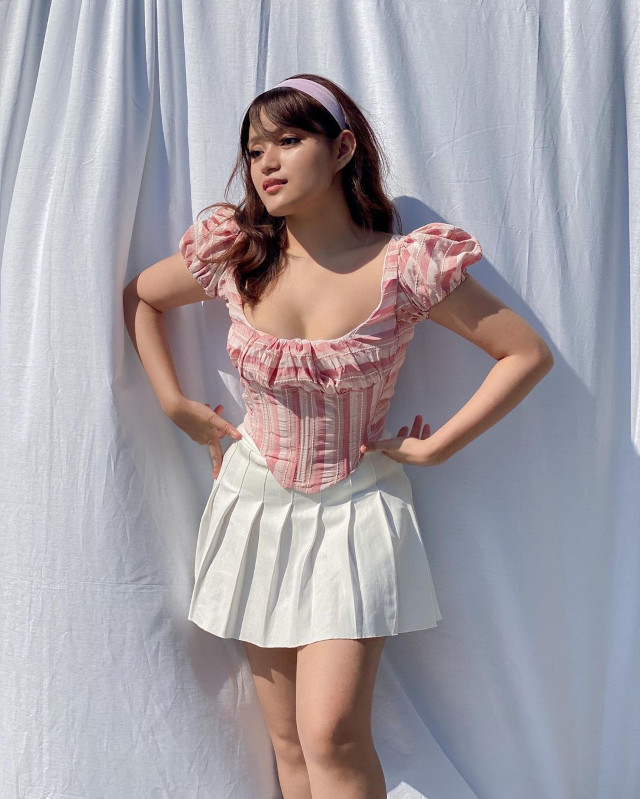 Image: Source
Corsets may be a kinda outrageous piece. But, after seeing corsets on a bunch of fashion icons, we felt the urge to shop for one of our own, or at least look for tops with corset-like details. A corset top and a pleated mini skirt: the contrast between something so sexy paired with something sharp will make for an eye-catching combination. Always wear your corset with something structured like a pleated skirt.
---
22. With a Sleeveless Silk Top
---
Image: Source
Whether you are headed to the office or searching for that last-minute look for a night on the town, learn to let the silk blouse become a major workhorse in your wardrobe. A silk top is a timeless wardrobe staple that can take your outfit to the next level effortlessly. Try teaming a sleeveless silk top with a short pleated skirt for a casual ensemble with a fashionable spin.
---
23. With a Graphic Tee
---
Image: Source
Are you a tee shirt addict? Then, you'll definitely love this short pleated skirt outfit idea. They're a great option if you're looking for a low-key vibe, but you can also dress 'em up too. You don't have to deal with hook-and-eye closures or buttons either since you just throw them on right over your head. Easy, right? So, why not consider them pairing them with your pleated mini skirt?