Leather jackets were invented during the early 1900s to protect people from harsh cold weather. But as time flies, they have become an essential style statement for those who want to get an intimidating and rugged look. Unfortunately, this forever wardrobe basic has been worn in the same way, ultimately making them look dull. If you know how to wear a leather jacket with style, adding freshness to your leather jacket outfits will become an effortless job.
In this blog, we've compiled 14 amazing ways how to wear a leather jacket. From cropped to long leather coats, different styles are mentioned here. Go on reading.
How to Wear a Leather Jacket
---
1. With a Cropped Top and a Checkered Skirt
---
Image: Source
Long leather jackets or leather coats for women are in style everywhere. Crop tops and leather jackets together look like peanut butter and jelly. Bring some twist by opting for a checkered long skirt. A long skirt with such a top combination will create the illusion of a longer torso. Even if you're curvy, you can choose this outfit. But, try to replace long leather coats with moto jacket types.
---
2. With Leather Pants
---
Image: Source
No, not only Hailey Beiber. You too can rock this look. Go all leather. Double down on your leather, in case you're confused regarding what to choose for your lower part. Wearing head-to-toe leather is the equivalent of meeting the Canadian tuxedo's cooler cousin. Opt for leather pants that are quite sturdy yet comfortable.
---
3. With a Maxi Dress
---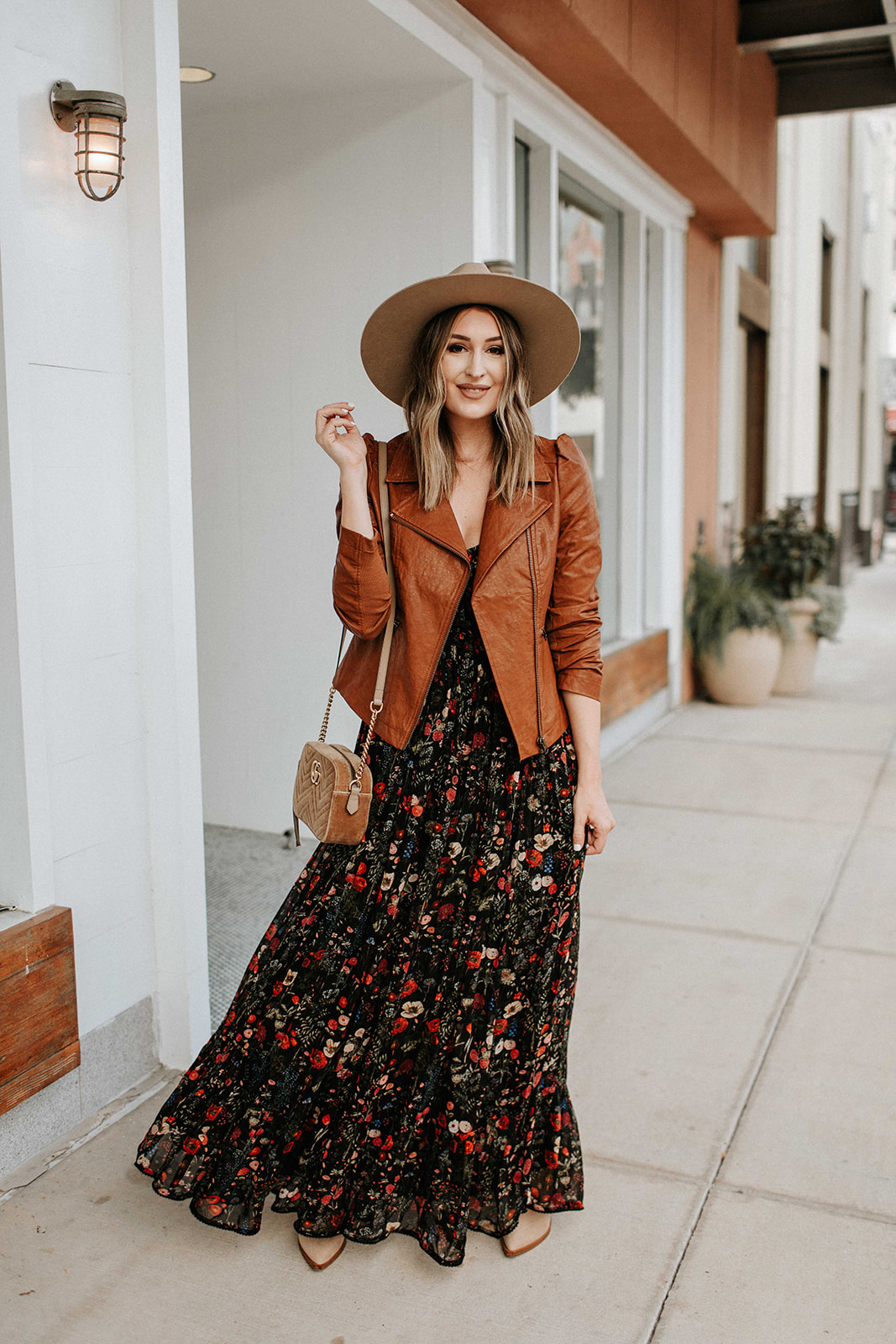 Image: Source
Want to get more inspo about how to wear a leather jacket? Here's another.
Maxi dresses are seasonless and you can wear them with a number of things. But still many people feel maxi dress will not suit their body type. Petite or short girls feel that maxi dresses will not suit them. Regardless of your body type, a maxi dress suits everyone.
Pair your long leather jacket with a maxi dress. This will be perfect to keep you cozy and warm and raise your styling game at the same time. Such a leather jacket outfit for ladies looks especially good if you're over 40.
---
4. With a Turtleneck
---
Image: Source
Not only are turtlenecks a great transition piece in the fall, but they make for a great layering piece once winter rolls around. The modest turtleneck is actually probably the easiest way to make a simple outfit look more creative.
There's nothing quite like a long leather coat to turn heads. It's completely office appropriate and you can team it up with a pair of jeans. This easy-peasy ensemble won't let you down. If you're bored with black jackets, you can check out this brown leather jacket too.
---
5. With a Black Mini Dress
---
Image: Source
The LBD is a bit like a blank canvas. You can accessorize, add details, switch up your jewelry, and layer it in unique ways, all of which allow you to wear that one staple dress in a multitude of ways.
For an edgy look, pair your long leather coat. You can go all monochrome or choose a leather jacket of a different color. Opting for black is always a failsafe option when you don't know how to match the colors of your outfit. It is one of the formal yet party-ready leather jacket outfit ideas for women.
---
6. With Ripped Jeans
---
Image: Source
Ripped jeans look totally badass. Their relaxed nature makes it easy for us to pull off this casual piece. The beauty of ripped jeans is that you will always be comfortable no matter how you decide to wear them.
If you want a more casual vibe, go for boyfriend jeans. Boyfriend jeans made waves—slouchy denim that, as the name implies, looked as if it belonged to the person you're sleeping with—many of which had rips in the knees. You can wear a cropped top underneath for a sexier look.
---
7. With a Hoodie
---
Image: Source
Hoodies have become a modern-day wardrobe staple. The comfort that hoodies bring is incomparable. As the temperature starts to drop, you get a good opportunity to rock a hoodie. This comfortable classic isn't exclusively for lounging around the house; it's surprisingly versatile and can be worn in a lot of different ways.
Show off your coordination skill by teaming a hoodie with a black leather coat for a relaxed combo. Leather boots, sunnies, and a black bag are enough to pull the outfit together as Kendall Jenner did here.
---
8. With Shorts
---
Image: Source
For dressier days, go California cool in tie-dye Bermudas or take the polished route in tailored shorts and a coordinating leather blazer. With summer upon us, it's time to bust out of the mold and show the glory of your legs by switching to shorts.
When you have shorts in your wardrobe, no need to get confused about how to wear a leather jacket. Layer up your leather coat on a simple grey tee and pull off your shorts to keep the legs bare in the summertime.
---
9. With a Jumpsuit
---
Image: Source
From tight black and white pieces to casual wide-leg jumpsuits, jumpsuits are available in various designs and sizes. Whether you're petite or slim, jumpsuits can be an excellent outfit option. You can wear them to the office, parties, and to any informal events all year round.
Display your sartorial expertise by switching to some edgy style. How? It's simple. Wear your long leather coat as a cape. When it comes to footwear, wear a pair of black shoes to instantly smarten up your getup.
---
10. With a White Tee and a Camo Pant
---
Image: Source
A white tee with camo pants is a tried-and-true piece that you probably have several of and that will never fail you. There's no wrong way to match them together. Both are extremely versatile and can be your go-to when you want to dress casually.
Make this simple outfit stand out by layering a leather coat over the white tee. Keep the makeup minimal. However, you can wear a locket to infuse more sophistication into the outfit.
---
11. With a Shimmering Pant
---
Image: Source
Shimmery pants cover your lower part in a glamorous and glitzy way. They're perfect for parties and can add glam to any outfit. To avoid being overdramatic, choose a simple and elegant top. Throw a cropped leather jacket over it. This ensemble will work for both day and nighttime.
Keeping your shoes neutral doesn't always mean color neutral. You're allowed to wear blue, red, and black, but try to avoid extra-glam shoes. Remember, you're aiming to draw attention to the pants. So, keep the makeup minimal and stay away from other glitzy things.
---
12. With a Wrap Dress
---
Image: Source
Looking for more inspo about leather jacket outfits? Wrap dresses are universally figure-flattering, feminine, and professional. Wrap dresses are designed to skim your body and highlight your curves. They can be your go-to dress because you can genuinely wear them anywhere and look appropriate. From weddings to work, a wrap dress is guaranteed to be the hardest working piece in your wardrobe.
The trick for making anything appear more casual and laid-back is to add a classic leather jacket. This is an easy—peasy idea to look smart, gorgeous, and professional at the same time.
---
13. With Mid-Calf Boots
---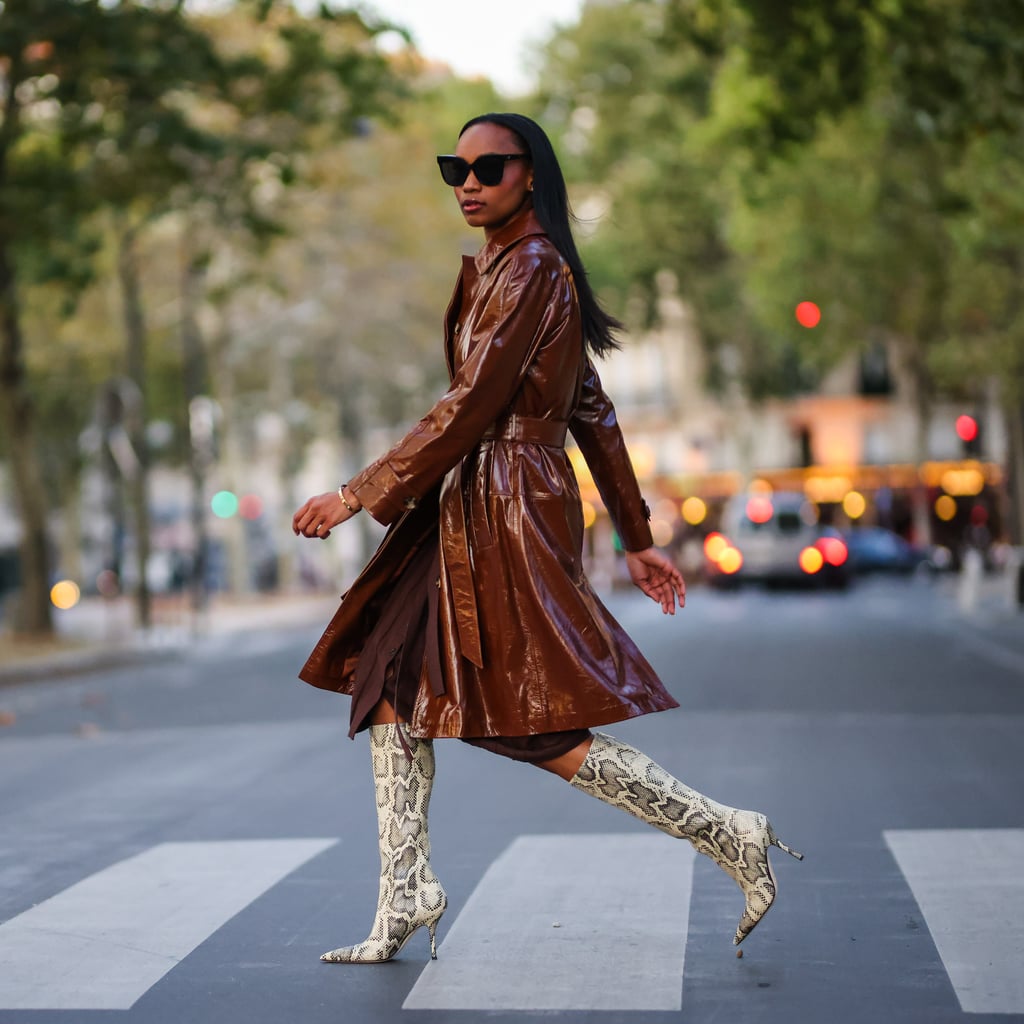 Image: Source
This is another uncommon option for those looking for how to wear a leather jacket. Add a wow element to your closet with this animal-printed mid-calf boots, and we're thinking about wearing them with a brown leather trench coat ensemble to have it pop more. No matter how you wear it though, you will look confident and effortless.
This outfit is especially recommended not for days when you're rushing out the door but for dressier days.
---
14. With a Plaid Shirt
---
Image: Source
Plaid shirts are generally made of a thick wool or cotton material that'll keep you warm when it's nippy outside but won't make you sweat on hotter autumn days. Plaid shirts have an inherently casual feeling to them so they are best for non-business activities. Though subtle versions can be worn to work, especially as an under-layer.
Consider the color of your flannel shirt while layering your leather jacket over it. As the temperature is going down, go for a woolen skirt to stay comfortable.