Marble nails are one of those nail art trends that continue to grow in popularity. The marble nail designs are actually easy to do. You can choose any color to beautify your nails with marble designs. However, if you love bold and colorful marble nail designs, go for red, orange, deep blue, yellow, and black. Among them, red marble nails can turn heads and is a vibrant color to show off.
Red is trendy and chic. If you wear red marble nails, an outfit of any color will work with it. This hue has the potential to elevate the beauty of your nails instantly. Furthermore, you'll get a wide range of color options to mix with it.
Are you looking for inspo about red marble nail designs? Keep scrolling for 18 swoon-worthy red marble nails that are equally chic and bold.
Red Marble Nails
---
1. Red Marble Almond Stiletto Nails
---
Image: Source
Easy to recreate and appear fresh. Give alternative nails a marble effect using red and white nail polishes. Paint the other nails simply red.
This nail design is perfect for weddings, Valentine's Day, prom, and even parties. Though the look is simple, it can help you make a stylish statement. Whatever the length of your nails, you can definitely consider this nail art.
---
2. Red and Pink Water Marble Nail Design
---
Image: Source
Water marble nails are taking over the athleisure on Pinterest and Instagram. Therefore, this print has become a must-try nail look.
Pink, red, and white nail polishes, base coat, top coat, and isopropyl alcohol are all you need to create this nail art at home. Though the details are dainty, you don't need to give much effort to recreate this nail art. If you're interested to know the steps, check them out here.
---
3. Red and White Marble Nail Design Idea
---
Image: Source
This foliage-inspired marble design is a magical mix of white, red, and black. Start with a base of Cupcake Polish One in a Brazil-ion.  Then stamp one of the abstract marble-type designs using white stamping polish on each nail.  Once done, stamp the bottom left image using black stamping polish over each nail.  This way, stamp each nail using the same images but try to align them differently so they wouldn't match perfectly.
---
4. Red and Gold Marble Nail Design
---
Image: Source
Gold is the metallic shade screaming extravagance and glamor. Whether you prefer a minimalist mani, or something bold, consider this nail design. This nail design is sure to vibe with your fashion aesthetic.
Black, red, and gold leaves are used here. Half of the nails are painted in marble design and have the added border of gold leaves. The remaining half is kept neutral. As a result, this nail art is creating a subtle yet attention-grabbing design.
---
5. Shades of Red
---
Image: Source
This red marble nail design melts light and dark shades of red to create a glossy finish. It is the nail art which is making us see red in the best way possible.
If you want to stay true to a fully red marble nail look, opt for this single-color mani that adds flair and is perfectly party-ready. It's so rich that it creates an illusion of red gemstones.
---
6. Red and Green Marble Nails
---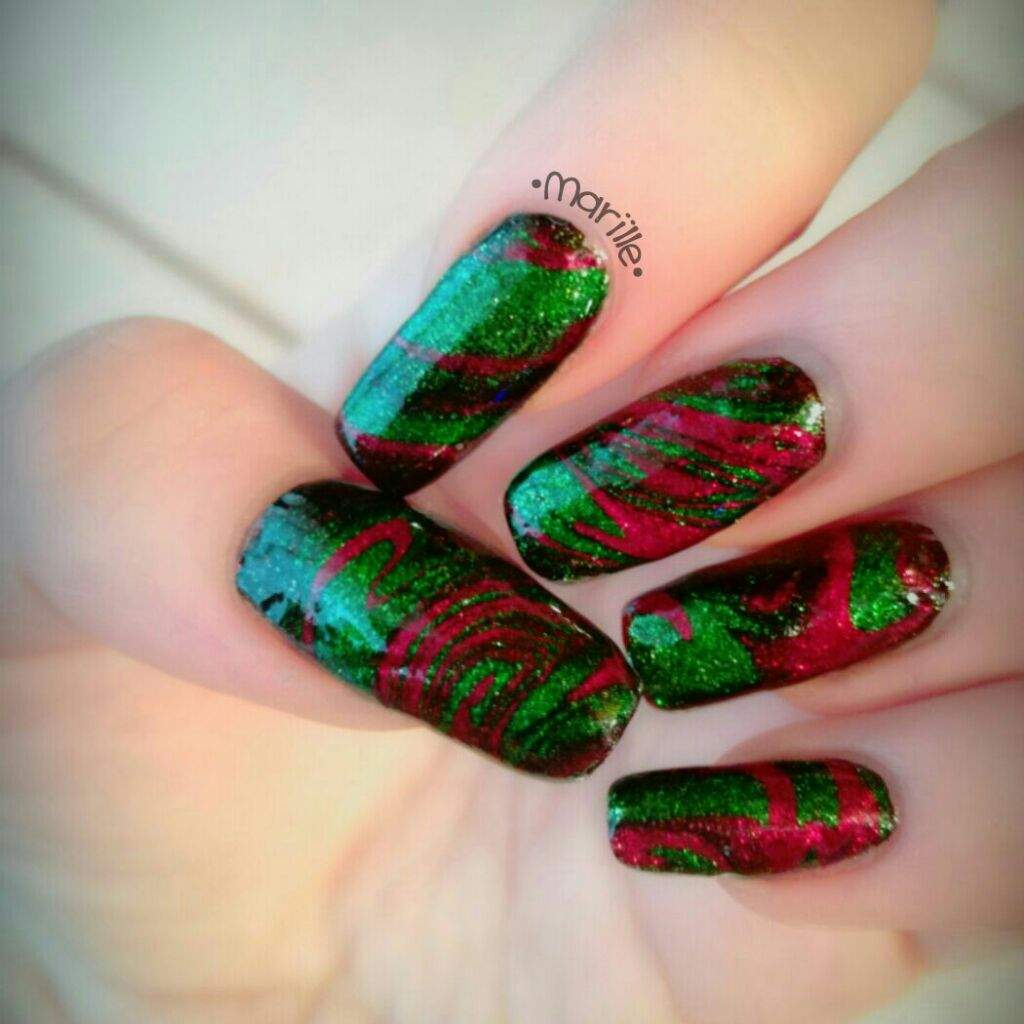 Image: Source
Green is one of the most popular colors of the season when it comes to festive manicures. When paired with red, it gives us a holiday or Christmas-like feeling. And, this nail art is not an exception.
First of all, paint your nails in a black hue. Then, use green and red to create the marble effect. We love how these choices shake up a simple design.
---
7. Red and Black Marble Nail Design
---
Image: Source
Black marble nails are edgy and cool. Whether you love a soft-veined or a swirly design, black marble nails are trending on Pinterest.
Red, on the other hand, has a bold appeal. Therefore, it's a known fact that their pairing will be like a 'Match made in Heaven'. Go with a red base on two fingers of your hand. Apply the black marbled effect diagonally at the edges. The remaining nails will have a plain black marble design.
---
8. Red Ombre Marble Nails
---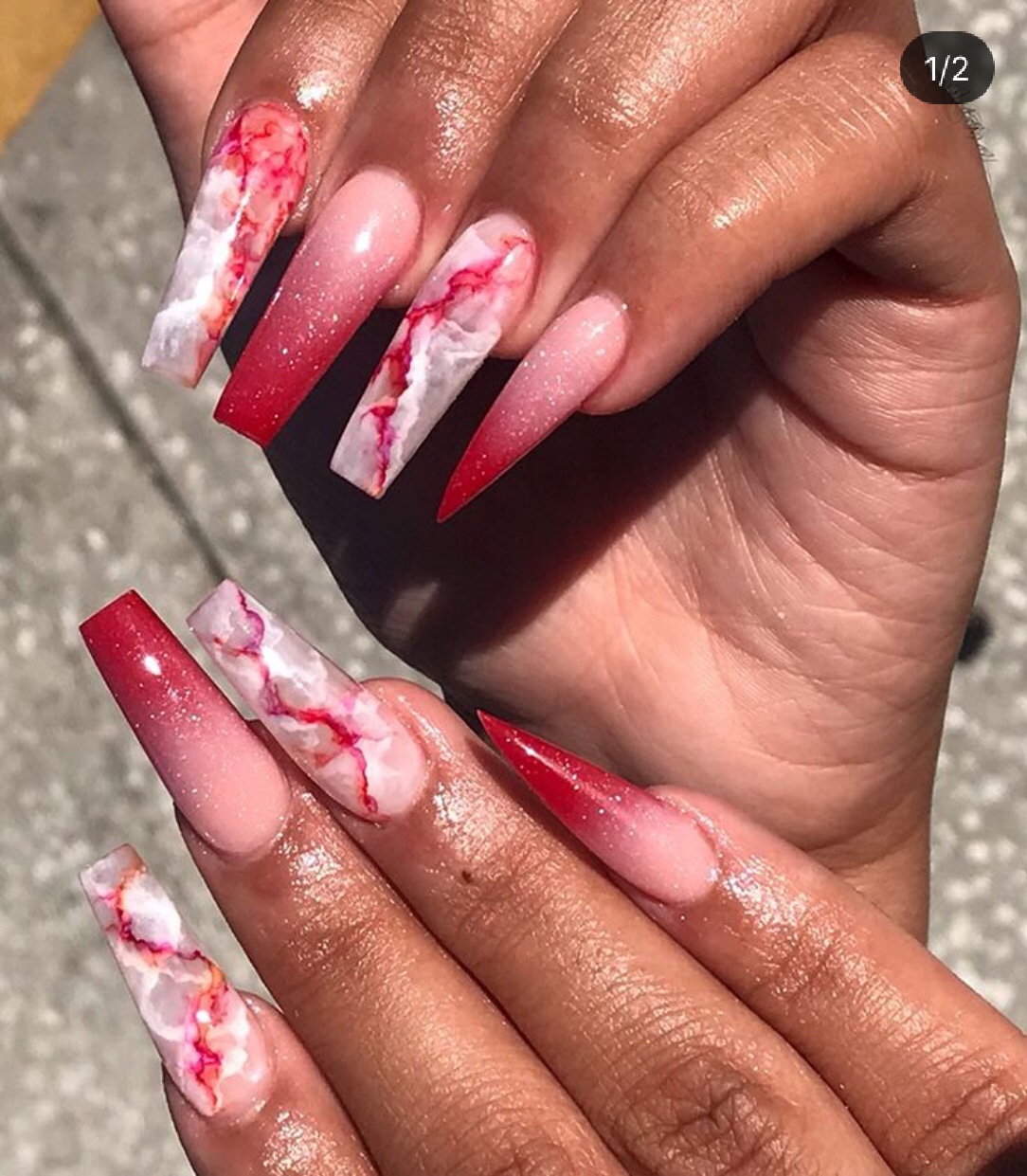 Image: Source
Marble and ombre effects are combined together. Thanks to both effects, we love the shiny finish it has created. Two nails have a stiletto shape while others have a coffin shape.
Red, white, and nude colors are all you need here. The nude to red transition is both classic and timeless. Though red and white marble nail is a common combination, the inclusion of ombre nails has made them unique.
---
9. Red and Blue Marble Nail Design
---
Image: Source
A design like this is unique, pretty, and suits everyone. Blue, red, and white are combined in such a way here that it is creating a sea-like effect. Sometimes the red hue appeared as a splash of water and sometimes as a bubble of water (though the color is red and not blue).
This is a gorgeous nail design and is perfect for any occasion. Create on any nail length or shape. If you love being overdramatic, then this nail art is for you.
---
10. Red and Gray Marble Nails
---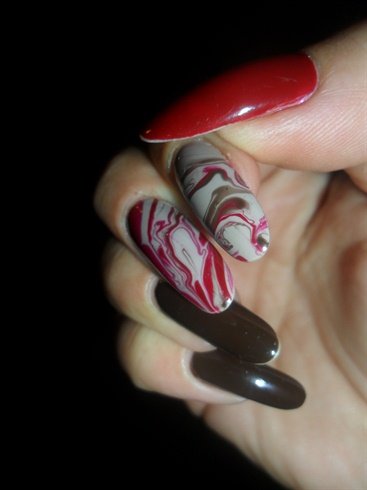 Image: Source
If you're a lover of a nude and neutral palette, try gray. Gray works well with red. These two shades complement each other.
Since 2017, gray marble nails are a hit and we never looked back since then. Let the focus be on two of your nails mainly and hence apply the marble nail art on them. Color the other three nails with black or dark brown, and red.
---
11. Red Drag Marble Heart Nail Design
---
Image: Source
People like Sveta Sanders caused quite a stir when her short video tutorials on drag marble nail art went viral on social media. After that, this nail art technique has increased rapidly in its popularity.
Use a thin brush, a dotting tool, and white, pink and red nail polish to recreate this design at home, This red drag marble nail art is best for Valentine's Day. The hearts will show your love for him. Moreover, the hearts are connected here, so you already know what this nail design stands for.
---
12. Red Colorful Marble Nails
---
Image: Source
A wonderful but complicated marble nail art where different colors are used. The first step is to paint your nails purple. Then pour some red, yellow, and green dots on it. If you wish, you can add more colors like black and white. Use a dotting tool or a needle to blend the dots properly. Yes, that's all. Finally, apply a top coat.
---
13. Half White Half Red Marble Nail Art
---
Image: Source
The use of gold wires adds a touch of luxury to your nails. Marble designs are created at the sides of the nails against the backdrop of white. Then, curve the gold wires and paste them onto the marble designs. Paint the remaining three nails red.
This manicure might look tricky to recreate but if you have white and red nail colors and gold wiring, creating this nail design won't be tough.
---
14. Fiery Water Orange and Red Marble Nails
---
Image: Source
Red, orange, and yellow, all hues of fire can be seen in this marble nail design. Start off with two coats of deep yellow. Once done, go for red light color to create the marble effect using a needle. For a tighter-fitting design, create as finer lines as possible and avoid getting the common looping look.
---
15. Red Floral Marble Nail Art
---
Image: Source
Another stunning example of a water marble red nail design idea. Choose three different nail polish colors- red, black, and white. Quickly pour a few drops of three colors one by one into a little bowl of water. After you've dropped in all your colors, you should end up with a few lopsided circles of color in the water.
Dip your toothpick to swirl the colors. Now, scoop out the pattern on your nails by dipping your nails in the water at a 45-degree angle. Clean up the messy edge using acetone.
---
16. Red and Yellow Marble Nail Design Idea
---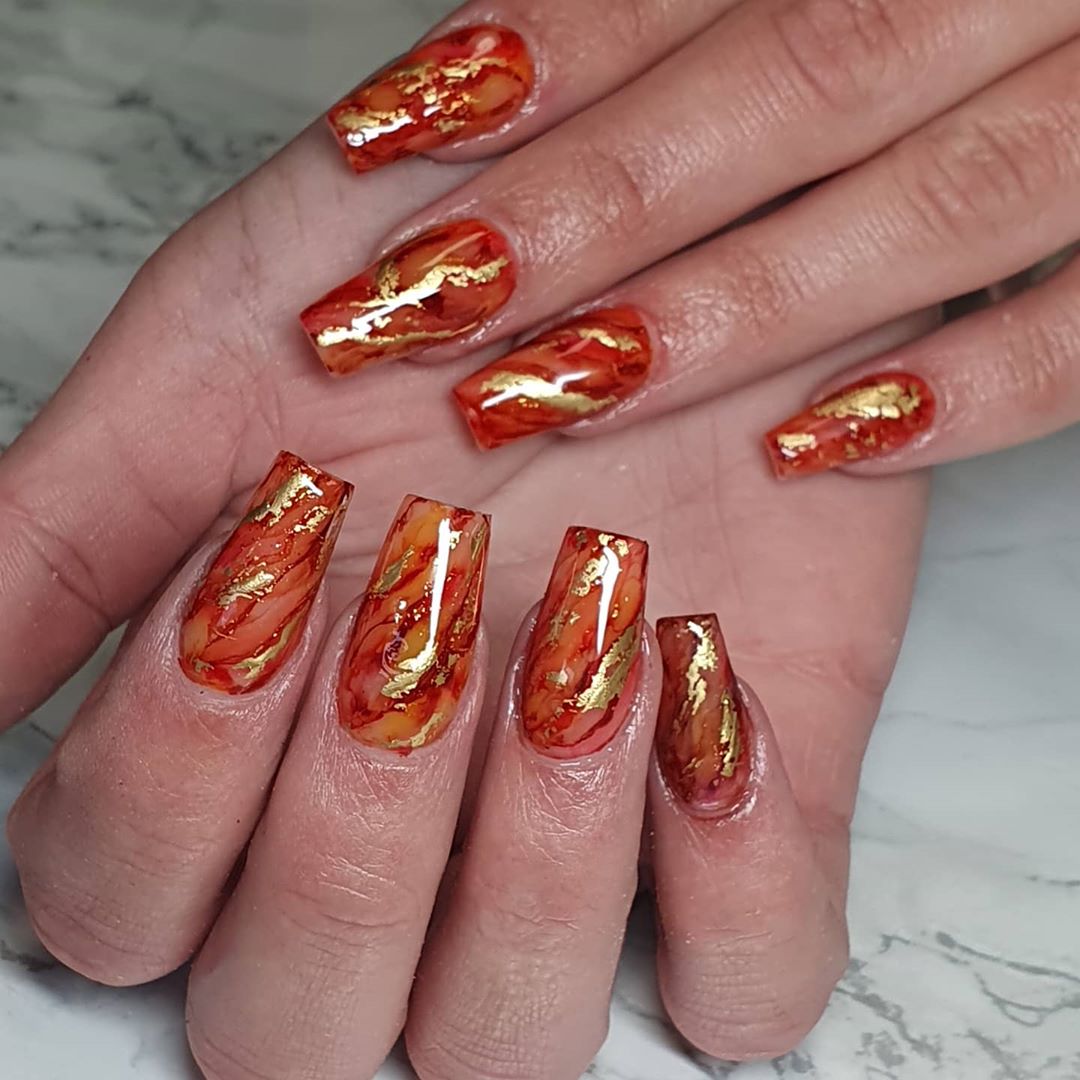 Image: Source
Step up your marble nails' game with this DIY marble nail art. Here, red and gold foils are used against the background of yellow.
There's something about this color combination that can boost your confidence to the next level. It's a very dazzling and elegant look, and the gold flakes add to the luxurious style, without looking too overstated.
---
17. Red and Purple Marble Nail Design
---
Image: Source
The beauty of water marble nail art design is that the patterns are all so unique and pretty.
Purple is a royal color. When set in the color purple, your nails appear more soothing and gorgeous. You can wear these nails for any occasion.
This nail design is done using red, purple, and blue. Here you can see a negative space marble design is created. The way of recreating this nail design is similar to those of other marble designs.
---
18. Red and Silver Marble Nails
---
Image: Source
Regardless if it is for a formal or casual occasion, you can wear silver nails everywhere. The silver nail design is so addictive. Silver nails have a shiny effect not found in other colors.
When teamed up with red, the appeal of the silver hue increases. This red and silver nail design will make you feel extra festive. The silvery details are far from subtle.