Peach nails offer a perfect balance between sophistication and playfulness. Whether you prefer a classic solid peach hue or want to explore creative nail art, peach nail designs are versatile and fashionable. They complement any outfit or occasion and can be adapted to suit various nail shapes and lengths. From delicate floral patterns to intricate geometric designs, there are endless opportunities to showcase your individuality and creativity with peach nails.
So, get ready to explore the world of peach nail designs, where elegance and playfulness intertwine to create stunning and fashionable nail art that is sure to turn heads and leave a lasting impression.
---
Peach Nail Designs
---
1. Peach Nail Designs With Glitter
Image: Source
Indulge in the captivating allure of a peach base adorned with a delicate black flower and a sparkling center stone, while bold black edges add a touch of mystery. Three nails feature a simple peach polish, but one shines with golden glitters, creating a mesmerizing and glamorous peach nail art design.
2. Sky Blue and Peach Gold Cross Nails
Image: Source
For the adventurous souls seeking experimentation, embrace the enchanting blend of sky blue and pink nail polishes. While adorning your nails with a delightful peach base, allow the ring nail to shine with a unique twist. Explore the simplicity of a captivating pattern, featuring sky blue polish, sparkling tinsels, and a golden grating, adding an irresistible touch of glamour to your manicure.
3. Fruity Peach Nail Art
Image: Source
Step into a summery paradise with glossy peach nails adorning each finger, while the ring finger takes center stage with a pristine white base adorned with hand-drawn orange fruits. This playful and elegant nail art design will transport you to sun-soaked days and evoke the refreshing sweetness of summer.
4. Peach Ombre Nail Designs
Image: Source
The gentle blending of light pink and peach hues creates a gradient of softness and elegance. These enchanting colors gracefully transition from one to another, offering a delicate and feminine touch to your manicure that is sure to captivate hearts.
Also Read
43 Stunning Red Ombre Nails to Try This Season
5. Peach and Gold Swirls
Image: Source
The luxurious allure of peach and gold swirls dance across your nails, creating a mesmerizing and glamorous nail art design. The combination of the warm peach shade with the shimmering gold accents adds a touch of elegance and sophistication, making your manicure truly stand out with its captivating swirls of beauty.
Also Read
6. Intricate Black and Peach Nail Design
Image: Source
The delicate contrast between the soft peach backdrop and the bold black blooms evokes a sense of graceful movement, adding a touch of sophistication and intrigue to your manicure.
Also Read
31 Black And Neon Nail Designs To Glow In The Dark
From Classic to Creative: 32 Stunning Black and Nude Nail Designs to Try Now
7. Peach Marble Nails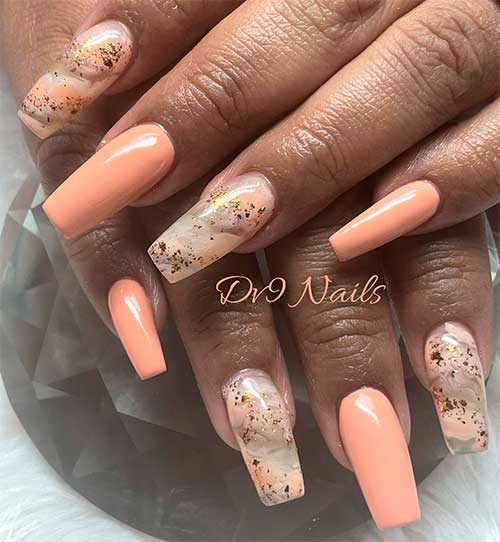 Image: Source
The swirls of peach hues intertwine with creamy white to create a stunning and elegant manicure. The marble effect adds depth and texture, making each nail a unique work of art that exudes sophistication and style.
Also Read
47 Stunning Colorful Marble Nail Designs to Enhance the Beauty of Your Nails
24 Royal Blue Marble Nails: Unveiling the Mesmerizing Beauty of This Regal Elegance
Red Marble Nails – 18 Stunning Design Ideas
Dazzling Darkness: 32 Black Marble Nail Designs to Elevate Your Style
8. Rainbow Drops Peach Acrylic Nails
Image: Source
For those seeking subtle pops of color without elaborate nail art, this nail design is tailored just for you. The delicate and dainty dot pattern encircling the nail bed adds a touch of elegance and simplicity, ideal for those who prefer a minimalist and understated look.
9. Coffin Peach Nail Designs with Rhinestones
Image: Source
Elevate your style with coral peach coffin nails adorned with sparkling rhinestones, creating a captivating and glamorous manicure. The fusion of the vibrant coral peach shade and the dazzling rhinestone accents adds a touch of opulence and allure to your nails, making a bold statement that is sure to turn heads.
10. Peach, Nude, And Orange Nail Designs
Image: Source
The nude-based nails feature delicate edges adorned in light orange and peach hues. A striking cross-like line, painted in a deep orange shade, gracefully extends from the middle of the upper tip to one side, adding a touch of intrigue and artistry to this elegant nail design.
11. Studs and Neon Peach Tips
Image: Source
Embrace the latest trend by opting for a chic nude pink nail base adorned with boxy neon peach tips. Elevate the look with a touch of sophistication by including a solitary small stud positioned at the center of each fingernail's base.
12. Negative Space Peach Nail Art
Image: Source
Incorporate negative space onto a peach-colored base, elegantly highlighted with a crisp white hue. Enhancing the overall aesthetic, the border of the negative space is delicately adorned with shimmering copper glitter, adding a touch of glamour and sophistication to the look.
13. White And Peach Nail Designs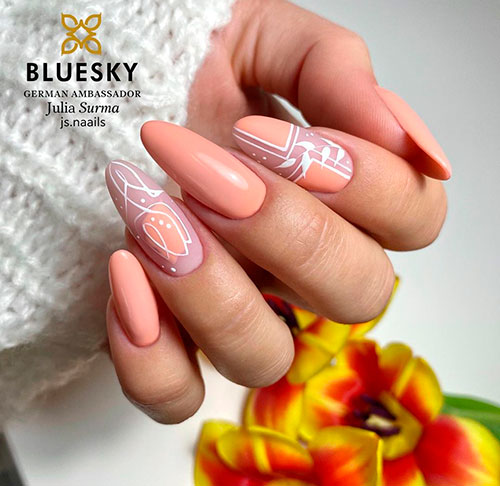 Image: Source
Like many other women, you too likely desire fashionable nails that make a statement. The allure of this captivating peach shade is undeniable, and its artful design only enhances its appeal. Perfect for the summer season, these nails effortlessly complement any outfit, eliminating any concerns about finding the right combination.
14. Peach Almond Nails
Image: Source
Indulge in the elegance of peach almond nails, a chic and versatile choice for any occasion. The almond shape adds a touch of sophistication, while the soft peach hue exudes a subtle yet captivating charm. These nails are a perfect blend of style and grace.
15. Concentric Peach Half-Circles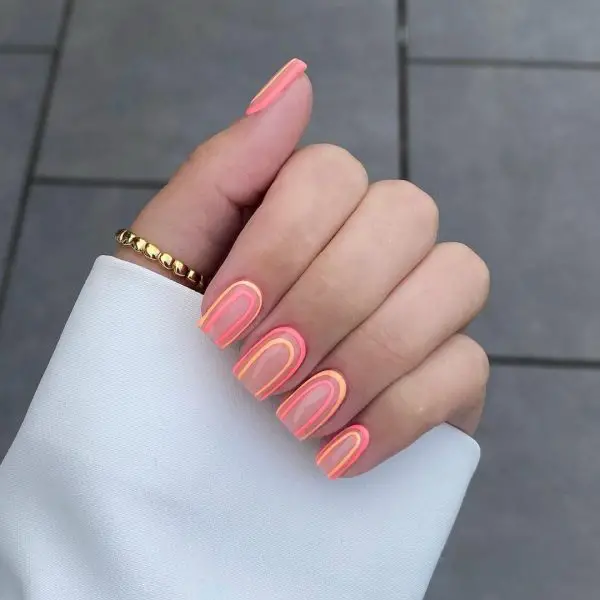 Image Source
Picture a nude nail base artfully framed by not one, but two stunning borders. The edges and sides come alive with a striking contrast of neon peach and bright peach, creating a captivating visual feast that captures the essence of the season. Get ready to make a statement with this one-of-a-kind spring nail design that is sure to turn heads.
16. White Flowers And Peach Nail Designs
Image: Source
The stunning pairing of peach and white colors is simply breathtaking, and should definitely be considered when contemplating a manicure concept. Opt for a square nail shape and ensure the length of the nails is perfectly balanced. To add a captivating touch, create a focal point on the ring finger with a delicate floral pattern in a soft grey shade. For the finishing touch, adorn the nail beds near the cuticles with rhinestones, adding a final touch of elegance to the overall design.
17. Peach Summer Nail Designs
Image: Source
Step into the season of blooming beauty with a captivating spring nail design. Envision three nails adorned in the richness of deep peach hues, exuding warmth and vibrancy. Complementing this bold statement, two nails showcase delicate light peach shades, providing a soft and graceful contrast. To embrace the spirit of nature's renewal, adorn one nail with a beautifully drawn tiny flower plant, effortlessly capturing the essence of springtime.
18. Christmas Gray and Peach Nail Designs
Image: Source
A captivating manicure that is perfect for New Year's or Christmas parties. The mesmerizing combination of silver textural and glossy salmon nail polishes creates a unique and eye-catching contrast. Enhancing the overall effect, an acrylic covering adds a flawless finish to the nails. Embrace the winter wonderland theme by delicately drawing intricate snowflakes, adding a touch of enchantment to your fingertips. To complete the look, varnish the lunulae with pristine white nail polish.
Also Read
23 Stunning Grey And Gold Nail Designs to Embrace Luxury And Chic Elegance
49 Gray Nail Designs to Fall in Love With
19. Peach Valentine's Day Nails
Image: Source
Celebrate the romance of Valentine's Day with a stunning peach nail design that is sure to steal hearts. Picture delicate light peach nails serving as the canvas for your fingertips, setting a soft and dreamy tone. Captivate attention by adorning the middle finger with a mesmerizing steel-colored heart, symbolizing love and affection. To further elevate the allure, add intricate studs to the remaining nails, creating an irresistible charm that will undoubtedly draw eyes and compliments.
Also Read
20. Boho Design for Short Peach Nails
Image: Source
This is one of the peach nail designs for short nails. Have short nails? Make them look stunning by incorporating whimsical dots, swirling patterns, and glittered borders. Embrace the essence of bohemian style by adorning your nails with an array of intricate dots, creating a playful and artistic touch. Enhance the design with mesmerizing swirls that add a sense of fluidity and movement. To make a statement, highlight the edges of your nails with sparkling glitter borders, adding a touch of glamour and bohemian flair.
21. Leopard Print Peach Nail Designs
Image: Source
Unleash your wild side with a captivating leopard print peach nail design. The soft and feminine peach base serves as the perfect backdrop for the bold and iconic leopard spots, adding a touch of fierce sophistication to your fingertips. This design is a trendy and stylish way to make a statement and embrace your inner animal instincts.
22. Peach Stiletto Nails
Image: Source
Step up your nail game with the allure of peach stiletto nails. The elongated and pointed shape exudes confidence and sophistication, while the peach hue adds a soft and feminine touch. Whether you're aiming for a bold or subtle look, peach stiletto nails are a stunning choice.
23. Peach Nail Design with Gold Foils
Image: Source
Indulge in the elegance of a peach nail design adorned with luxurious gold foils. The combination of the soft peach shade and the shimmering gold accents creates a mesmerizing and glamorous effect. This sophisticated design is perfect for adding a touch of opulence and refinement to any occasion.
24. Peach and Pink Tie-Dye Nails
Image: Source
Peach and pink tie-dye nails evoke a whimsical and vibrant charm. This trendy nail design seamlessly combines warmth and femininity for a look that's both chic and carefree.
25. Peach and Coral Chevron Nails
Image: Source
Peach and coral chevron nails offer a chic and modern twist to your manicure. The dynamic chevron pattern, combining soft peach and vibrant coral, creates a visually striking and energetic look. This nail design effortlessly blends sophistication with a pop of lively color for a truly stylish statement.
26. Mint Green And Peach Nail Designs
Image: Source
Mint green and peach nail designs bring a refreshing and harmonious vibe to your manicure. The combination of cool mint and warm peach creates a balanced and eye-catching contrast, delivering a trendy and lively aesthetic that's perfect for adding a touch of vibrancy to your nails.
27. Yellow And Peach Nail Art
Image: Source
Yellow and peach nail art radiates sunny and playful vibes. The fusion of these lively hues creates a cheerful and dynamic manicure. This vibrant nail design is a perfect choice for those seeking a lively and energetic look that captures the essence of sunshine and warmth.
Also Read
28. Geometric Blue And Peach Nail Designs
Image: Source
Geometric blue and peach nail designs offer a modern and sophisticated twist. The interplay of bold blue and soft peach in geometric patterns creates a visually captivating and contemporary manicure. This stylish nail art seamlessly merges creativity with elegance, making a statement that's both edgy and refined.
29. Floral Magic On Peach Nails
Image: Source
It is an enchanting and feminine choice. Delicate blossoms in various hues elegantly adorn the peach background, creating a whimsical garden on your fingertips. This nail design effortlessly combines the softness of peach with the timeless beauty of floral patterns for a truly magical and romantic look.
30. Tribal Stiletto Peach Nail Designs
Image: Source
Tribal stiletto peach nail designs offer an edgy and exotic allure. The fusion of tribal-inspired patterns with the softness of peach creates a striking contrast. This bold nail art effortlessly combines fierceness with femininity, resulting in a unique and eye-catching manicure that's perfect for making a statement.
31. Gold Stripes And Studs
Image: Source
Elevate your nails with a touch of glamour and edge. The combination of metallic gold detailing, sleek stripes, and strategic studs creates a chic and sophisticated nail design. This opulent yet trendy style effortlessly merges luxury with modern aesthetics for a dazzling and statement-making manicure.
32. Peach And Lilac Stamped Gradient Manicure
Image: Source
The peach and lilac stamped gradient manicure is a blend of softness and sophistication. The gradient effect transitions gracefully between peach and lilac, while stamped patterns add intricate details. This nail art combines elegance with a touch of whimsy, creating a uniquely enchanting and stylish manicure.
33. Peach Nail Designs On Dark Skin
Image: Source
These peach nails with diamond French tips exude a refined and glamorous charm. The classic French tip gets a dazzling upgrade with the addition of diamond accents, adding a touch of luxury to the peachy base. This sophisticated nail design effortlessly combines timeless elegance with a hint of sparkle for a truly polished and glamorous look.
---
The Bottom Line
---
Embracing peach nail designs is not just a style choice; it's an ode to elegance and sophistication. The soft and warm tones of peach effortlessly blend versatility with a touch of playfulness, making it a standout choice for your next manicure. Whether you opt for subtle pastels, intricate patterns, or bold statements, peach nail designs offer a canvas for creativity and self-expression. So, let your nails do the talking and dive into the world of peachy perfection – a timeless and charming choice for those who appreciate the art of nail aesthetics.
---
FAQs
---
Can peach nail designs work for any occasion?
Absolutely! Peach is versatile, offering a subtle charm for casual events and a sophisticated touch for formal occasions.
How can I make my peach nail design last longer?
Apply a quality top coat to seal the design, avoid harsh chemicals, and moisturize your cuticles regularly for lasting elegance.
Are peach nails suitable for all skin tones?
Yes, peach tones are universally flattering, complementing a wide range of skin tones beautifully.
Can I mix peach with other nail colors?
Certainly! Peach pairs well with neutrals, pastels, or even bolder hues for a customized and trendy nail art look.
Are there different shades of peach for nail designs?
Yes, explore variations from light pastels to deeper coral hues to find the perfect shade that suits your style and preferences.