In the realm of nail art, where creativity knows no bounds, a breathtaking trend has emerged, captivating hearts and minds with its mesmerizing allure. Enter the enchanting world of Royal Blue Marble Nails – a fusion of regal elegance and artistic flair that's sweeping the beauty industry by storm.
But what makes this nail art trend truly captivating is the artistic versatility it offers. Each design is a unique masterpiece, meticulously crafted by skilled technicians who have mastered the art of manipulating nail polish into ethereal patterns. From striking contrasts to delicate gradients, no two sets of Royal Blue Marble Nails are ever the same, making each person's experience with this trend an exclusive and personal journey.
Get ready to embark on a nail art adventure like no other, where the allure of royal blue and the mesmerizing beauty of marbles converge to create a nail trend fit for royalty. So, sit back, relax, and let the enchantment of Royal Blue Marble Nails cast its spell on you.
---
Royal Blue Marble Nails
---
1. Royal Blue and White Marble Nails
Image: Source
Adorn two nails with exquisite white and royal blue marble designs, one bedazzled with stones, and the others shimmering in captivating blue glitters. A regal masterpiece for your fingertips.
2. Silver-Bordered Royal Blue Marble Nails
Image: Source
A stunning marble nail art featuring a delicate blend of light blue and royal blue shades. Each nail is adorned with a silvery border, lending a touch of sophistication, and perfectly complementing the captivating marble effect. Pure sophistication for your fingertips.
3. Royal Blue Marble Nails with Gold Flakes
Image: Source
Witness the enchanting blend of deep blue marbling and shimmering golden accents, casting a spell of opulence and sophistication over your nails. This nail design looks perfect on long nails. Prepare for a truly majestic experience.
Also Read
Red Marble Nails – 18 Stunning Design Ideas
47 Stunning Colorful Marble Nail Designs to Enhance the Beauty of Your Nails
4. Intricate Blue Marble Nails
Image: Source
The enchanting allure of a marble blue manicure lies in its harmonious blend of contrasting and vibrant shades, replicating the mesmerizing beauty of natural stones. This unique nail art offers endless possibilities to create exquisite patterns, and with the option of using multiple color combinations, it effortlessly complements trendy and unconventional fashion styles. Embrace the stylish charm of bright marble nail art designs that elevate your overall look to new heights.
5. Royal Blue Marble Nails for Prom
Image: Source
If you're aiming to coordinate your prom dress with royal blue nails, this chic style is a perfect choice. Featuring a combination of elements like a smooth matte ombre, sparkling rhinestones, elegant marble patterns, and classy French tips, it's a stunning look to complement your outfit.
6. Timeless Psychedelia
Image: Source
Marble nails, an irresistible Y2K aesthetic trend, are worth embracing wholeheartedly. With their mesmerizing, almost psychedelic appearance, the enduring allure of royal blue marble nails ensures they'll remain a timeless and stylish choice.
7. Glitter Royal Blue Marble Nails for Almond Nails
Image: Source
Step into sophistication with Silver-Bordered Glitter Royal Blue Marble Nails. This captivating nail art combines the allure of rich royal blue marbling with a touch of glimmering silver, creating a dazzling and elegant masterpiece for your hands.
8. Starry Royal Blue Water Marble Nails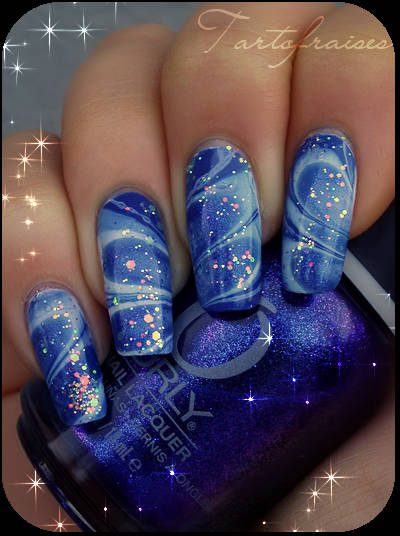 Image: Source
Dazzle like the night sky with Star-Like Glitter on Royal Blue Water Marble Nails. This exquisite nail art creates a celestial allure, as glitters dance across the deep blue water marble, evoking a captivating starry effect that is simply enchanting.
9. Royal Blue Marble Nail Designs for Long Coffin Nails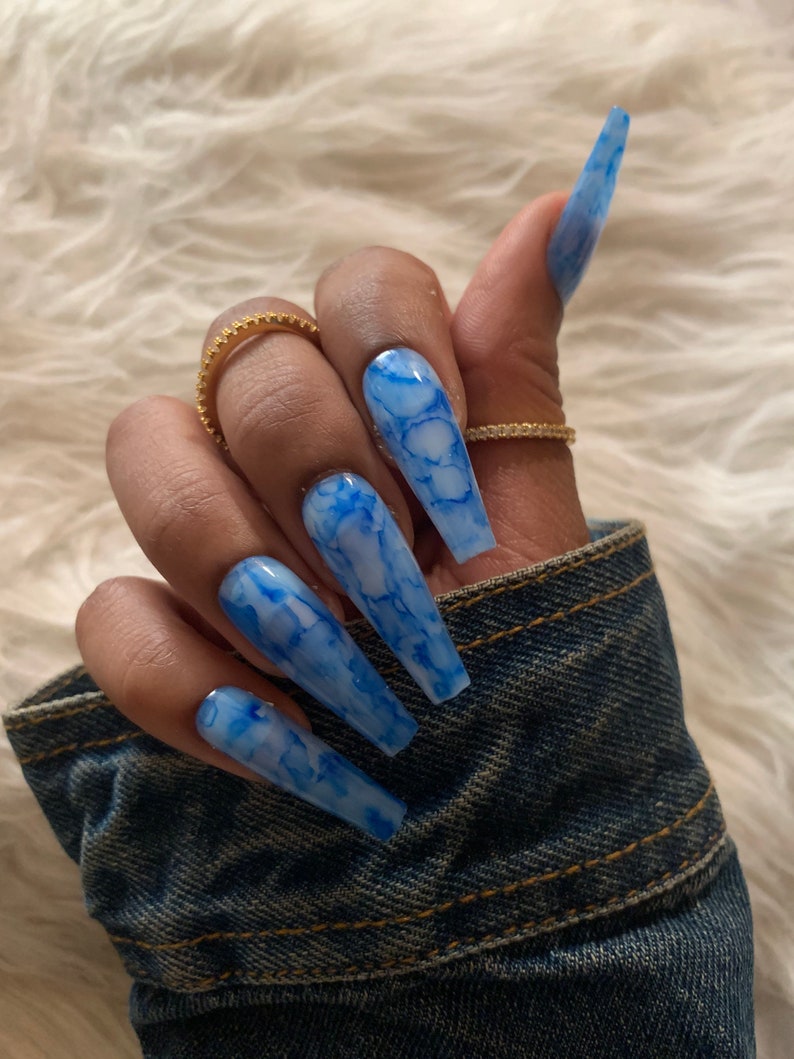 Image: Source            
Elegantly timeless and durable, these marble nails in captivating blue and white hues are tailor-made for long coffin nails. Embrace the chic sophistication as the classic design complements your fingertips, exuding a perfect blend of style and strength.
10. Blue Bliss Fusion
Image: Source
Two nails boast a mesmerizing marble effect in two shades of blue, while the others shine in glossy and glitter finishes. One nail stands out with charming baby blue arch-shaped borders, adding a unique touch of elegance.
11. Golden Majesty
Image: Source
This opulent design combines the richness of deep blue marbling with lavish golden accents, achieved by delicately applying real gold flakes onto the nails. The result is a mesmerizing and sophisticated masterpiece that will surely captivate all eyes.
12. Enchanted Wings
Image: Source
Marble Nails adorned in glimmering gold flakes on three nails, while the adjacent two nails boast enchanting butterfly designs featuring a delightful blend of black, pink, and blue. Embrace the captivating harmony of sophistication and whimsy in this stunning nail art.
13. Marble Half-Moons on Nude Nails
Image: Source
Royal blue marbling adorns the half-moons of nude nails, exuding sophistication. Glimmering gold flakes add a touch of opulence, creating a stunning and luxurious masterpiece that's sure to turn heads.
14. Royal Blue Stiletto Marble Nails with Black Borders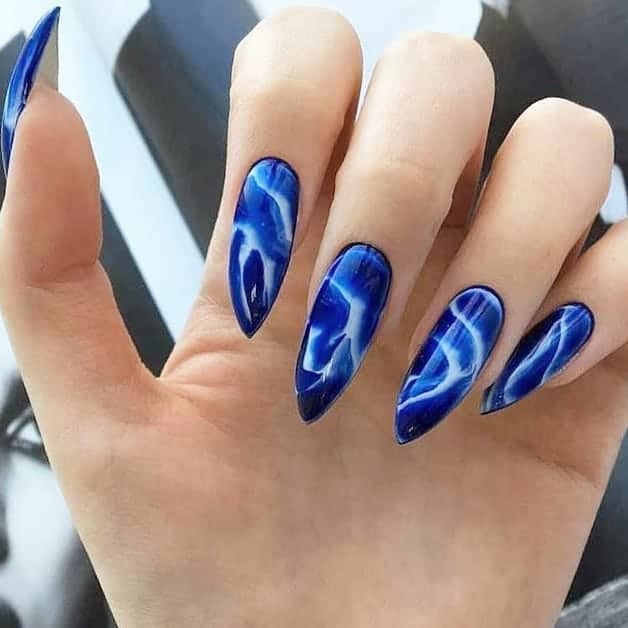 Image: Source
Embrace the allure of Royal Blue Stiletto Marble Nails accentuated with sleek black borders. This edgy yet elegant design showcases the beauty of deep blue marbling, while the striking black borders add a touch of sophistication and boldness, making it a captivating and stylish choice.
15. Blue Water Marble Nail Stamp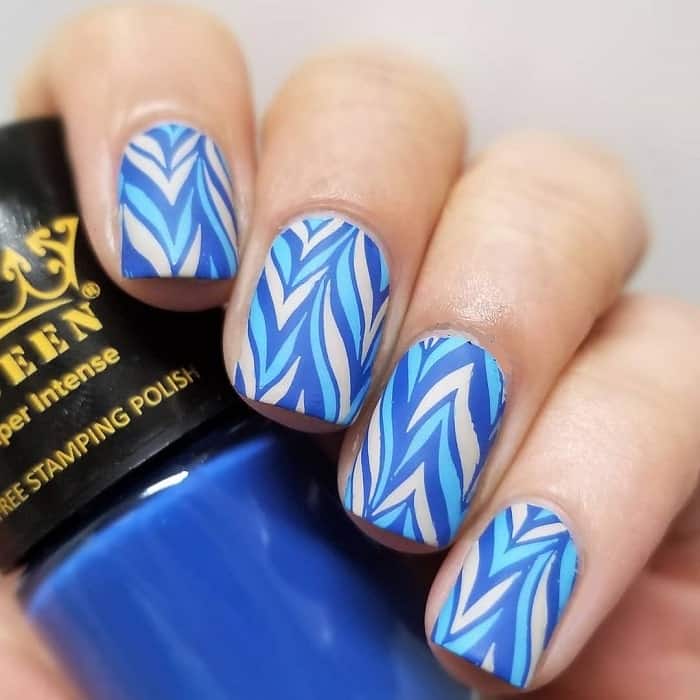 Image: Source
Immerse yourself in the captivating charm of Water Marble Nail Art. With a harmonious blend of two shades of blue and white, this unique design adorns all nails with consistent, mesmerizing patterns, exuding a touch of individuality and elegance.
16. Black and Blue Marble Nails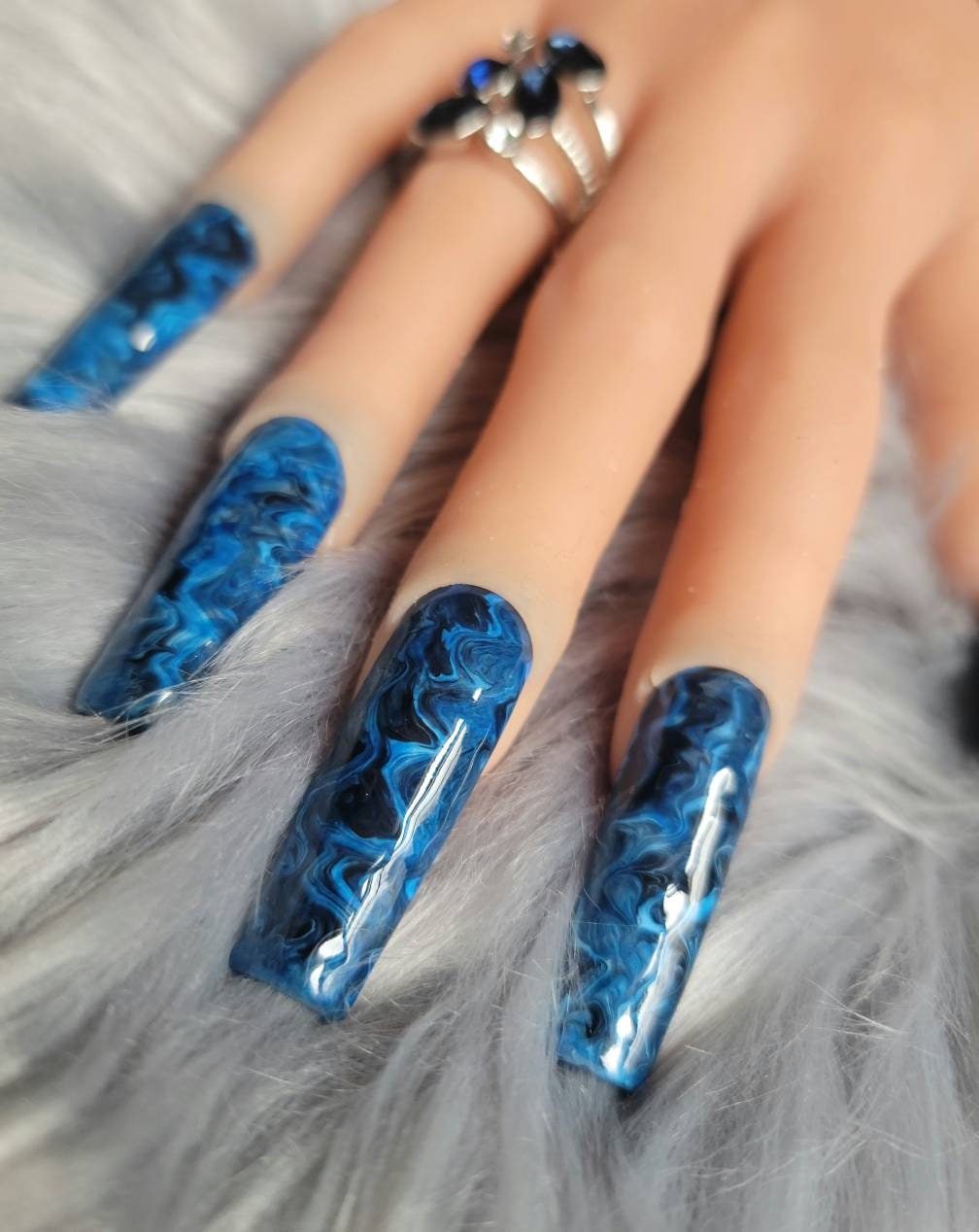 Image: Source
Step into the realm of enchantment with Black and Blue Marble Nails. Combining the allure of mysterious black swirls and soothing blue patterns, this mesmerizing nail art exudes sophistication and tranquility, creating a unique and captivating masterpiece for your fingertips.
17. Flowing Water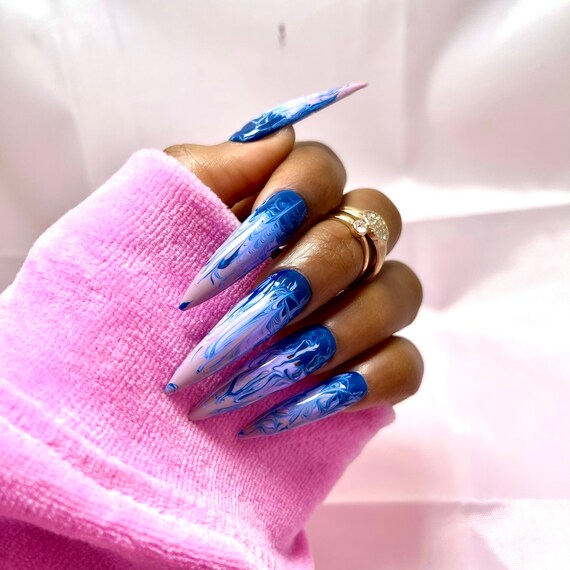 Image: Source
A Mesmerizing marble nail design with Blue Hues on a Light Pink Canvas. Watch as the gentle flow of water seems to cascade from the edges, creating an ethereal and serene effect that captures the essence of tranquility on your nails.
18. Metallic Elegance
Image: Source
Indulge in the allure of Glossy Blue Marble Nails adorned with delicate wire-like frames. This captivating nail art seamlessly combines the richness of blue marbling with intricate metallic accents, adding a touch of sophistication and modern flair.
19. Regal Azure Blooms
Image: Source
Elevate your style with Regal Azure Blooms, a Royal Blue Dry Marble French Manicure perfect for spring and summer. Embrace the enchanting beauty of handcrafted marbling, reflecting the vibrancy of the seasons on your nails for a fresh and sophisticated look.
20. Holo-Marble Magic
Image: Source
Discover the captivating marble "recipe": 3 cremes + 1 holo. To achieve opulence, paint holographic polish first for a mesmerizing effect. Note the difference on the middle finger and thumb where creme shades were used. Elevate your nail art game with this enchanting technique.
21. Sovereign Sapphire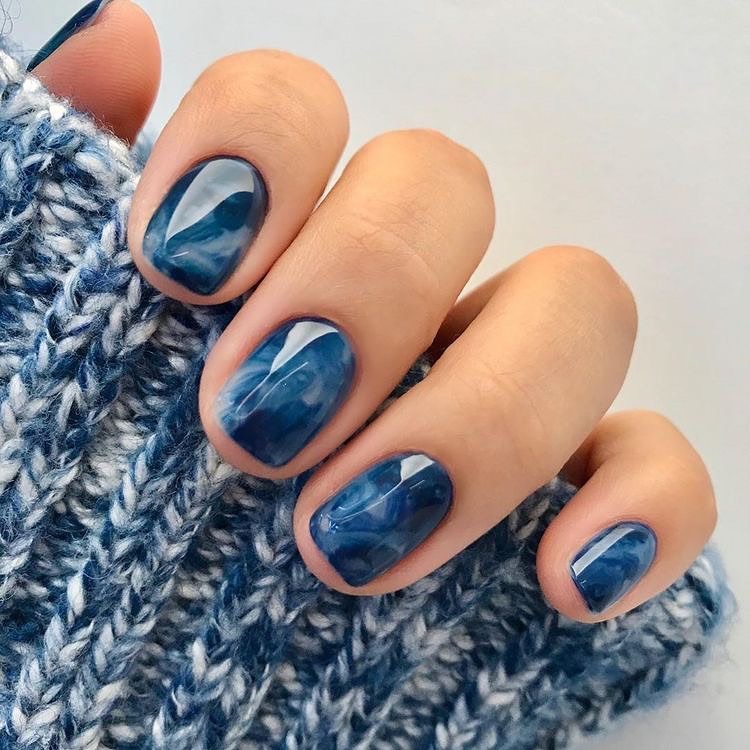 Image: Source
Indulge in regal elegance with royal blue marble nails. This captivating nail art blends depth and sophistication, exuding a luxurious allure. Elevate your manicure game with this enchanting design, perfect for any occasion.
22. Spider Web Drag Royal Blue Marble Nails
Image: Source
Step into the world of elegance and creativity with our fancy spider web drag marble nail art on a captivating blue background. Unleash your inner artist and embrace the mesmerizing allure of this design. Elevate your nails to new heights with this sophisticated and unique masterpiece.
23. Gilded Marble Nail Elegance
Image: Source
Experience opulent allure with royal blue marble nails adorned in gold, purple, blue, and silver hues. This captivating blend of colors creates a mesmerizing marble effect, elevating your nails to a regal masterpiece. Embrace the luxurious beauty of this enchanting nail art.
24. Shimmering Pearlized Royal Blue Marble Nails
Image: Source
This beautiful design combines the most stunning blue hues with intricate detail and brings it directly to your fingertips! "Royal Blue Marble" is delicately created on our lush, pearlized base which brings extra shimmer and shine to this design. Wear this design solo, or pair it with one of our beautiful solids or glitters to create a jaw-dropping mix-n-match mani.
---
The Bottom Line
---
Royal blue marble nails encapsulate an enchanting fusion of sophistication and allure. The timeless beauty of this design exudes elegance, making it a versatile choice for any occasion. Elevate your style with this mesmerizing nail art, showcasing your unique and refined taste. With its rich and regal charm, royal blue marble nails remain a captivating choice for those seeking a touch of luxurious flair. Embrace the artistry of this timeless trend and let your nails be a canvas for elegance and self-expression.
---
FAQs On Royal Blue Marble Nails
---
How do I achieve a royal blue marble effect?
To create this regal look, apply drops of gold, purple, blue, and silver polish onto a water surface, swirl them, then dip your nail in the design. Repeat and clean the excess.
Can I use different base colors for this design?
Yes, while royal blue is classic, other deep shades work well. Experiment with navy, emerald, or even black for a unique twist.
What tools do I need for marble nail art?
A water container, toothpicks or a nail art brush for swirling, and tape to protect cuticles are essential.
Can beginners achieve this look?
Yes, with practice, beginners can master the technique. Start with simple designs and gradually experiment with color combinations and patterns.
How long will the marble design last?
Marble nails, like any nail art, can last 1-2 weeks with proper care. Apply a clear topcoat every few days to extend the wear.