If you find yourself drawn to the shadows, captivated by mysterious allure, and yearning to express your love in a unique and unforgettable way, then some Gothic wedding makeup looks can inspire you to get that look on your Big Day.
Gothic weddings, once considered unconventional, have evolved into a mesmerizing fusion of tradition and darkness, casting a spell on couples seeking a celebration that breaks free from the ordinary. Stepping away from the conventional notions of bridal beauty, these captivating makeup looks embrace the enigmatic, the bold, and the hauntingly enchanting.
In this listicle, we delve into the world of Gothic wedding makeup looks, unveiling mesmerizing styles that will transport you to a realm where elegance meets rebellion, where romanticism embraces the shadows, and where your innermost desires find their expression in the art of makeup. From dramatic smoky eyes to blood-red lips and ethereal, pale skin, get ready to be inspired by the allure of Gothic charm and discover a beauty that transcends the boundaries of time.
---
Gothic Wedding Makeup Looks
---
1. The Smoldering Temptress
Image: Source
This look centers around mesmerizing smoky eyes that evoke an air of mystery and allure. Create a gradient of deep charcoal, midnight black, and shimmery silver eyeshadows, expertly blending them for a seamless transition. Accentuate your eyes with winged eyeliner and voluminous lashes to add drama and intensity. Pair this smoldering gaze with a subtle contour and a deep, berry-hued lip to complete the look of a captivating temptress.
2. The Victorian Elegance
Image: Source
Embrace the timeless beauty of Victorian-inspired makeup. Achieve a flawless, porcelain complexion using light foundation and setting powder. Accentuate your features with soft rosy blush on the cheeks, and add definition to your eyes with a touch of dark brown eyeshadow and winged eyeliner. Frame your eyes with lush lashes and opt for a classic red lip to exude sophistication and grace.
3. The Ethereal Enchantress
Image: Source
This look revolves around creating an otherworldly and mystical aura. Focus on pale, almost translucent skin using foundation a few shades lighter than your natural tone. Enhance your eyes with silver or metallic eyeshadows, giving them a celestial glow. Add a touch of glimmering highlighter to your cheekbones, and opt for a soft, nude lip color with a hint of shimmer. Complete the look with a sprinkle of silver or iridescent face jewels to elevate your enchanting allure.
4. The Crimson Vamp
Image: Source
Looking for some bold gothic wedding makeup looks? Here's one for you. For a bold and daring look, channel the essence of a seductive vampire. Embrace rich, deep red hues for your lips and eyes. Create a captivating ombre effect on your lips, using a dark, blood-red lipstick blended with a black or plum shade at the corners. Accentuate your eyes with intense, burgundy eyeshadow, and add a touch of drama with winged eyeliner and voluminous lashes. Keep the rest of your face fair and flawless, allowing the crimson hues to steal the spotlight.
5. The Dark Fairy Queen
Image: Source
Capture the essence of a powerful and ethereal dark fairy with this enchanting gothic wedding makeup look. Begin with a pale, luminous base and add a touch of soft lavender or lilac eyeshadow on your eyelids. Highlight your inner corners with a shimmering, iridescent eyeshadow to give your eyes an otherworldly glow. Use a rich, deep purple or black eyeliner to create a smudged, smoky effect. Complete the look with a daring black or deep plum lipstick, and for an extra touch of fairy magic, add a few sparkling rhinestones on the temples or under the eyes.
6. The Gothic Mermaid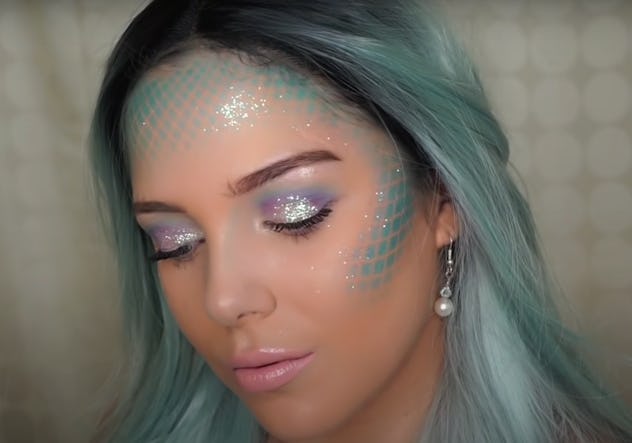 Image: Source
This enchanting Gothic wedding makeup look draws inspiration from the mysterious allure of the sea. Start with a luminous base, adding a hint of iridescent blue or turquoise eyeshadow on the eyelids to create a watery shimmer. Use waterproof eyeliner and mascara to withstand any teary-eyed moments. Opt for a holographic highlighter to give your cheeks a mesmerizing glow. Complete the look with a soft, nude lip color or a subtle shimmering gloss. For a finishing touch, weave delicate sea-inspired hair accessories into your hairstyle to evoke the spirit of a Gothic mermaid bride.
7. The Enigmatic Witch
Image: Source
Embrace the mystique of a powerful witch with this captivating Gothic wedding makeup look. Begin by creating a flawless, matte complexion using foundation and setting powder. Focus on the eyes by using deep, forest green eyeshadow shades to create a smoky and bewitching gaze. Add a touch of glitter to the center of the eyelids for a magical effect. Define your eyebrows with an arch to exude a sense of mystery. Complement the eyes with a nude lip color and enhance the cheeks with a subtle, earthy blush. For an added touch of enchantment, adorn your face with delicate, metallic face tattoos or intricate face paint.
8. The Regal Countess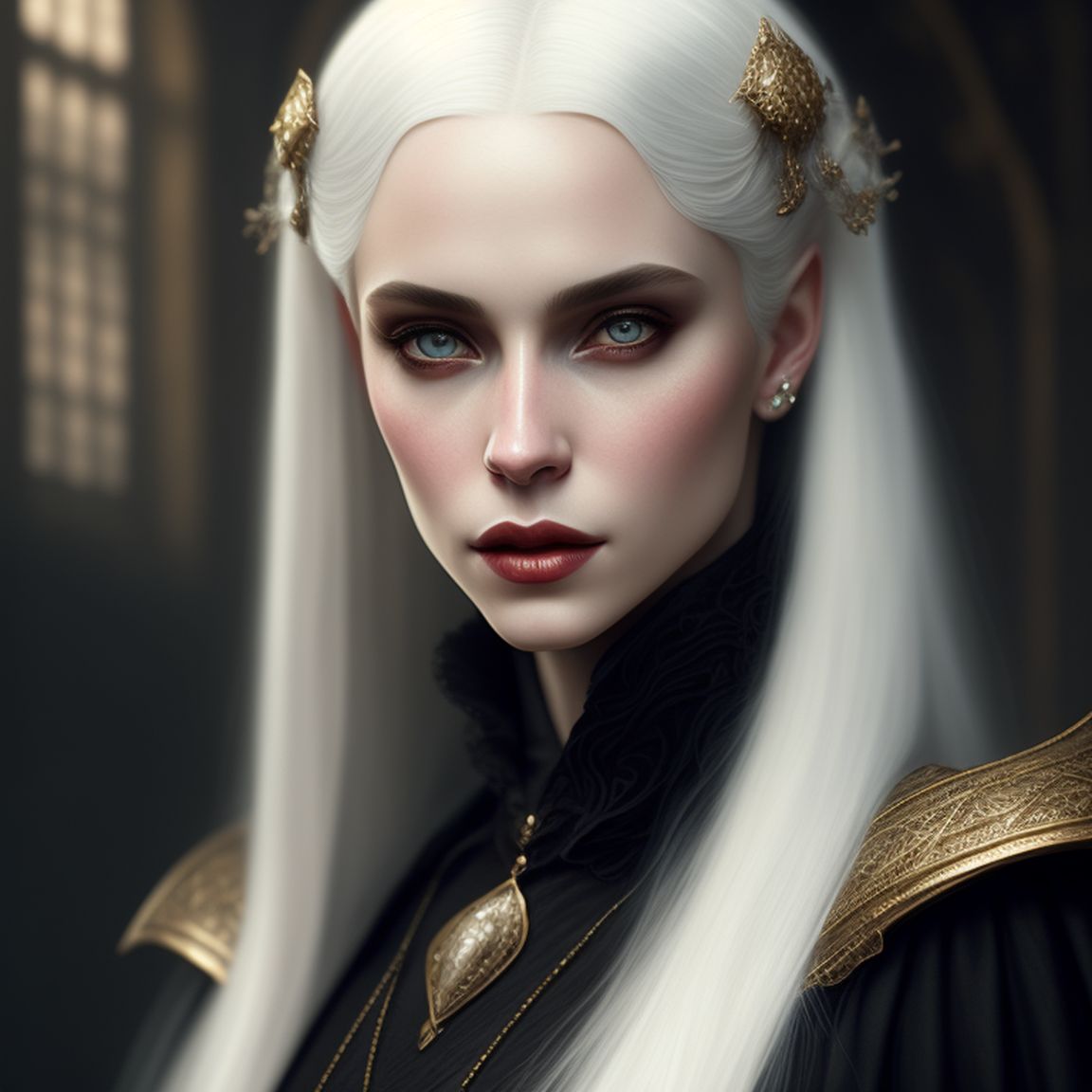 Image: Source
This look draws inspiration from the elegance of Gothic aristocracy. Begin with a velvety, matte complexion and subtly define your eyes using dark brown or burgundy eyeshadow. Add a touch of gold or bronze eyeshadow to the center of the eyelids for a regal touch. Frame your eyes with well-groomed, arched eyebrows. Opt for a dark red or wine-colored lipstick with a matte finish to exude sophistication. Accentuate your cheekbones with a deep, plum-toned blush to add depth and a hint of mystery to your overall look.
9. The Hauntingly Glamorous
Image: Source
This look combines the allure of Old Hollywood glam with a Gothic twist. Start with a flawless matte complexion and emphasize your eyes with a classic cat-eye eyeliner. Use shimmery silver or metallic eyeshadow to create a halo effect on the eyelids, adding a touch of enchantment. Enhance your lashes with volumizing mascara or opt for dramatic false lashes. For the lips, choose a deep plum or burgundy shade with a satin finish for a touch of opulence. Complete the look with a dusting of highlighter on the high points of your face to achieve an alluring glow.
---
Tips For Gothic Wedding Makeup
---
Here are some essential tips to help you achieve the perfect Gothic wedding makeup look:
Prepare Your Canvas: Before applying any makeup, ensure your skin is well-prepped and hydrated. Cleanse, tone, and moisturize your face to create a smooth canvas for the makeup. Use a primer to help your makeup last longer and minimize the appearance of pores.
Embrace Pale Complexion: Gothic makeup often features a pale, porcelain complexion. Choose a foundation that matches your skin tone or opt for a shade lighter if you prefer a more ethereal look. Blend it well for a seamless finish.
Focus on the Eyes: The eyes are the centerpiece of Gothic makeup. Experiment with dark, smoky eye looks using shades like black, deep purples, rich blues, or dark greens. Consider winged eyeliner for added drama and use waterproof mascara and eyeliner to avoid smudging.
Bold Brows: Gothic makeup looks often incorporate bold and well-defined eyebrows. Use an eyebrow pencil or powder to shape and fill in your brows, creating a strong and expressive arch.
Play with Colors: While Gothic makeup is known for its dark shades, don't shy away from adding pops of color to your look. Deep reds, purples, and blues can add a touch of vibrancy and dimension to your eyes and lips.
Contour and Highlight: Sculpt your face with subtle contouring to add depth and definition. Highlight your cheekbones, brow bone, and inner corners of the eyes to create a radiant, ethereal glow.
Dramatic Lips: Choose bold lip colors like deep reds, purples, or black to make a statement. Consider using lip liners to achieve a precise and long-lasting lip look.
Set Your Makeup: Use a setting spray or translucent powder to lock your makeup in place, ensuring it stays flawless throughout the day and night.
Practice Makes Perfect: Experiment with different looks well before your wedding day. Practice your chosen makeup looks to see how they complement your features and to ensure you're comfortable with the final result.
---
The Bottom Line
---
Remember, Gothic wedding makeup is all about embracing your individuality and expressing your innermost desires through artistic beauty. Whether you choose a bold, vampy look or a subtle ethereal vibe, these looks will surely make you feel like the captivating protagonist of your own Gothic love story.