Celebrating your near one's mama-to-be is exciting. As soon as you see some invitations for baby showers popping up in your inbox, you start browsing to get inspo for what to wear to a baby shower as a guest. First of all, ask your host whether there's any dress code for the occasion. If there's no strict dress code, get baby shower outfit ideas by searching online.
However, online searching may be time-consuming, especially if you have no idea how to dress appropriately for the event. No worries. We're here to provide you with many choices from which you can pick one that suits your surroundings and personality the most. So, start browsing these chic ideas and tips to help you make the best selection.
Tips to Select the Best Baby Shower Guest Outfits
Image: Source
Tip #1: Determine the Formality Level
If you find that the invitation has calligraphy, then the event is going to be formal. Dress accordingly. You can dress formally in pair of a simple blouse or tee and summer light pants. Dress casually if it's a more in-person event. Choose jeans and a floral top to look casual while dressing elegantly.
Tip #2: Opt for Soft Patterns and Light Colors
Drawstring neckline ruffled cap sleeves, and gathered skirt finish with a hem ruffle are some of the best patterns for baby shower events. These patterns will make you feel comfortable. Consequently, you will be able to play even the tough games without messing up your dress.
Light colors like soft pastel colors will enable you to fit into the palette of the decoration. Furthermore, it will prevent you from being sweaty.
Tip #3: Consider the Location
If the event is held outdoors, then the obvious choice is a summer dress having an airy fabric. Wear heels if the occasion is held on the grassy land. If you want to take part actively in the games, one of the best baby shower outfit ideas as a guest will be a flowy dress that allows you to move freely.
Now, you know what type of dresses to wear. Below, we have shared a list of baby shower outfit ideas for guests that are incredibly easy to ensemble. At the same time, you won't feel underdressed or overdressed for the event.
Baby Shower Outfit Ideas for Guest Summer
---
1. A Midi Length Sun Dress
---
Image: Source
Sundresses are feminine and easy-breezy outfits perfect to wear on a summer day. They are mostly made from lightweight linen or cotton. Whatever the length, their easy-going silhouettes make them endlessly wearable without overwhelming you in fabric.
You can have a never-ending rotation of sundresses in your closet. Keep the makeup minimal as the baby shower will be a day event. Just grab a cute purse and slip into your sandals. And oh, don't forget to take your sunscreen.
---
2. A Midi Skirt With a Print Top
---
Image: Source
The length of a midi skirt is in between a mini skirt and a maxi skirt. Midi skirts are a cute option for any occasion. You can easily dress this versatile piece up or down. They flatter all body shapes. For baby showers, it's a perfect choice.
Tucking in a printed top is an easy way to complete this baby shower outfit. Effortlessly up the ante of this look by slipping into bright-colored heeled pumps. No matter where the event will be held, you will look sophisticated in this outfit.
---
3. Linen Blend Mini Dress
---
Image: Source
A linen mini dress allows you to beat the heat fashionably. It is one of the baby shower outfit ideas for guests that looks trendy while adding a lovely relaxed feel. Having a mini linen dress can add color to your summer wardrobe, as the material disperses natural light, softening the intensity of vibrant hues.
A side braid and a pair of sneakers can instantly make you ready for the event without much effort. It's a never-failing option when you need to look chic in a flash.
---
4. A Co-Ord Set
---
Image: Source
A co-ord is an outfit made from matching colors prints or fabrics. Co-ords are separates that are designed to be worn together. From baby shower parties to drive-in dates, a co-ord set is the chicest and most comfortable option to create a modish look. Co-ords take all the stress out of matching an outfit. Whether the event calls for a formal or a casual dress code, you can give this a try.
Finally, round off the outfit with a pair of nude heels and a clutch purse.
---
5. Satin Pleated Pink Dress
---
Image: Source
Looking for more baby shower outfit ideas? Here you go.
If you're ready to wear something bold in an elegant way, this halterneck satin dress is for you. The satin finish pleats, halterneck design, and asymmetrical hem will make you look stylish while adding a touch of sexiness.
This dress will allow you to master off-duty style and will take your casual fashion game to a new level. However, it's better to avoid any below-the-knee dress if the event is going to be held in a grassy or beach location.
Baby Shower Outfit Ideas for Guests in Fall
Ready to toast that new baby in style? Our list of fall baby shower outfit ideas has timeless collections with modern details to help you take the festive outfit to a whole new level.
---
6. A Cashmere Sweater with Velvet Leggings
---
Image: Source
Cashmere sweaters are cozy, warm, and natural. They are reliable, versatile, and can be dressed to suit your mood. Cashmere will be a gorgeous solution and you'll be able to wear it for a long time and always look flawless. Thus, it can be a good choice for baby showers.
Marry the cashmere sweater with black velvet pants to don a sleek and polished ensemble. To inject a touch of elegance into this look, match it with a pair of black ankle boots.
---
7. A Slip Dress and A Cardigan Combo
---
Image: Source
Slip dresses are cute, easy, and celebrity-approved outfits. Though a flirty garment, a slip dress can be your failsafe bet in the fall if you know how to layer it cleverly. In fact, it's a good pick for a baby shower event, irrespective of its location.
Pairing your favorite slip dress with a long cardigan and motto boots for a trendy ensemble can also be appropriate for a casual event like a baby shower. Being a guest, you can definitely go for this combo to add a feminine touch while keeping yourself warm. You can button up the cardigan to create the illusion of wearing a midi skirt.
---
8. Animal Printed Dress and Vest
---
Image: Source
An animal print dress matching up with a blazer is a great option if you are heading for a baby shower party in the fall. This combo is super comfortable and stylish.
The vest will keep you warm while working as a style statement. Slip into a pair of brown or nude heels to complete the outfit.
---
9. Cozy Tshirt Dress and Denim Jacket
---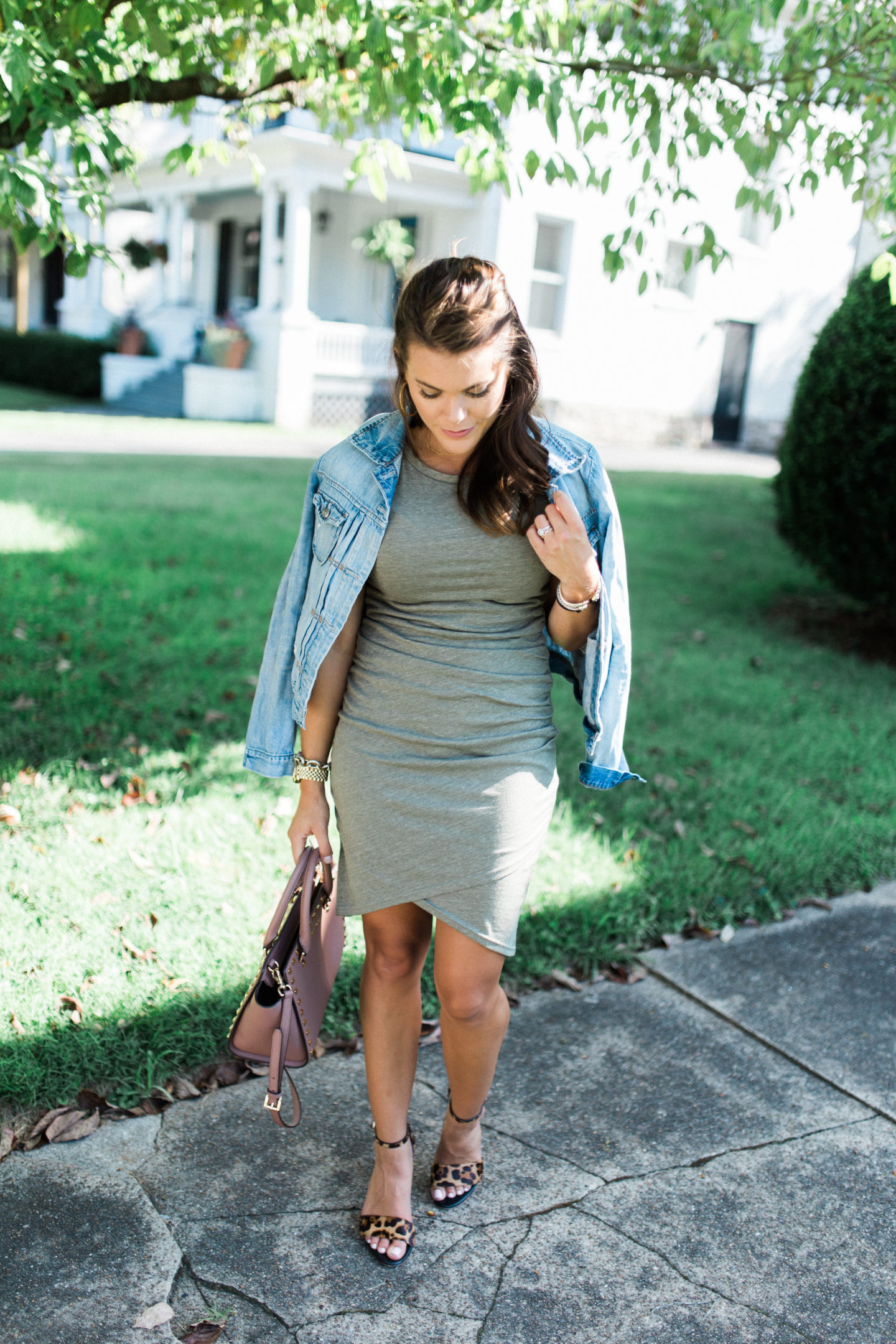 Image: Source
Whether the baby shower is going to be held in a banquet hall or in a garden, you can definitely consider this baby shower outfit for guests.
Awaken the fall mood by matching a t-shirt dress with a denim jacket. A denim Jacket works with every outfit. You can never go wrong with a denim jacket combo. The bodycon t-shirt dress will add a feminine touch while the jacket will make you look super stylish.
---
10. A Purple Turtleneck with Brown Trousers
---
Image: Source
The best colors for baby showers during fall are pastel colors. As the temperature has just started to go down, choose a thin knitted Turtleneck sweater of a pastel violet color. Go ahead and complete your ensemble with brown pants. To look smarter, wear ankle-length pants.
Such a combination will make for the ultimate chic casual outfit and make you stand out from the crowd because of your awesome fashion sense. Give it an added dose of style with violet pumps.
Baby Shower Outfit Ideas for Guests in Winter
In winter, you have to travel through snowy and cold weather conditions. Therefore, you have to pick your dress very carefully. Thick fabric dresses and pants work well in winter. Similarly, pay attention to the layers. Leather and fur are something you can turn to.
---
11. A Quilted Coat and Pattern Dress
---
Image: Source
Looking for more baby shower outfit ideas? Here's another for you. A quilted coat on a patterned dress is a unique combo. This combination looks elegant for an event like a baby shower irrespective of your age.
Flaunt your favorite quilted coat by wearing it over a turtleneck and patterned dress combo. Stark knee-high boots will prevent your lower legs from getting cold while taking the look up a notch.
---
12. A Knitted Dress
---
Image: Source
The perfect knit dress will feel as soft and cozy as a sweater yet still look polished. Its year-round wearability and day-to-night versatility give it a universal appeal, making it a worthwhile sartorial investment. They do not simply attract attention, but also give a sense of comfort and heat.
Bump up the appeal of this getup by rounding off with a pair of nude sneakers and a nude-colored bag.
---
13. A Puff-Sleeved Plaid Dress
---
Image: Source
A plaid print brings a vintage yet feminine touch to your outfit. Though it can be worn all year round, it's a particular fall/winter favorite.
Consider wearing a grey plaid dress having puffed sleeves to put together an absolutely stylish and current casual outfit. Puffed sleeves are in style now. it's become more than just a fleeting trend and a style with lasting power.
As it's a baby shower event, I would suggest you go for blue, pink, and red. These hues are undoubtedly attractive and suitable for celebrating a baby.
---
14. A Tweed Pant and a Blazer Set
---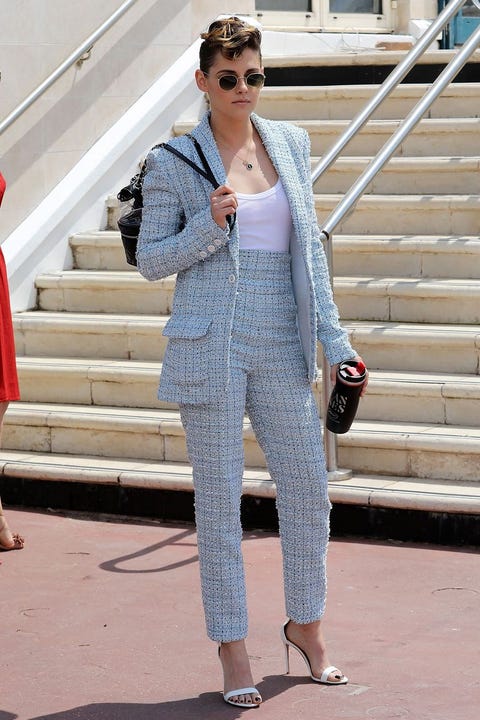 Image: Source
A simple tweed blazer and a pant set is perfect for women attending a casual baby shower. This outfit has regularly been reclaimed as an empowering, cool, and celebratory garment for women that can be worn in a multitude of ways.
It is one of those baby shower outfit ideas that will help you to have to deal with cold and snow and wind and whatever else the atmosphere may throw your way. Moreover, you will remain comfortable throughout the day.
---
15. Oversized V-Neck Sweater with Pencil Skirt
---
Image: Source
Consider a v-neck sweater and slip skirt the perfect way to anticipate the warmer months without compromising on the comfort you need from your oversized sweater.
A v-neck sweater and light grey pencil skirt are the kind of a no-brainer casual combo that you need when you have zero time to dress up. To introduce a bit of glam to this outfit, introduce a pair of red strapped heels to the mix.
Frequently Asked Questions
a) What guests should not wear to a baby shower?
There's no strict rule that this dress can't be worn at a baby shower. However, as the event mainly focuses on the would-be mother, it's better to avoid overtly sexy dresses like cut-out clothes, sheer pieces, and bralettes.
b) Can I wear black to a baby shower?
Black is mainly associated with funerals and mourning. But, a baby shower, on the other hand, is a happy event. Therefore, I'd suggest you avoid black and look for some pastel colors while choosing what to wear to a baby shower as a guest.
c) Can I wear jeans to a baby shower?
Yes, you can definitely wear jeans to a baby shower, if there's no dress code. However, jeans look a bit casual. Therefore lace tops and floral blouses will work best with it. Furthermore, make sure your jeans are well-fitted to stay comfortable.