Crop tops are bold, fun, chic, and can make you look fashion-forward. Though mainly worn in summer, but if you know how to wear a crop top in winter, you can style with them even during the chilly days. Anyone can wear a crop top, irrespective of their body type. Crop tops flatter all silhouettes.
Britney Spears, Sophie Turner, Bella Hadid, and many other celebs have remained fashion inspiration regarding how to style crop tops. Pair it with your winter coats or match it with your pleated skirts, they have the potential to take your style to the next level.
Are Crop Tops in Fashion?
Crop tops are highly popular since the late 1990s Spice Girls days. Anyone above 10 years can wear them. Furthermore, the touch of sophistication to these tops has given the midriffs the skin-is-in moment. From vintage bralettes to ruffled bandeaus, different types of crop tops are available. And, hence, there are numerous ways to style them.
Ahead, there's a long list of crop top outfit ideas for winter that we think will embrace all body types.
Is It Ok to Wear a Crop Top in Winter?
Crop tops can be worn all year round. As long as you know how to layer it perfectly in winter, you can go ahead and style with it even when the temperature falls.
How to Wear a Crop Top in Winter: 12 Different Ways
---
1. With a Leather Pant and a Denim Jacket
---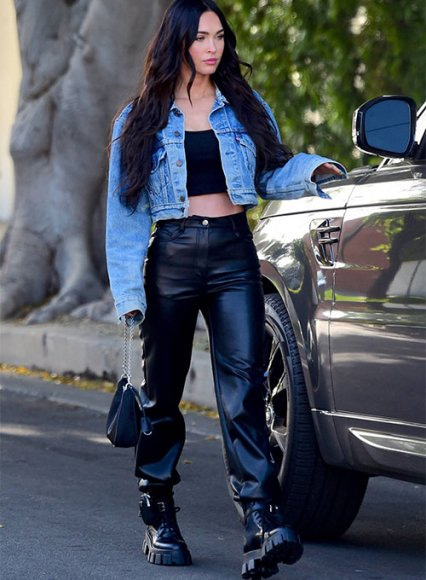 Image: Source
The luxe material of leather pants makes you feel comfortable while giving you a rough-and-tumble edge. Pair it with a crop top and layer a denim jacket over it to keep yourself toasty while adding to your style factor.
---
2. Plaid Button Down Crop Top with Jeans
---
Image: Source
Plaid shirts are great for winter outfits. From weekend strolls to the night outs, crop plaid shirts work everywhere. We're talking about plaids mainly because of their thick fabric. So, it will keep you warm.
Pair the plaid crop top with high-waisted jeans to cover your midriff, if you're not willing to bare your midriff due to the cool blowing wind and the chilled weather.
---
3. Cropped Sweater with a Plaid Midi Skirt
---
Image: Source
A turtleneck crop sweater can help embrace the impending cold weather. Choose a plaid midi skirt as the bottom if your office allows business casual dress.
Tuck the long-sleeve cropped sweater into the skirt. Finally, round off the outfit with a matching pair of boots.
---
4. Over a Full-Sleeve Shirt
---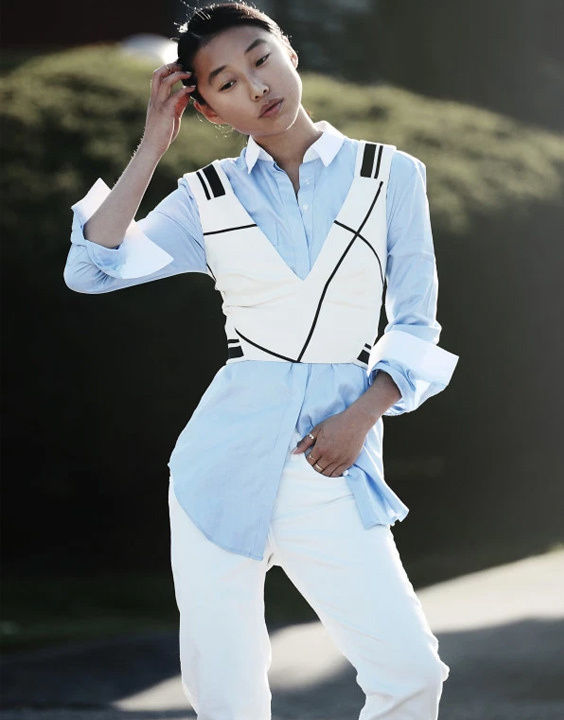 Image: Source
For all women who like to wear crop tops even in winter but are not willing to show their waist can choose this outfit.
A crisp, fitted button-down shirt looks classy and professional, even when you're pairing it with a crop top. Peeking under a long-sleeved crop top, the look is both totally unexpected and super posh.
---
5. Pair the Crop Top With a Suit
---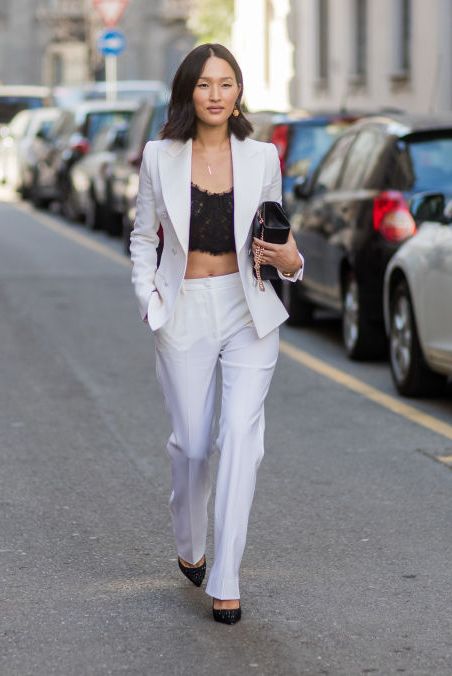 Image: Source
Look for a suit having sharply fitted blazers and tapered pants. Bring some interesting twist to your suit look by swapping the shirt with a crop top.
You can wear your blazer closed with a bit of crop top peeking out for a more conservative look. Alternatively, leave the jacket open and let the top take center stage.
---
6. With a Trench Coat
---
Image: Source
A trench coat is a weatherproof staple that always looks stylish. This winter piece has stood the test of time.
It's completely appropriate to mix your crop top and jeans with a trench coat. A pair of suede booties keep things this side of winter.
---
7. With a Cropped Sweatshirt
---
Image: Source
A cropped sweatshirt provides all the insulation your upper body could ask for. Gigi Hadid has chosen a crop top to wear under her sweatshirt. This is an amazing unique combination for those looking for street style inspo. You can also wear this combo while going to gym.
---
8. With a Cardigan
---
Image: Source
Cardigans are wardrobe essentials for smart casuals. Serving as a practical layering piece, cardigans offer endless styling possibilities.
For a luxuriously cozy look, throw on a light-colored cardigan on your crop top. You can either wear it as a front-open layering piece or close the buttons.
---
9. Over a Tunic
---
Image: Source
Tunics are shirts or hip-length dresses which you can style in different ways. Be it a dinner date or a casual event, tunics can create a stylish outfit for you.
A cropped sweater on a tunic can be the perfect match. Complement the outfit with a pair of sunnies and ankle-length boots.
---
10. With a Flannel Shirt
---
Image: Source
Flannel shirts provide your body with the required warmth. The air pockets in the flannel fabric help your body retain heat when it's colder outside.
This means you can surely swap on your flannel shirt over a crop top. For a more casual vibe, pair them with joggers pants and sneakers.
---
11. With a Cozy Maxi Gown
---
Image: Source
Do you think maxi dresses are just for summer? These floor-length lovelies can be worn in winter, provided you're choosing a thick fabric. Now, wear your crop top over the gown to bring some uniqueness to the outfit.