In the world of nail art, few combinations exude the same level of sophistication and luxury as the pairing of grey and gold. These two hues come together to create a timeless and versatile canvas for nail enthusiasts to showcase their creativity. Whether you're seeking understated elegance or bold glamour, grey and gold nail designs have the power to transform your fingertips into works of art. Join us as we explore ten breathtaking nail designs that beautifully blend these hues, taking your manicure game to a whole new level of chic. Whether you're preparing for a special event or simply looking to elevate your everyday style, these nail designs will inspire you to embrace the exquisite fusion of grey and gold.
---
Grey And Gold Nail Designs
---
1. Grey Nails With Gold Accent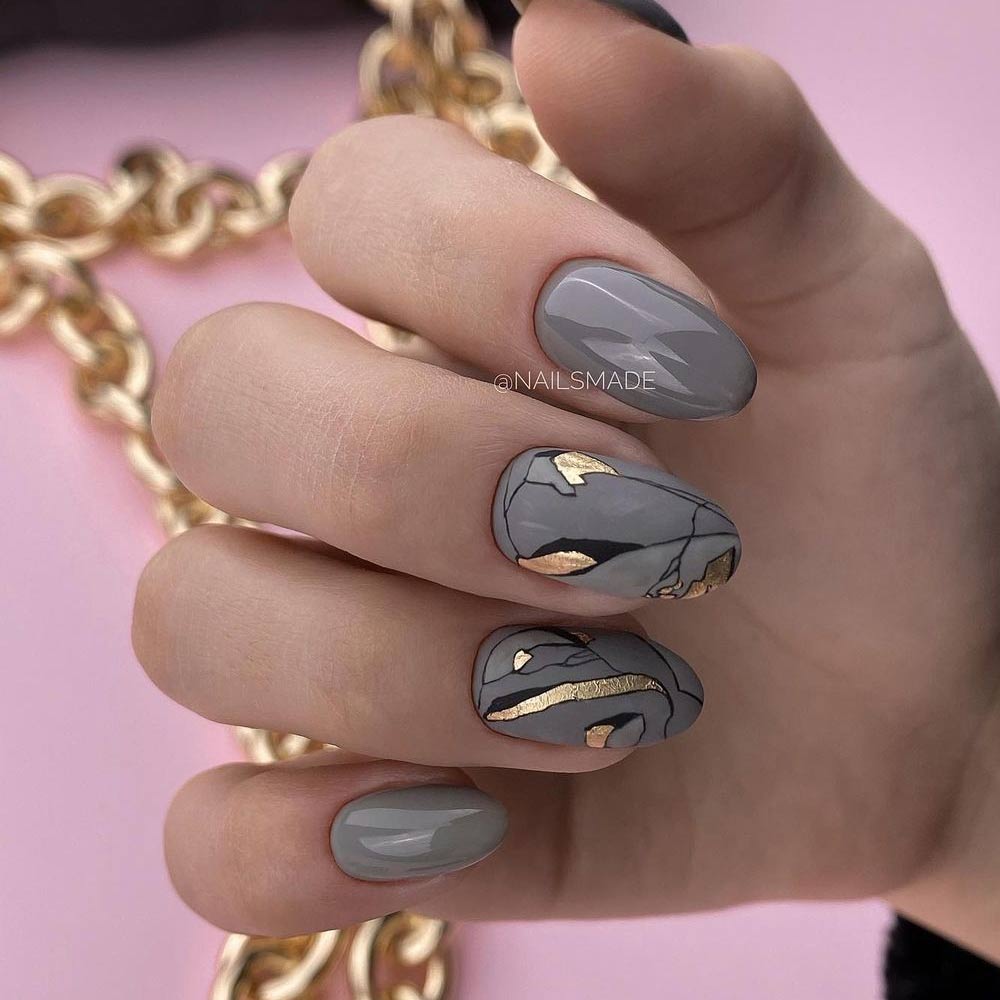 Image: Source
These grey nails with gold accents and delicate black lines are a striking combination of sophistication and edge. The cool, muted grey base provides the perfect backdrop for the luxurious gold accents, while the subtle black lines add a touch of intrigue and drama. A truly mesmerizing nail design.
2. Gilded Grey Elegance
Image: Source
Picture nails that exude elegance and opulence – that's what you get with these light grey nails. Adorned with pristine white and shimmering gold stones, each nail sparkles like a precious gem. One standout nail features a captivating white design against the muted grey backdrop, while the little finger adds a touch of glitzy allure with its shimmering gold hue. This nail art is a dazzling masterpiece.
3. Geometric Grey And Gold Nail Designs
Image: Source
Geometric grey and gold nail designs bring a modern and artistic flair to your fingertips. These intricate patterns, meticulously crafted with a chic combination of grey and gold, are both visually captivating and fashion-forward. Whether it's triangles, chevrons, or intricate lines, these nails redefine sophistication with a touch of geometric charm.
Also Read
49 Gray Nail Designs to Fall in Love With
4. Simple Diagonal Design
Image: Source
The simple diagonal design featuring deep grey and glittering gold colors is a sleek and stylish choice. This minimalist yet eye-catching nail art effortlessly combines the understated elegance of deep grey with the dazzling allure of glittering gold. It's a perfect blend of sophistication and glamour for any occasion.
5. Stiletto Grey And Gold Nails
Image: Source
Light grey nails adorned with intricate gold swirls create a captivating and enchanting nail art design. The soft and subtle grey base provides a delicate canvas for the opulent, golden swirls that dance gracefully across the nails, resulting in a look that's both sophisticated and mesmerizing. It's a true masterpiece of nail elegance.
Also Read
26 Swirl Nail Designs: Unleashing the Mesmerizing Magic on Your Fingertips
6. Gold And Grey Marble Nails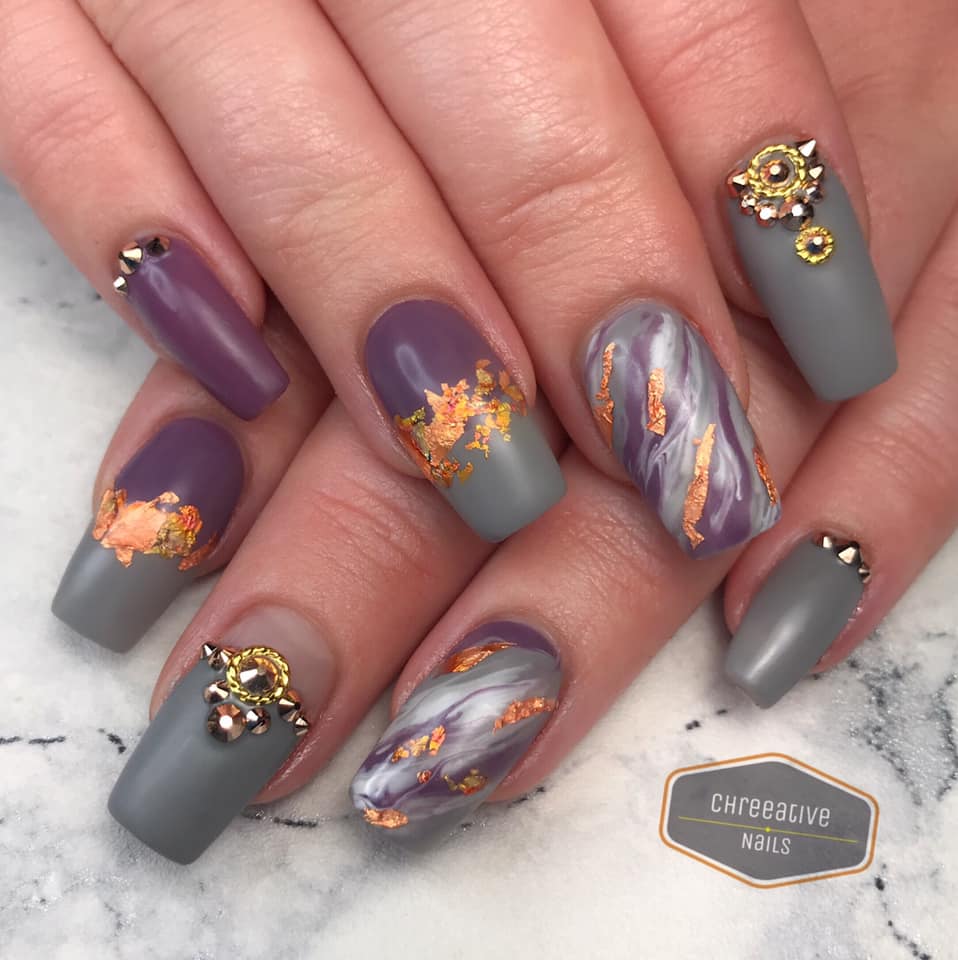 Image: Source
In the creation of this stunning nail art, the artist expertly blended three gel polish colors on the marble nails, deftly utilizing a small amount of acetone and a brush in a gentle, sweeping motion. To enhance the design's opulence, gold leaf and Swarovski Crystals were meticulously applied using Artistic Nail Design Corrector Gel. The final touch was the application of a matte top coat, adding a sophisticated finish to the exquisite masterpiece.
Also Read
47 Stunning Colorful Marble Nail Designs to Enhance the Beauty of Your Nails
Red Marble Nails – 18 Stunning Design Ideas
24 Royal Blue Marble Nails: Unveiling the Mesmerizing Beauty of This Regal Elegance
7. Grey And Rose Gold Nails
Image: Source
These grey nails are a testament to the beauty of simplicity and elegance. Each nail is adorned with a touch of rose gold luxury – one features a delicate rose gold heart, while the others boast a mesmerizing rose gold chrome effect. This nail art combines modern chic with a romantic twist for a truly captivating and stylish look.
8. Dark Grey And Gold Nails
Image: Source
Create a nail art statement with these dark grey and gold nail designs. These dark grey nails make a bold and stylish statement with the addition of a gold zipper design. The contrast between the rich, dark background and the gleaming gold zipper creates a captivating and edgy nail art look that's both chic and fashion-forward.
9. Grey And Gold Acrylic Nails
Image: Source
For a medium-length, almond-shaped acrylic nail art design, envision a dazzling winter look. Start with a base of light grey and add a touch of opulence with golden chains and sparkling crystals. The fusion of grey and gold, finished with a glossy coat, captures the essence of a winter wonderland, radiating a warm, glamorous glow.
10. Grey And Gold Ombre Nails
Image: Source
These Grey and Gold Glitter Ombre Nails are a stunning blend of sophistication and sparkle. The gradient transition from cool grey to dazzling gold, infused with glitter, creates a captivating and glamorous nail art look. Perfect for adding a touch of elegance and glamour to any occasion, these nails are sure to dazzle.
Also Read
43 Stunning Red Ombre Nails to Try This Season
11. Artistic Splash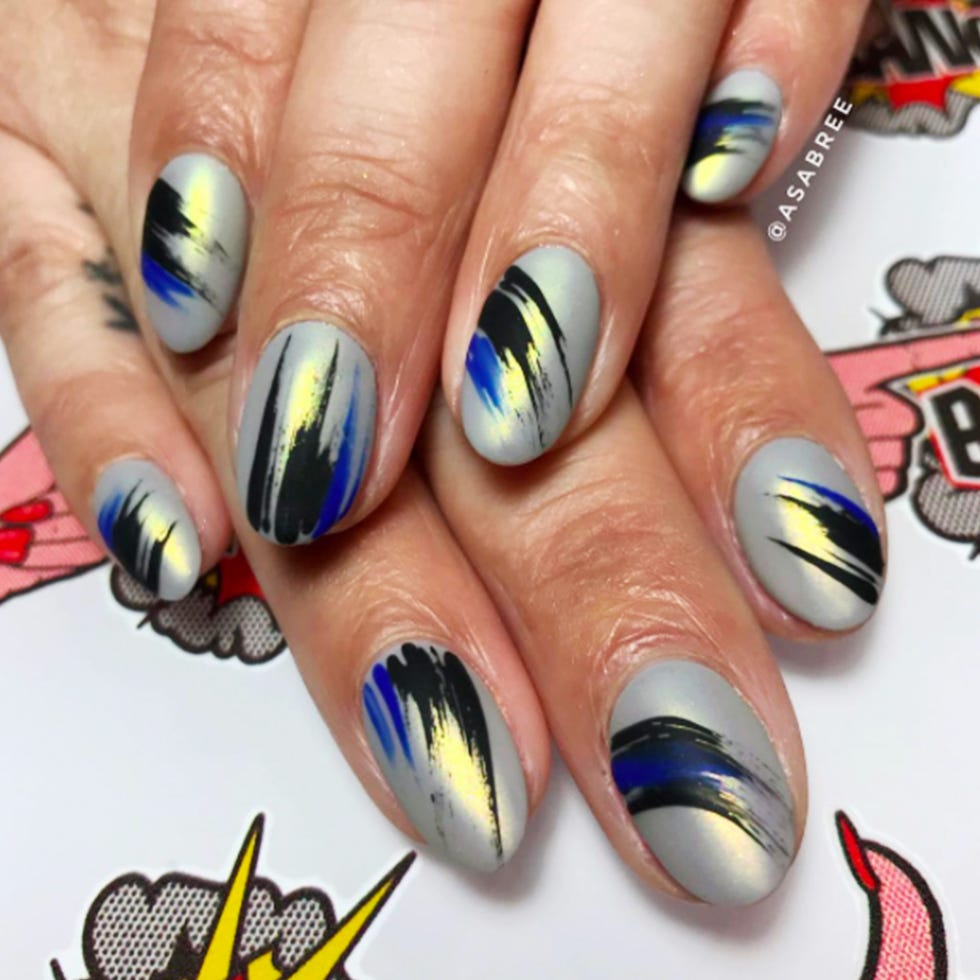 Image: Source
Let your creativity flow as you paint on a splash of artistic design. The dance of blue and black paint strokes across your nails will be like a symphony of colors that perfectly complement the elegant base. But we're not stopping there; we're taking it up a notch! The final touch is a holographic top coat that adds a dazzling burst of pizzazz, making your nails shimmer and shine like a starry night sky.
12. Pyramid Grey And Gold Nail Designs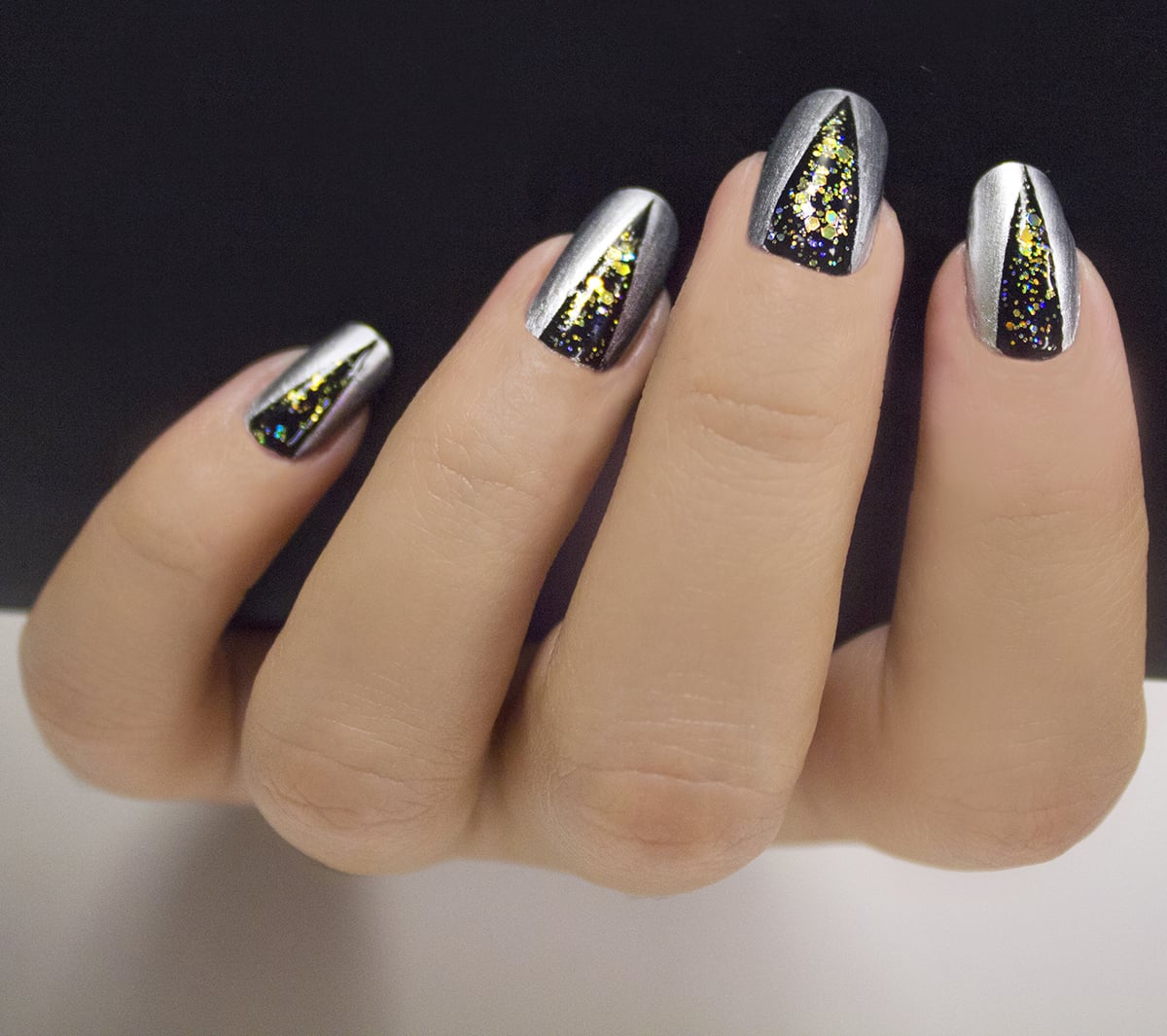 Image: Source
Indulge in a two-toned metallic nail design, blending gold and silver for a confetti-like celebration on your fingertips. These jewel-toned colors elevate any outfit with a touch of glamour.
13. Double Gold Bordered Grey Nails
Image: Source
Elevate your style with double gold-bordered grey nails. This elegant combination as gold and grey nail designs exudes sophistication and offers a timeless, versatile look suitable for any occasion, adding a touch of luxury to your fingertips.
14. Half Moon At The Edges
Image: Source
Enhance the allure of dark grey nails with exquisite half-moon gold designs at their edges. The striking contrast between the rich, moody grey and the shimmering gold accents creates an elegant and sophisticated nail art that captivates with its luxurious simplicity.
15. Gold French Tip
Image: Source
Elevate light grey nails with the timeless elegance of gold French tips. This classic combination exudes sophistication, merging the understated charm of light grey with the opulent allure of gold, resulting in nails that are effortlessly chic and versatile.
16. Gold Flakes On Grey Nails
Image: Source
Adorn your dark grey nails with opulent gold flakes for a luxurious and captivating manicure. The juxtaposition of the rich, moody backdrop with the gleaming gold creates a striking, high-fashion statement that exudes glamour and refinement.
17. Matte Grey Nails With Gold Flakes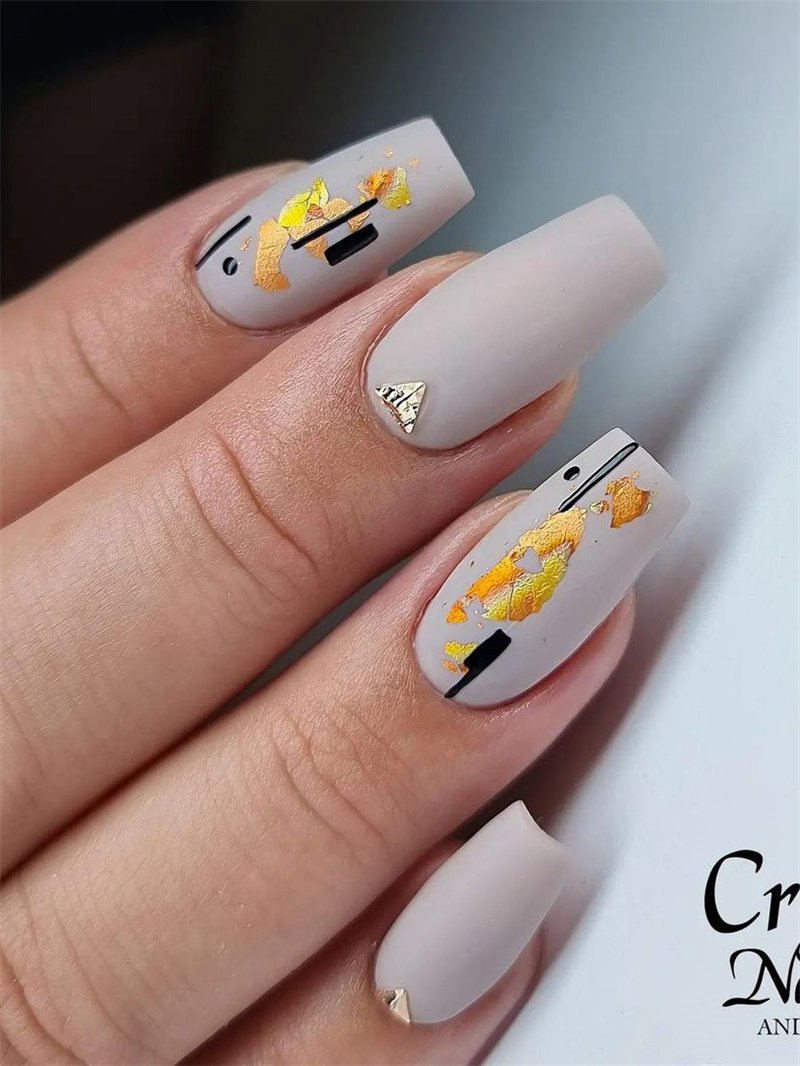 Image: Source
One of the unique grey and gold nail designs. Enhance light matte grey nails with bold black lines and delicate gold flakes. The fusion of sleek minimalism and intricate detailing yields a manicure that's both contemporary and sophisticated, adding a touch of luxury and uniqueness to your fingertips.
18. Abstract Grey And Gold Nails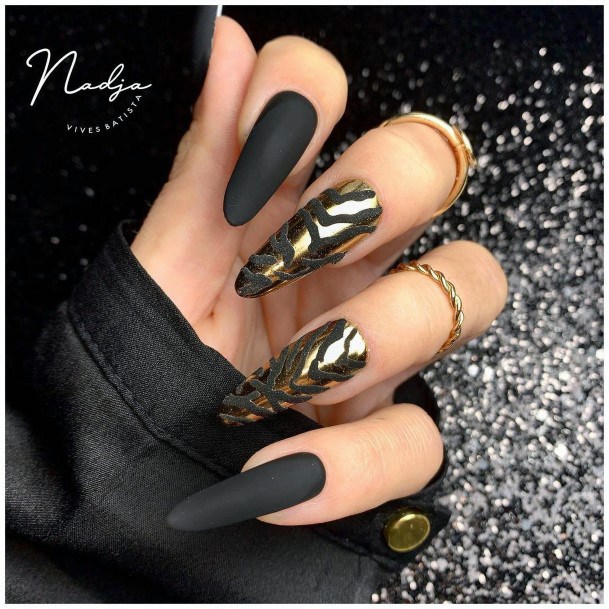 Image: Source
Embrace the allure of abstract beauty with stunning grey and gold nail designs. The marriage of these two hues creates a mesmerizing, avant-garde manicure that exudes modern elegance and sophistication, making a bold and artistic statement on your fingertips.
19. Gold Lines And Embellishments
Image: Source
Adorn your dark grey nails with intricate gold horizontal and vertical lines, framed by a border of exquisite gemstones. This meticulous design combines sophistication and opulence, creating a nail art masterpiece that dazzles with its luxurious detail and elegance.
20. Golden Half Circles On Grey Nails
Image: Source
Here's another very easy grey and gold nail design. Grace your dark grey nails with a touch of luxury by adding two gleaming golden half circles at the corners. This simple yet striking design imparts a hint of sophistication and intrigue, elevating your manicure to a captivating and chic level.
21. Golden Stones And Lines
Image: Source
Want to get more ideas for grey and gold nail designs? Transform your light grey nails into a dazzling masterpiece with a combination of golden stones, elegant lines, and a sprinkle of glitters. This intricate and radiant design captures the essence of glamour and opulence, making your manicure truly enchanting and eye-catching.
22. Dark Grey Designs On Gold Glittery Nails
Image: Source
Unleash your creativity with dark grey designs on a bed of gold glittery nails. This captivating contrast blends sophistication with a touch of extravagance, resulting in a manicure that's as glamorous as it is stylish, perfect for any special occasion.
23. Trio-Colored Boxes On Nails
Image: Source
Elevate your nail art with a stunning combination of green, copper gold, and grey colored boxes, each encircled by gleaming gold tapes. This meticulous design showcases a harmonious blend of rich hues and luxurious accents, creating a manicure that's truly captivating and sophisticated. And, hence, it's in our list of grey and gold nail designs.
---
The Bottom Line
---
Grey and gold nail designs offer a captivating fusion of sophistication and opulence. Whether you choose to adorn your nails with intricate patterns, shimmering accents, or simple yet elegant combinations, this color pairing provides endless possibilities for creating stunning and versatile manicures. Embrace the timeless allure of grey and gold, and let your nails shine with beauty and grace.
---
FAQs
---
What makes grey and gold nail designs so popular?
Grey and gold nail designs are popular due to their timeless and versatile combination, offering a blend of sophistication and luxury that complements various styles and occasions.
Are there specific nail shapes that work best for gold and grey designs?
Gold and grey designs work well with different nail shapes, but square and almond-shaped nails tend to highlight the elegance of this color combination.
Can I achieve grey and gold nail designs at home, or do I need a professional manicurist?
You can achieve gold and grey nail designs at home with the right tools, practice, and patience. However, professional manicurists can provide expert precision and intricate detailing.
How can I make my grey and gold nail designs last longer?
To extend the lifespan of your design, apply a quality top coat, avoid excessive water exposure, and be cautious when performing tasks that could chip or damage your nails.
Are there any recommended nail care tips to maintain the elegance of gold and grey nail designs?
Maintain the elegance of your gold and grey nail designs by moisturizing your cuticles, wearing gloves when doing chores, and regularly touching up any chipped or faded areas with matching polish.