Step into a world where magic and imagination converge with every brushstroke and shimmering pigment – the realm of fairy makeup! If you've ever yearned to transform into an enchanting woodland sprite, an ethereal forest nymph, or a whimsical fairy from your favorite fairy tale, then you're in for a dazzling journey. In this enchanting blog, we'll guide you through a treasure trove of fairy makeup ideas that will transport you to a realm of fantasy and wonder.
Whether you're preparing for a costume party, a whimsical photoshoot, or simply want to infuse a little magic into your everyday life, these makeup ideas will help you unlock your inner fairy and let your creativity take flight. So, grab your makeup brushes, sprinkle on some fairy dust, and let's dive into the mesmerizing world of fairy makeup!
---
Fairy Makeup Ideas
---
1. Classic Fairy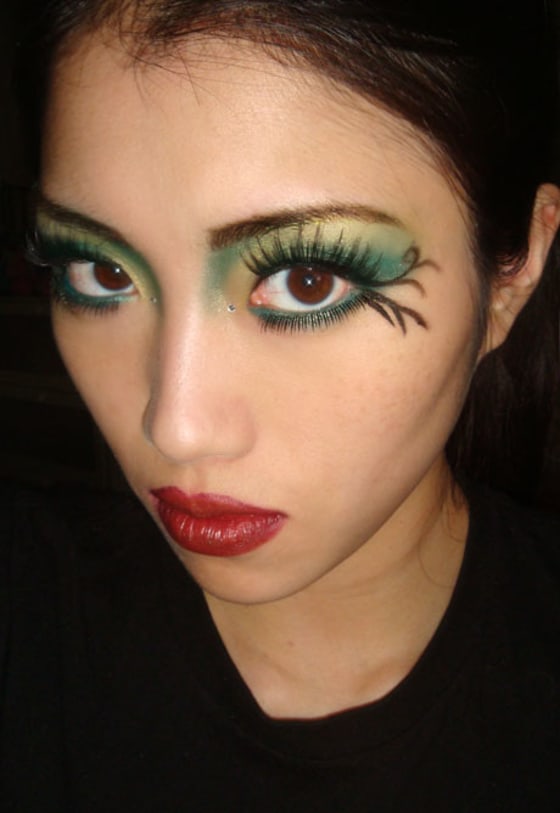 Image: Source
To achieve the timeless fairy look, gather some enchanting elements: shimmering eye shadow, fluttery false lashes, and the mystique of black gel liner. These magical ingredients will help you craft a classic fairy face that's both alluring and ethereal.
2. Dark Fairy
Image: Source
Explore the captivating world of dark fairy makeup ideas. Embrace the enchanting allure of rich, deep hues, pale skin, bewitching black eyeliner, blue lips, and smoky shadows to conjure an alluring and mystical look that's perfect for those with a taste for the darker side of fantasy.
Also Read
11 Lip Makeup Ideas That Will Give You A Juicy Pop Of Color
19 Smokey Wedding Makeup Looks and Tips to Achieve Bridal Glamor
9 Enchanting Gothic Wedding Makeup Looks to Unveil Black Romance
3. Pixie Fairy
Image: Source
For fairy makeup inspo, you can also consider this one. Pixie fairy makeup is a playful and whimsical makeup where you want to channel your inner fairy. Use shimmery eyeshadows and highlighters to create a dewy and radiant look. Apply a light blush to your cheeks to give them a rosy glow. Use a bold lipstick color to make your lips stand out. Add glitter dust to your face and body for an extra sparkly look. Add fairy wings or other accessories to complete your look.
4. Woodland Fairy Makeup Look
Image: Source
For an enchanting touch of whimsical beauty, consider the fairy makeup inspo that embraces the natural world. This look weaves earthy tones, creating a harmonious blend of dewy skin and subtle, sun-kissed shades. Top it off with a delicate flower crown, and you'll exude an ethereal charm that's straight from the heart of the forest.
5. Water Fairy
Image: Source
Dive into the mesmerizing world of water fairy makeup. With a palette of cool blues, aquatic greens, and shimmering silver accents, you can create a look that mirrors the fluidity and allure of water nymphs. Glistening highlights and watery eyes will have you channeling the enchanting spirit of the deep.
6. Fire Fairy
Image: Source
Ignite your creativity with fiery and fierce fire fairy makeup. With vibrant reds, blazing oranges, and smoldering golds, you'll craft a look that embodies the elemental power of flames. Sparkling accents and bold eye makeup will make you radiate the captivating spirit of a fire fairy, fierce and untamed.
7. Air Fairy
Image: Source
Elevate your look with airy elegance through easy fairy makeup ideas that capture the essence of an air fairy. Light, pastel shades, feather-light contours, and soft, flowing lines create a whimsical appearance reminiscent of gentle breezes and boundless skies. Embrace the ethereal and transform into an air fairy with grace.
8. Earth Fairy
Image: Source
The Earth fairy makeup look draws inspiration from the natural world, using earthy tones like warm browns and forest greens. Incorporate leafy and floral accents to emulate the spirit of the forest. Achieve a fresh, grounded appearance with dewy skin and subtle, harmonious shades. This look embodies the essence of Mother Earth herself, bringing forth a connection to the lush and vibrant elements of the outdoors.
9. Crystal Fairy
Image: Source
If you're looking for unique fairy inspired makeup looks, here you go. The Crystal Fairy makeup idea is a mesmerizing look that takes inspiration from the dazzling beauty of gemstones and crystals. Utilize shimmery, iridescent colors like amethyst purples, aquamarine blues, and quartz-like whites to create a captivating, otherworldly effect. Incorporate crystal-like accents or rhinestones for a magical, ethereal touch, and you'll shimmer like a true gemstone fairy.
10. Flower Fairy
Image: Source
Embrace the enchanting essence of a flower fairy with makeup that blooms with beauty. Soft, pastel hues reminiscent of delicate petals, paired with rosy cheeks and a sprinkle of faux flowers in your hair, create a look that captures the charm and magic of the garden. Be a living embodiment of floral splendor.
11. Butterfly Fairy
Image: Source
Butterfly fairy makeup transports you to a world of fluttering wings and vibrant colors. With iridescent eye shadows, delicate winged eyeliner, and enchanting face paint, you can mimic the exquisite patterns of butterflies. Add a touch of glitter and shimmer to your cheeks for an ethereal look that mirrors the grace and magic of these winged creatures.
12. Green Fairy Makeup
Image: Source
The Green Fairy makeup captures the spirit of lush forests and enchanting woodlands. Utilize verdant shades of green, emerald eyeshadows, and leafy accents to mirror nature's vibrant palette. For a touch of whimsy, add shimmering highlights, and perhaps a wreath of leaves or flowers. Become a guardian of the forest with this magical, nature-inspired look.
13. Unicorn Fairy
Unicorn fairy makeup ideas bring a fantastical twist to your look. Embrace pastel hues, opalescent highlights, and a touch of whimsical glitter to emulate the mystical unicorn's charm. Play with iridescent shades and perhaps even add a unicorn horn for an enchanting and ethereal transformation that celebrates the magic of these mythical creatures.
14. Halloween Fairy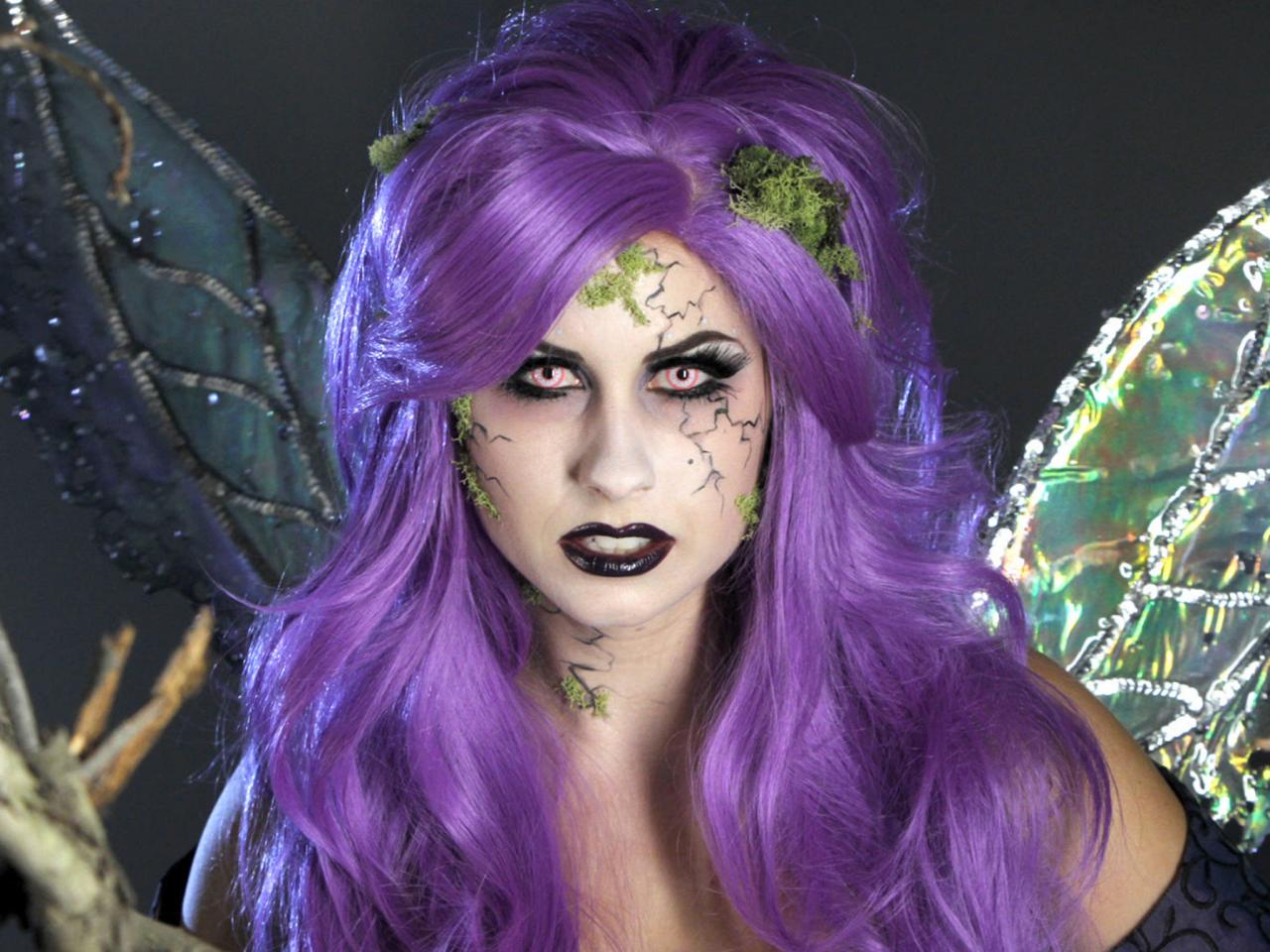 Image: Source
For fairy makeup ideas for Halloween, consider ideas that blend fantasy and spookiness. Go for ethereal beauty with shimmering pastels, glitter, and fairy-like accents, but add a dark, mysterious twist with smoky eyes or gothic elements. Create a magical, haunting look that's perfect for an enchanting and eerie Halloween night.
15. Moon Fairy
Image: Source
The Moon Fairy makeup ideas radiate celestial allure, drawing inspiration from the mystique of the night sky. Embrace silver and cool-toned hues to reflect the moon's glow. Incorporate glitter or metallic accents for a celestial touch. With moon-inspired highlights and dreamy, ethereal shades, you'll embody the enchanting spirit of a moon fairy, bathed in the soft, silvery light of the night.
16. Mermaid Fairy
Image: Source
The Mermaid Fairy makeup looks channel the enchantment of the sea with its aquatic, iridescent charm. Emulate the shimmering scales of a mermaid with iridescent blues and greens, and add pearlescent highlights to capture the ocean's magic. Don't forget to incorporate seashell or starfish accents for that whimsical, underwater allure. With this look, you'll transform into a captivating mermaid fairy, ready to dive into a world of fantasy.
17. Desert Fairy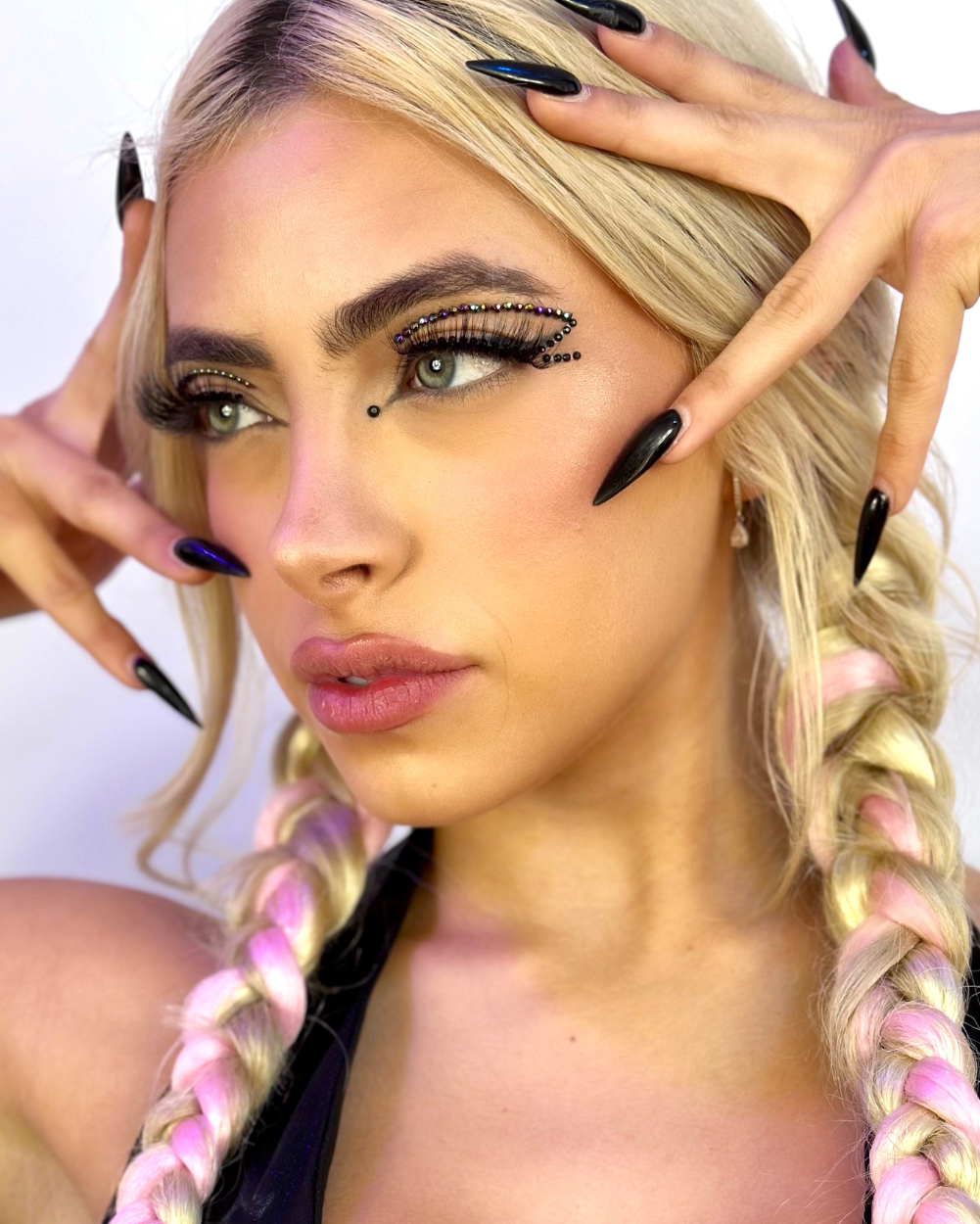 Image: Source
The Desert Fairy makeup look embraces the enchanting beauty of arid landscapes. Use warm, earthy tones like terracotta, sandy beige, and sun-kissed bronze to capture the desert's essence. Add a touch of golden shimmer to reflect the sun's radiance. Finish with a hint of desert flora or ethereal sand-inspired accents, and you'll embody the magic of a desert fairy, with an air of mystery and warmth.
18. Snow Fairy
Image: Source
The Snow Fairy makeup ideas evoke the pristine charm of a winter wonderland. Opt for cool, icy shades like frosty blues and shimmering whites to capture the essence of snow. Glittering highlights and a touch of silver or crystal-like accents add a frosty, ethereal allure. With this look, you'll transform into a mesmerizing snow fairy, embodying the beauty and magic of a snowy landscape.
19. Colorful Fairy
Image: Source

Colorful fairy makeup ideas embrace a vibrant, whimsical palette, allowing you to unleash your creativity and inner enchantress. Experiment with bold and contrasting hues, incorporating iridescent shades and playful patterns. Don't forget to add a touch of glitter or gemstones for that extra dash of magic. With these ideas, you can craft a look that's as unique and enchanting as you are.
20. Pink Fairy
Image: Source
Pink fairy makeup ideas offer a charming and ethereal look that's all about embracing the magic of soft, rosy hues. Utilize shades of pink on your eyes, cheeks, and lips, and add a touch of shimmer for an enchanting glow. You can also incorporate delicate floral or butterfly accents to complete the look, embodying the sweet and whimsical spirit of a pink fairy.
21. Goddess Fairy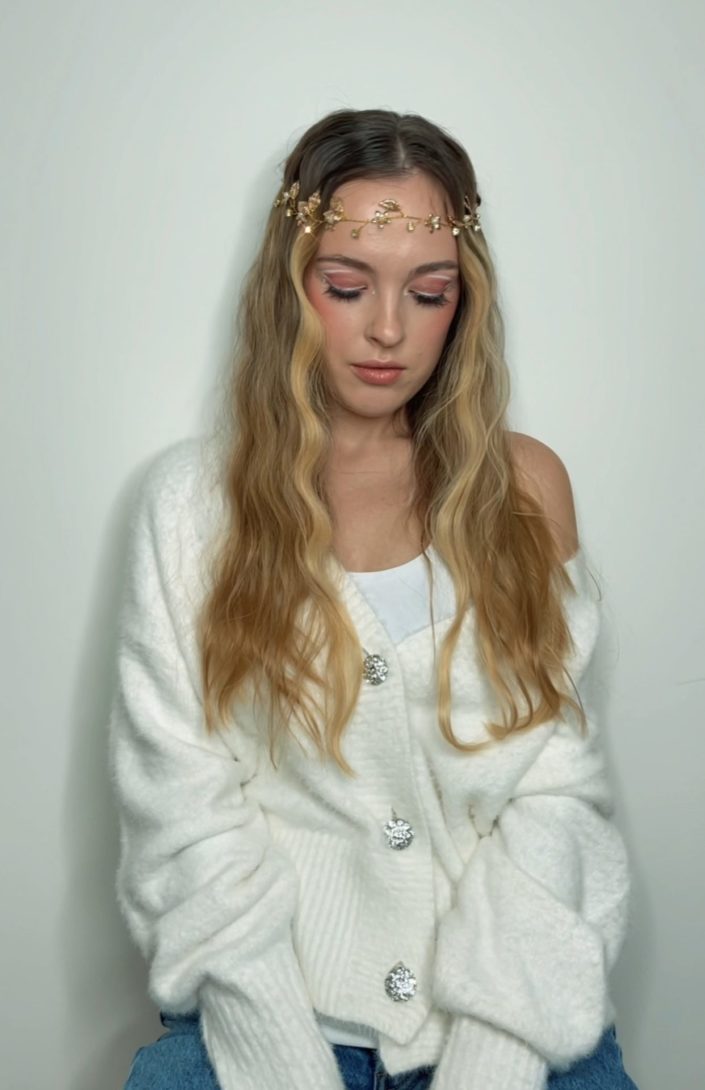 Image: Source
A goddess fairy makeup look combines the divine beauty of celestial beings with the enchantment of the fairy realm. Use opulent, shimmery shades of gold, silver, and royal blues to create a regal yet ethereal appearance. Accentuate your features with bold contouring and highlights to radiate an otherworldly glow. With this look, you'll embody the grandeur and grace of a goddess fairy, exuding an air of celestial enchantment.
22. Gold Fairy
Image: Source
Gold fairy makeup ideas radiate opulence and enchantment. Embellish your look with rich, golden hues on your eyes, cheeks, and lips, creating a regal and ethereal appearance. Incorporate shimmer and glitter for a touch of magical allure. To complete the transformation, consider adding gold accents, such as metallic accessories or faux gilded leaves. With these ideas, you'll shine as a resplendent and enchanting gold fairy.
23. Spring Fairy
Image: Source
Spring fairy makeup captures the essence of the season's renewal and blooming beauty. Use soft, pastel shades like delicate pinks, fresh greens, and gentle blues to mirror the colors of budding flowers and lush foliage. Enhance your look with a touch of dewy highlights and floral accents, embracing the rejuvenating spirit of spring. With this makeup, you'll transform into a charming spring fairy, embodying the magic of nature's rebirth.
24. Night Fairy
Image: Source
Night fairy makeup ideas draw inspiration from the mystique of the night sky. Opt for deep, velvety shades like midnight blues and sparkling silvers to emulate the enchanting darkness. Create an air of intrigue with smoky eyes and dramatic, winged eyeliner. Glowing highlights and celestial accents complete the transformation, turning you into a captivating night fairy who thrives in the moon's soft glow and the stars' embrace.
25. Red Fairy Makeup
Image: Source
Red fairy makeup ideas exude a fiery and enchanting charm. Adorn your eyes, lips, and cheeks with rich and passionate shades of red, creating a look that's both bold and ethereal. Incorporate shimmer and glitter for a touch of magical allure. With this makeup, you'll embody the captivating spirit of a red fairy, radiating a powerful and alluring presence.
26. Romantic Fairy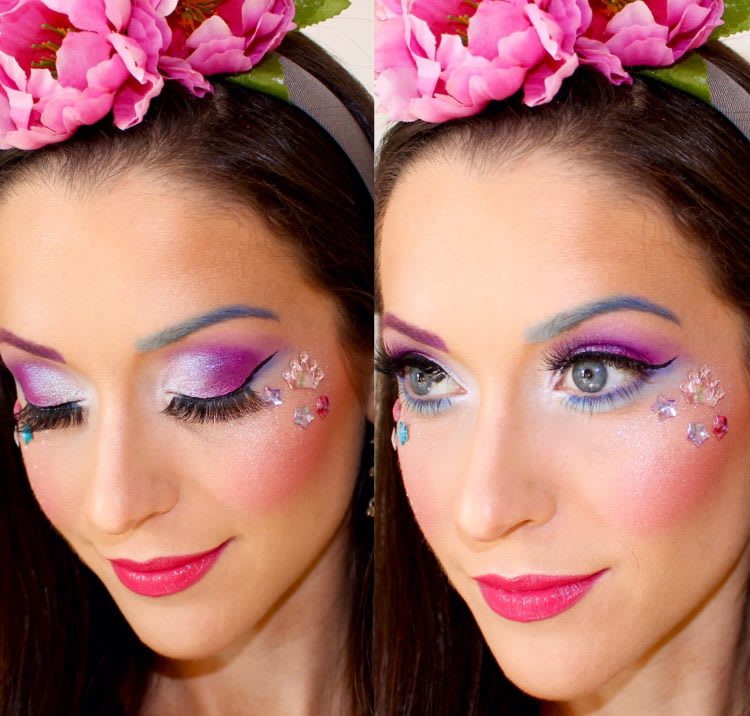 Image: Source
The romantic fairy makeup ideas capture the essence of love and enchantment. Use soft, dreamy hues like blush pinks, delicate purples, and shimmering gold to create a look that's both ethereal and alluring. Enhance your features with rosy cheeks and glowing highlights for a radiant, romantic appearance. With this makeup, you'll transform into a charming romantic fairy, embodying the magic of love and whimsy.
27. Twilight Fairy
Image: Source
The twilight fairy makeup look draws inspiration from the enchanting hues of dusk and the celestial wonders of the night sky. Rich purples and celestial blues create a mystical, captivating aura. Shimmering highlights and ethereal accents mirror the magic of twilight. This look transports you to a realm where stars and dreams converge, turning you into a twilight fairy of celestial beauty.
28. Summer Fairy
Image: Source
Evoke the gentle charm of a summer fairy with pastel shades that mimic the soft, sunlit hues of the season. Delicate pinks, sky blues, and muted lavenders create a dreamy and ethereal look. Enhance your features with subtle highlights, and perhaps add floral accents for a whimsical touch. This makeup captures the essence of a summer fairy, embodying the serenity and magic of sun-drenched days.
---
The Bottom Line
---
In the enchanting world of fairy makeup ideas, creativity knows no bounds. Whether you choose to embody the charm of a forest nymph, the allure of a celestial fairy, or the whimsy of a seasonal sprite, these makeup concepts offer a magical canvas for self-expression. From vibrant colors to ethereal pastels, from dark and mysterious to light and airy, each look invites you to step into a realm of enchantment and fantasy. So, spread your wings, pick up your brushes, and let your inner fairy shine with a touch of makeup magic. With these ideas, you can explore, transform, and embrace the captivating beauty of the fairy realm in your own unique way.
---
FAQs
---
What do you need for fairy makeup?
To create fairy makeup, you'll need pastel or vibrant eyeshadows, eyeliner, mascara, blush, highlighter, lipstick, glitter, adhesive gems, and optional accessories like flowers or tiaras for a whimsical touch.
What's the key to achieving an ethereal fairy look?
Soft pastel shades, shimmering highlights, and imaginative accents like flowers or rhinestones can help you create enchanting fairy makeup.
Is there a specific fairy makeup look for different seasons?
Yes, you can tailor your fairy makeup to match the seasons, using warm, earthy tones for fall and cool, pastel shades for spring, for example.
How can I make my fairy makeup last all day or night?
Use a good primer, setting spray, and waterproof makeup products to ensure your fairy look stays fresh and vibrant throughout your event.