1. Develop Confidence in Clothing
Image: Source
Often we lack the confidence to be bold and standalone in the fashion arena. However, designers and bloggers are only making their suggestions as to what we should be wearing. Every day we buy into their view of what is fashionable. Well, look at this as though you have been elevated to the team determining the next collection of a famous brand. Whatever clothing you select, be sure to make a big statement, even if that statement is seemingly simple, like wearing a certain colour, weave or pattern.
2. Wear the Right Fit
Image: Source
One trick to making any item of clothing look amazing is to hire a good tailor. Tailored clothing not only looks polished, but it also feels more comfortable. Pants that drag on the ground and dresses that bunch up awkwardly won't make you feel stylish. If your capsule wardrobe fits you well, you can start to play with over- and under-sized items in a way that feels fashionable, not sloppy.
3. Religiously Follow Your Favorite Brand and Influencer
As we know, most famous brands use social media these days. The number of social media users is increasing day by day and this is making the work of entrepreneurs easier. People can easily find their target clients and sell things easily. In addition, social media is used extensively for branding. Social media is also a great way to become popular. In the last few years, we have seen people become stars overnight through social media.
Social media is also a favorite place for brands and designers where they can easily share their designs and products with people. If you've followed a brand or designer, you'll find that they keep sharing new things. You can get new fashion ideas from them. You can also chat with your favorite designers and ask questions by texting them. It works even better when they do a Livestream and listen to people's questions and answer them. You can prepare all your question for such an opportunity.
4. Keep An Eye On The Runway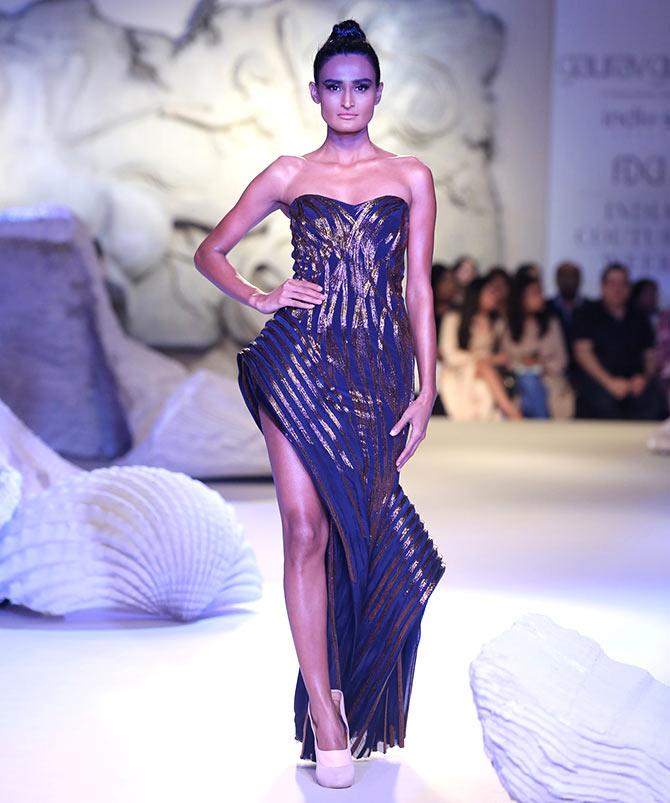 Image: Source
Check out what's happening in haute couture and ready-to-wear. Haute couture features one-of-a-kind designer items that you can't buy in stores. Ready-to-wear features more wearable items from designers that are mass-produced and available in stores. Both are important when it comes to trend spotting!
5. Spot Your Personal Style
Developing a signature style can take years, but you can get started by creating a mood board. Remember that personal style is an experiment; you never know what amazing looks await you until you're in the dressing room. The categories "menswear" and "womenswear" shouldn't dictate how you shop. Take time to play with colors and shapes to find what looks great on your unique body.
6. Take Help From Social Media
Image: Source
To remain on top of trends our third tip is also based on social media. On social media, you can find out which fashion is in trend. Social media has led consumers to adopt and move on from fashion trends quicker than before. Many fashion designers have personal Instagram and Twitter accounts where you can pick up great information, exclusive content, and announcements before anyone else. You also get cool stuff like behind-the-scenes images, sneak peeks of collections, inspirational posts, selfies with friends, and glimpses into their private homes. Nowadays all the celebs are twinning in couple t-shirts.
7. Subscribe to Top Fashion Magazine
Most of the top fashion magazines also offer free content online. Magazines and websites are great for keeping up with trends since new content is published monthly. Designers always publish ads featuring their newest designs and products, and you also get special content, like interviews with top designers and big spreads of the newest runway collections.
8. Learn the Art of Balancing
Balancing proportions is about styling your outfits to create an overall aesthetic harmony. The way you achieve this is by wearing clothes that are fitted to your body shape. When you want to play with oversized clothes or unusual shapes, make it a fashion moment by keeping the rest of the look fitted. For example, try pairing a tight crop top with wide-leg jeans, or a puff-shoulder top with straight-leg pants.
9. Read the Streets Carefully
Image: Source
Fashion is all around us. You simply need to be up to speed by reading, viewing, and learning about the world of new fashionable things; and this will inspire you to be a fashion trendsetter. Suddenly, you will start looking at the world as the canvas, and create, either by exploring different styles, whilst combining colorful clothing; or draw fashion sketches with your own creative ideas, or simply finding them in a store. You must view fashion as an artistic phenomenon, in order to be a fashion trendsetter.
10. Do Not Shy Away From Mixing
The days of matching your handbag to your shoes are over. Clashing textures and prints make a bold fashion statement. Start small with neutral patterns like stripes and low-key textures like leather and knits, adding in the sequins and paisleys in small amounts (like a scarf, tie, or clutch) until you learn what works for you.
The Bottom Line
Fashion trends keep evolving and changing, as that is why they come and go. However, this can also mean that it is challenging to stay current with such trends as they are constantly updating and introducing new styles. Fortunately, there are several ways for those who want to remain up-to-date with fashion trends without necessarily taking much time out of their busy schedule.