Hey, all short curvy women out there, focus more on your waist, bust, and hips while deciding what to wear. Pick dresses having a defined waistline. In this blog, we've discussed in detail the styling tips for short curvy women. From dresses to hairstyles, we have covered almost all topics to help you look awesome. Here're our picks.
How to Dress When You're Short and Curvy
---
1. Maxi Dresses with High Waistline
---
Image: Source
Nicole Richie, only 5'1" looks taller on screen. Even when she is wearing a maxi dress. Do you know why? It's due to the waistline of the dress. Always choose a petite maxi dress with a high waistline to make your legs look longer. Read on to know how to wear a maxi dress if you're short.
Fabric is also vital. Create a flattering and feminine silhouette with a soft and flowy maxi dress. It should embrace the curve of your body naturally. Stay away from heavy materials as they will not flow as soft ones. One of the styling tips for short curvy women is to pick maxi dresses with a short hem in the front and long at the back. This will help them to look taller.
---
2. Short Skirts
---
Image: Source
If you ask me, "How to dress when you're short?"  the first dress that comes to my mind is Short Skirts. Actually, it looks better on short girls than on the taller folks. However, it shouldn't be so short to show your cellulite deposits on the thighs. Make sure it's just above your knee.
When your legs are exposed, they'll appear taller. Plus, the waistline will also get highlighted. For this reason, it has become one of my favorite styling tips for short curvy women.
And, if you're wearing skirts just below your knees, don't pair them up with clunky shoes.
---
3. Formal Suits
---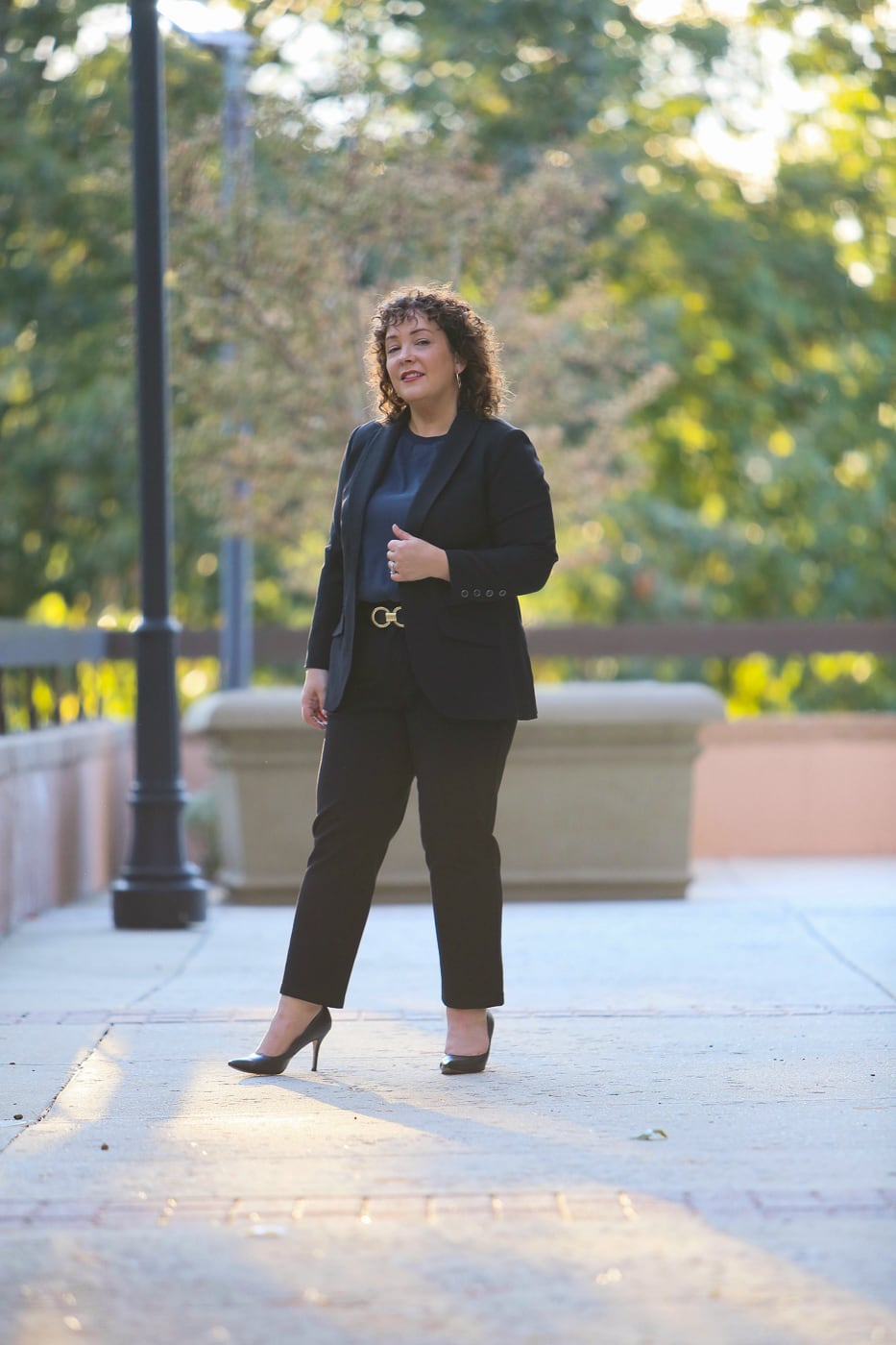 Image: Source
Short curvy women generally find it tough to choose a formal suit that embraces their silhouette. Suits are a long-term investment. Keep these following points in mind while shopping for suits.
---
4. Jeans That Fit Well At Hips and Thighs
---
Image: Source
Confused about how to choose jeans for your short and curvy body? You'll get the answer here.
First of all, go for jeans that sit well at your heavier parts ( hips and thighs). This type of fitted jeans will create the illusion of a slim lower part.
Avoid jeans having too far apart pockets. Such jeans will broaden any butt.
Consider your body type. Are you an hourglass woman? Do you have a pear-shaped body? An inverted triangle? No worries. There are jeans for every body type. Just keep these points in mind.
---
5. Shirts
---
Image: Source
Avoid boxy-styled shirts. Make sure the shirt you're wearing nips in at the waist. It's best to swipe on a shirt with having darted waist to highlight your hourglass figure.
Add a slim belt to highlight your waist further.
A good rule of curvy petite fashion is to tuck the shirts in. However, this is especially important if you've cuffed your jeans. Make sure you've selected a well-fitted shirt. This will help you look slim.
If possible, avoid full sleeves and long shirts. The length of your picked shirt shouldn't exceed your upper thighs. Otherwise, it will make you appear even shorter.
---
6. Jumpsuits
---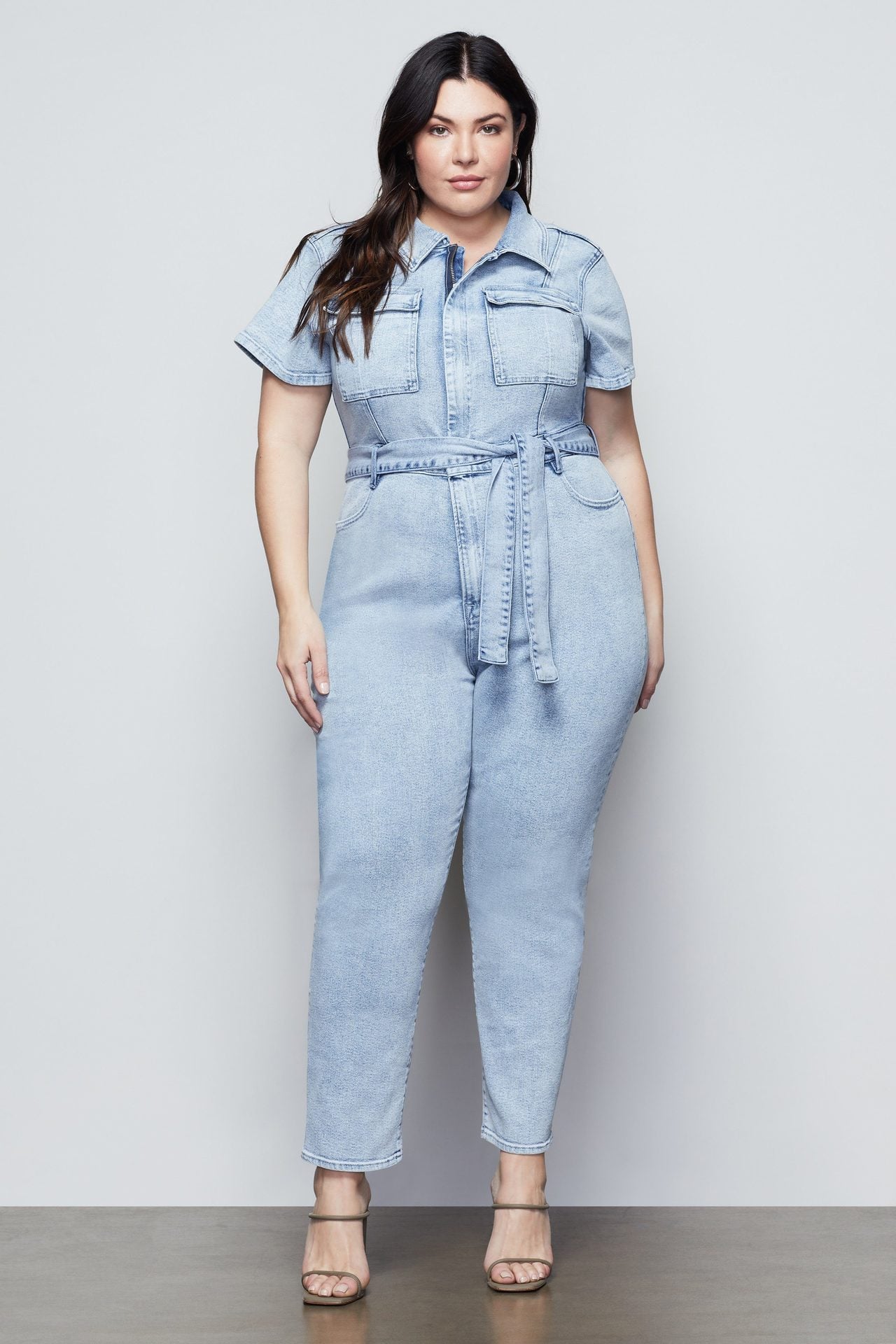 Image: Source
There is always a jumpsuit that will work for your curvaceous body. For this reason, we think it is one of the unavoidable dresses for short curvy women. Jumpsuits can elevate your height a lot. Replace the buttoned-down jumpsuits with the ones having belts to highlight your waist. Ditch sleeveless and go for cap sleeves to add to the drama with your arms.
Opt for dark colors. Dark colors hide pounds more than bright or light colors.
Your chosen jumpsuit should have stretchy fabric and not a crisp one.
Jumpsuits having ruching and draping will also create the illusion of a flatter tummy.
---
7. Slit Dresses
---
Image: Source
Dresses and skirts with slits are actually a rather classic formal look—and have been a sexy styling detail since the days of Old Hollywood. 
Swap your mid-length dresses with slit dresses. It will make your legs look longer. Instead of front slits, try to get dresses with back or side slits. Avoid wearing calf-length dresses.
Soft jersey, georgette, and chiffon offer a comfortable fit and flatter the petite body frame. Moreover, to create an elongated appearance, go for slit dresses having cinching waist and V-neckline.
---
8. Boyfriend Shorts
---
Image: Source
Cuffed boyfriend shorts are must-haves. These are in-trend. Plus, they'll not ride up to your butts. On the contrary, they'll only expose the cute lower half of your thighs. In fact, it is one of the cute outfits for curvy figures.
Go for high-waisted plus size shorts for a positive impact on your curvy silhouette. Team them up with fitting tops having vibrant or pastel tones. This will add a touch of versatility to your clothing style.
---
9. Short Dress
---
Image: Source
Short dresses accentuating your waistline are a great option. Use small prints like polka dots to avoid looking short-heighted. However, if it's a baggy short dress, decorate it with a sleek belt.
One of the dresses for short curvy women is a short dress because it exposes their beautiful legs. This feature makes the appear taller.
Avoid dresses having heavy detailing like ruffles at the hem. This will add unnecessary bulk.
---
10. Wrap Dresses
---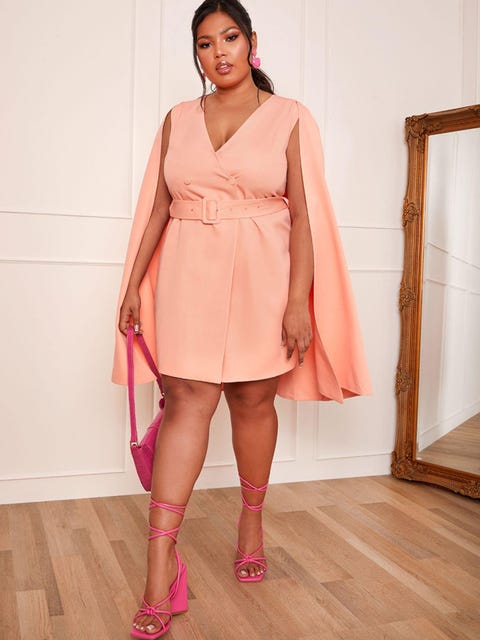 Image: Source
Shirt dresses are like devils that can gobble you up. Rather, shop for a wrap dress to make others feel you've the eyes for the right dress.
For girls with curves, wrap dresses can be a winning look all around.
Wear a wrap dress having a hemline above the knee. The tie waist should just be below your bust to create the illusion of a narrow waist and to lift your bust.
---
11. Coats
---
Image: Source
A statement-making coat goes perfectly with jeans and a well-fitted top.
Any coat flaring at the waist looks good on petite curvy women. Coats having nipped waist or large collar can prevent you from looking overly boxy. If you're not super curvy, opt for tartan coats as they embrace your superb silhouette.
Wear this in winter and stay safe and stylish. Great, right?
---
12. Colorblock Knit Sweaters
---
Image: Source
Knit sweaters having two to three color blocks can be slenderizing for your curvaceous body. And, hence, we have kept it in our list of dresses for short curvy women.
Look for color-blocking that uses darkly colored panels along the sides or around your waist, which will make you appear thinner.
Also, wear a dark-colored bottom like black, navy blue, and brown to create a slimming illusion.
I have written a completely separate blog on how plus-size women can look slim in winter. If interested, read what to wear in winter if fat.
---
13. Bridal Dresses with Off-Shoulder or Sweetheart Necklines
---
Image: Source
Off-shoulder bridal dresses or sweetheart necklines will be the best choice for your Big Day. Moreover, backless bridal dresses with sheer necklines can enhance your sexiness further. Halter style or noodle strap dresses are some others you can go for.
Add some extra length to your short frame by choosing bridal gowns having empire waist with an A-line cut.
Shouldn't Miss Style Tips for Short Curvy Women
14. V- Neckline
Whatever you're buying, make sure it has V-neckline. All petite framed women can make their necks appear longer with this kind of neckline. Boat necks and turtlenecks? No, no, never!
15. Nude Heels
Spike up your appeal with heels. However, choose nude-colored heels. It will not only create the illusion of being tall but will also make your legs look sexy.
One bonus tip: Don't make a mess by wearing heels with ankle straps.
16. Short Haircuts
Short haircuts like long bobs and chin-length bobs are good for women with short height. Some hairstyles you can try to look taller are top puffed-up hair, high ponytails, and high bun. However, there're some more attractive and simple hairdos for short hair. Style with your hair and swag it with pride.
17. Well-Fitted Bras
Wearing loose bras can spill your boobs out of it. It may affect your overall appeal. Look for bras that fit your big busts and make you feel comfortable at the same time.
If you're not sure how to measure your bra size, the following video from Wikihow will help.
18. Accessories
Steer clear of bold and heavy jewelry. Rather, roll your eyes for chic jewelry with minimal designs at Nikola Valenti. For instance, make a simple long necklace with only a shiny pendant your style statement.
19. Nails
Keep your nails manicured and long. Never go for square-shaped nails. Oppositely, long nails will make your hands look long. And that's your aim, isn't it?
20. Handbags
Small top handle totes, clutches, minaudieres, and cross-body bags are especially for you. These are easy to carry. Unlike a hobo bag, these bags won't make your waist look big.
Don'ts for Short and Curvy Women
21. Ankle Strap Shoes
Don't even look at the ankle strap sandals. It will divide your feet and legs and make you appear short.
22. Oversized Silhouettes
Oversized and baggy dresses will increase your size. And, others will consider you fat. So, better avoid it.
23. Cropped Pants
Cropped pants, capris, and Bermuda shorts aren't the best bet for short leggy. These pants will make you look even shorter.
24. Big Belts
It shouldn't be on the list of style ideas for short curvy girls. Buckling your waist with 2-3inches wide belts will cut your height to 2-3 inches. Obviously, you don't want it.
25. Loose Shoulders Sit
Outfits with loose shoulders sit aren't for you. If you've such dresses, give them to someone who is tall and slim. Rather, look for puffy sleeves and shoulders that fit properly.
How Short Curvy Women Should Choose Colors and Patterns
26. Solid Colors: Any color that is bold and dark suits you. For example, you can choose black, dark red, or yellow to play safe.
27. Monochrome colors: Monochrome colors like dresses with only a single color fits you the best. On the contrary, if you wear a multi-colored dress, you'll appear short.
28. Vertical Stripes: Vertical stripes, unlike horizontal strips will add to your height. It will flatter your body type in the best possible way.
29. Avoid Bold Patterns: If you're looking for 'short curvy girls how to dress', keep yourself away from bold prints to favor your petite frame. Rather, play with small patterns.
30. Spaghetti Strap Top: Maybe, you hate your short legs. But, you can feel proud of your collarbones, feminine necklines, and thin arms. There's a secret for all short women. Just spend a few bucks in Spaghetti Strap Top. Draw attention to your upper part with this flattering top.
The Bottom Line
So, here are our top picks for styling tips for short curvy women. When it concerns styling your short curvy frame, exploring different styles is the best idea. Listen to what your body is saying. Anything that makes you feel comfortable will give you confidence. And, confidence is the mantra of fashion.
You surely know what will look good on you. If you've any suggestions, let me know by writing about it in the comments section.