The highlights look fabulous. They alone are enough to show off your personality in a fashionable way. Getting a highlight is an interesting way to experiment with your look without a big chop. However, highlights are not a 'One-Size-Fits-All' thing. For instance, the highlight which suits a Caucasian woman may not suit an Asian skin tone. If you want to get some hair color ideas regarding Asian hair highlights, we've endless options for you.
But before, we proceed further, let's see whether Asians should go for highlights.
---
Should Asians Get Highlights?
---
There's no rule that Asians shouldn't get highlights. Many highlighting shades are available to match Asian complexion and hair color. Never be afraid of dying your hair with amazing colors. As long as you know which highlight will suit your skin tone, go on trying those shades. Having highlights can make your beautiful hair look even more gorgeous.
Looking for hair color for Asian skin tone? Check out our list.
---
Asian Hair Highlights
---
1. Burgundy Highlights
Image: Source
Burgundy is one of the most common Asian hair highlights. The subtle cool-hued red color can add elegance to your style. It can give a colorful glow to the Asian hair color. When selecting a burgundy hair color shade, remember the rule of opposites – warm hair color shades are for cool skin undertones while warm skin undertones can wear cool burgundy hair color shades.
2. Ashy Brown Highlights
Image: Source
If you've neutral or cool skin tones, go for ashy brown highlights. It's the meeting point of brown and silver. In case, the ends of your hair are lighter, ask your stylist to cool down the ends of your hair with ashy brown highlights. The best part of such a highlight is it requires low maintenance. Just use a purple shampoo and apply a conditioner after every wash.
Pro Tip
In addition to bleaching your hair to achieve the hair color you want, you can also choose to wear a wig or hair integration system to get your desired hair color. The wig will not cause damage to your own hair, As a leading hair replacement system manufacturer in the world. At New Times Hair you can choose from a variety of types and colors of wigs. Buy wholesale hair extensions from New Times Hair and pay a fraction of the regular price while still providing your clients with the extensions they deserve.
3. Red Highlights for Asian Hair
Image: Source
If you're looking for some low-maintenance hair colors, red highlights can be for you. When it comes to red highlights, there is a myriad of options. The warm shade of red highlights suits all types of hair colors. Some of the red shades which suit Asian skin tones are cherry coke, dreamy magenta, fall red, and wine-toned balayage.
4.   Hues of White and Grey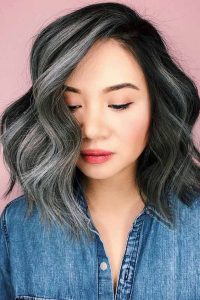 Image: Source
Grey hair isn't just a sign of aging anymore. White and grey highlights, done in a braided way, can add volume to your shoulder-length tresses. This combination has become a trend among many young Asian women. If placed right, white and grey highlights can add a certain playfulness to your long and dark tresses. Look at the image to get the highlight as is done here.
5. Golden Brown Asian Hair Highlights
Image: Source
If you have a cool skin tone, try this hair color. Golden brown highlights create a dimensional and multi-faceted appearance by capturing light. The best thing about this hair color is its warm and nice glow. Moreover, most Asian ladies have naturally dark tresses. Such a highlight will create a good contrast. This highlight looks extremely flattering on Asian skin.
6. Blue Highlights for Asian Hair
Image: Source
Get a complete makeover with these unconventional blue highlights. Dye the roots of your tresses teal and give off a Kawai or artsy vibe. Asian women have prominent features. Blue highlights can add more aesthetic appeal to those features. In fact, it is one of the best highlights for Asian hair. To prevent your facial features from being washed out, accentuate the look with a bold lip color.
However, this sassy hue retains its vibrance for 4-5 days max. Give thanks to the lethal combo of shampoo and conditioner if it lasts over a week.
7. Copper Highlights Asian Hair
Image: Source
Black-haired girls will look extremely stylish with this reddish hue of copper highlights. Not only will it add shine to your tresses but will also is perfect for professional purpose. For a three-tone look, add two slight highlights of golden shades.
If you've light brown hair, chunky copper red highlights blend very nicely. At the same time, it creates the perfect color combo for summer and spring. As the highlight fade, you will get a natural red tone.
Also, Read
24 Stylish Summer Hair Color Ideas to Copy ASAP
8. Auburn Asian Hair Highlights
Image: Source
Auburn highlights never go out of style, especially for those Asian women having black hair. Such a highlight flatters olive skin tones. The combination of black and auburn brings a little warmth to your hair texture. This auburn shade is the perfect way to feel vampy and sexy without too much effort – these highlights are sure to keep you on everyone's radar.
Apply the auburn shade near the roots of your face. After that, sweep through the middle and tips of your hair.
9. Purple Highlights
Image: Source
Unusual, chic, and elegant. Purple highlights have the power to freshen your complexion and make you look younger. Such a highlight will add more sparkle to your eyes irrespective of its color. Moreover, having purple highlights will also add to your uniqueness. However, your hair color should be pretty light for the purple shade to pop up perfectly.
10. Soft Brown Balayage for Asian Hair
Image: Source
These highlights work great on black hair. As the hue is softly added in layers to the tresses, they create a softening effect. If you want to get highlights that look more natural, this is for you. We'll recommend you get the job done in a salon. Your stylist will take sections, backcomb them and paint on the bleach. It will give your hair a seamless blend. Once done, it will look awesome from all angles.
11. Black and Denim Waves Highlights
Whatever your skin tone is, this Asian hair highlight will look great on you. The shade blends wonderfully with the black color. Undoubtedly, having this highlight will definitely draw the attention of the passersby. You can also wear it to the office without looking very bold. It's due to the subtlety this highlight offers. However, this is not a curly hair color. Women with straight or wavy hair can consider this.
12. Light Brown Highlights
Image: Source
Light brown highlights will emphasize the sheen of your locks. It will look simple yet classic. This highlight will capture the light to create a dimensional and multi-faceted appearance and will brighten up your face. The warm brown tints on your Asian hair is sure to steal hearts.
13. Blonde Highlights for Asian Hair
Image: Source
Want some hair color ideas for old women? This highlight is especially recommended for those ladies who want to keep their hair darker. If you too want to hide grey hair, give this highlight a try. Start by highlighting the base of your roots. As you proceed, lighten the hair down.
14. Rose Gold Highlights
Image: Source
The blending of pink, copper and red tone gives a rose gold color. This rose gold highlight compliments women of all ages. If you want to play safe, go for rose gold highlights. From light to deep, rose gold highlights can be done in various shades. However, you need to use anti-fade products, shampoo, and conditioner to maintain this highlight. In fact, this highlight requires high maintenance.
15. Soft Ombre Asian Hair Highlights
Image: Source
Give your hair a subtle yet dynamic look with soft ombre highlights. Soft ombre highlights can help fix hair issues like damaged ends. It will make your hair appear thicker while adding an extra glow to your look. Moreover, this highlight will make your eyes appear bright and enable you to express yourself in the best possible way. And, what we like about this highlight is that it requires low maintenance.
16. Golden Blonde Highlights on Asian Hair
Image: Source
If your hair is long and dark brown, go for golden blonde highlights. This highlight looks super-attractive and bold on Asian skin tone. A deep hue of ash gold will be there at the roots. But, the shade turns blonde as the highlights go down.
Many Asian ladies are loving the golden blonde shade nowadays. They say the blonde hair gives them more positive vibes. And, it also helps them to be more visible in the crowd. So, are you in for this highlight?
17. Dark Honey Blonde Highlights
Image: Source
Like Americans, Asians too can rock a blonde look, right? Most Asian women have yellow undertones on their skin. And, this makes the honey-blonde shade perfect for them. If you want to add slight creativity, replace the honey shade with caramel.
18. Colorful or Rainbow Highlights
Image: Source
Ready to play with colors? Rainbow highlights are one of the best options for you. Whether you're styling braids, updos, ponytails or just wearing your hair down, this highlight can make you look like a stunner. For young Asian girls, colorful highlights can enhance their charm.
19. Slime Green Highlights Asian Hair
Image: Source
Only if you're a lover of green just like me. However, dark green hues don't pop up well on black hair. Therefore, we've suggested a slime green shade. Unlike dark green shades, you don't have to bleach your hair to make this highlight stand out.
20. Chestnut Highlights for Asian Black Hair
Image: Source
Warm chestnut highlights add subtle beauty to your black hair. It suits all hair textures. For darker and olive skin tones, these nutty hues are the safest options. You can create a rich tapestry of shades by mixing earthy tones with them. Doing so will also highlight your features.
21. Turquoise Asian Highlights for Black Hair
Image: Source
Turquoise highlights can give you an extraordinary and bold look. It looks exceptionally good on short hair. Additionally, this shade can add more dimension to your hair, thus bringing back life to it. If you want to maintain this highlight, avoid using dandruff shampoo as it can fade the shade. Instead, apply purple shampoo to make the hue long-lasting.
22. Lilac Highlights on Asian Brown Hair
Image: Source
Lilac highlights on brown hair can be a bold choice. These highlights are very versatile and can be a trendsetter for fashionistas. Lilacs sprinkled through brown hair can create a bright story for girls with guts. Radiant lilac highlights on the base of shimmering brown hair. Such a highlight will give you radiant ends while your top will have deeper hues. This can be an exquisite accent for cool-toned blondes.
23.  Cool Toned Plum Asian Hair Highlights
Image: Source
The black hair of Asian girls makes them perfect for the plum highlights. Their dark base stabilizes the look.  Always, pick complementing colors because these plum shade highlights look best when in contrast. Consider your skin and eye color too. If you want a sleeker look, mix cooler plum highlights with a blue shade. It is a good hair color for cool skin tone Asian women.
24. Platinum Highlights
Image: Source
Major Asian fashion influencers and celebs get platinum highlights making the hair color desirable to more people. Not only does this highlight suit the Asian skin tone but it also gives you an edgy appeal.
If you want an overall platinum look, it will require multiple bleach applications, which are generally done in a single day.
25. Purple Balayage on Asian Hair
Image: Source
If you're ready for a bold and ravishing take on your hair, this highlight is definitely for you. It's unique and brings more glow to your face. Melting from dark chocolate and purple to icy blonde and lavender pink – only a true artist could have created this magic.
If you're using a semi-permanent dye, a purple balayage lasts for 4-8 washes.
26. Peek-A-Boo Asian Hair Highlights
Image: Source
Peekabo highlights you effortlessly hide the dye pop underneath the top layer throughout your office workday, and in the evening, sweep the hair to one side revealing the juicy outstanding nature of your hairstyle. A few strands of a vivid shade will add some mystery and drama to your image.
---
27. Caramel Highlights on Asian Hair
---
Image: Source
Caramel highlights can be a game-changer for black Asian hair. Depending on your skin tone, the color can be adjusted to go warmer or cooler to find the most flattering hue for you. These highlights can make you look younger. The goal is to bring out a youthful glow in your face by infusing that same warmth and softness into your locks.
---
How to Choose Highlight Colors for Asian Hair?
---
a) Consider Your Skin Tone
Dark Skin Tone: Go for bright shades to create amazing highlights. Light brown, silver, blonde, and platinum blonde can be your picks. Avoid dark hues.
Yellow Skin Tone: Prefer brown, brunette, blue, dark red, and olive. Stay away from orange shade, fiery red, and blonde highlights if you have a yellowish skin tone. These highlights will pale your facial complexion further.
Red Skin Tone: Never go for dark red highlights as it will amplify your reddish skin tone even more. Instead, try purple, dark green, light brown, and dark blonde.
b) Determine If You've Damaged Your Hair
Light-colored highlights can make your damaged locks look even duller. In such cases, go for auburn or other brown hues.
c) Find Out Your Hair Texture
Have dry and thin hair? Pick a shade that is slightly darker than the color you want to get. On the contrary, if you have thick hair, choose a shade that is slightly lighter to get your desired result.
---
The Bottom Line
---
Selecting the best hair color for Asian women is no longer a tough job (We've already discussed how to select it). If you're a drama lover, explore the various shades. And, if you're a bit shy, go for shades, which can create natural-looking highlights. At the same time, make sure the highlight you're choosing is easy to maintain.