Looking for benefits of coffee for skin whitening? Scroll down to get all the details.
The aromatic coffee refreshes our mind instantly in the morning. But, do you know coffee can give you glowing skin too? Due to this reason, coffee is widely used in many beauty products. Coffee works as an exfoliator. It enhances blood circulation and heals stretch marks and acne. If you're not ready to visit salon for a bleach, get coffee sachets and enjoy a salon-like bright complexion.
How Coffee Brightens Your Skin?
Coffee is a health tonic for your skin. Coffee face packs have antioxidants, which remove impurities and kill dead cells. As a result, your skin looks bright. Furthermore, the acid in coffee works as a chemical exfoliator. When you use coffee to exfoliate your skin gently, the hardened skin cells clogging the pores get removed. This, in turns, brightens your skin tone.
Coffee for Skin Whitening: Homemade Face Packs
1. Aloe Vera Gel and Ground Coffee
Image: Source
The caffeine in coffee lightens pigmentation and the dark spots including the dark circles. On the other hand, aloe vera evens your skin tone, while keeping it moisturized.
How to Prepare
a) Mix 2 tbsp of aloe vera gel with 2 tbsp of ground coffee.
b) Blend the mixture properly to prevent lump formation.
c) Gently apply the mask all over your face.
d) Let the face pack dry.
e) Use lukewarm water to rinse thoroughly.
Also Read
How to Use Aloe Vera for Skin: A Step-by-Step Tutorial
2. Raw Milk and Coffee
Image: Source
This skin whitening face pack is the superhouse of the benefits lactic acid of milk and caffeine. Not only will this exfoliate your skin but will also remove impurities. As a result, your skin will start to glow just after the first application.
How to Prepare
a) Take ½ tbsp. of raw milk and 1 tbsp of grounded coffee in a bowl.
b) Stir the mixture till it's thickened into a paste.
c) Apply it all over your face avoiding the eye area.
d) Give the mask 15-20 minutes to work its magic.
e) You can then rinse it off with warm water.
3. Egg White and Coffee Face Mask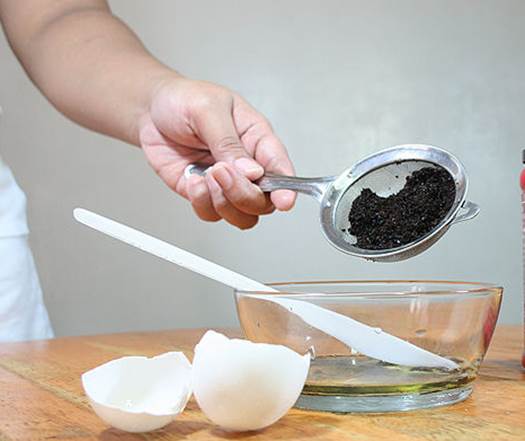 Image: Source
According to the Skin Care Specialist, Tabasum Mir, MD, this coffee for skin whitening mask will tighten, brighten, and deep puff your skin. Egg white tightens and brightens the skin. Coffee ground helps with increasing the circulation of your skin as well as taking out any extra fluid that was giving you a puffy face.
How to Prepare
a) Take a quarter cup of coffee grounds and mix it with one egg white.
b) Stir very briskly.
c) Keep the pack on your face for 15-20 minutes.
e) Rinse it off to get tight and bright skin all day long.
4. Lemon and Coffee
Image: Source
If you have oily skin, this face pack can be excellent for you. Lemon is packed with a powerful antioxidant, Vitamin C. Rubbing lemon juice on skin can help you get rid of tan naturally. When mixed with coffee, you can reap the benefits of both lemon and coffee.
How to Prepare
a) Add 5 tbsp of coffee powder to 5 tbsp of lemon juice.
b) Mix well to make a semi-dry paste.
c) Scrub the pack all over your face, neck, and even body.
d) Let the pack sit for 15 minutes.
e) Use lukewarm water to wash it off.
5. Honey, Rose Water, and Coffee
Image: Source
Honey removes dead skin cells and treat tan. Rose water unclogs the pores, remove dirt, and restores pH balance of your skin. Coffee gives you a radiant complexion.
How to Prepare
a) Mix 2 tbsp of honey, 1 tbsp of coffee, and 2 tbsp of rose water in a bowl.
b) Blend well to make a consistent paste.
c) Apply the pack on your face and neck.
d) Wait for 15-20 minutes till the pack is dry.
e) Wash thoroughly to get glowing skin.
6. Yogurt, Turmeric, and Coffee Powder
Image: Source
The lactic acid in yogurt works as a bleaching agent. Turmeric treats uneven skin tone, lightens dark spots, and restores your natural glow. Coffee powder can control pigmentation and wrinkles.
How to Prepare
a) Mix coffee powder, turmeric, and yogurt in the ratio of 1:1:1.
b) Stir well to make the paste lump-free.
c) Clean your face and apply the mask afterwards.
d) Keep the mask as it is for 20 minutes.
e) Use normal water to wash it off.
Do this twice weekly to get brightened skin.
FAQs
How Many Times Can You Use Coffee for Skin Whitening in a Week?
Use coffee face masks 2-3 times in a week. Doing so will give the cells enough time for tissue regeneration.
Which Coffee is Best for Skin?
Ground coffee is loaded with antioxidants and caffeine. They also remove toxins unclogging the pores. Hence, it's best to use ground coffee.
Can You Use Nescafe for Coffee Scrub?
Yes, you can. However, make sure that your chosen coffee doesn't contain milk and sugar. You can also use Starbucks coffee grounds.
How Long Should You Leave Coffee on Your Face?
Leaving a coffee mask on between 15 and 60 minutes is okay. Giving more time to sit a coffee mask than this can interfere with your hormones. It can increase the amount of oil produced by sebaceous glands, making you prone to breakouts.