Trench coats are back and you can see them all over the street style scene. While it's an important staple in your fall capsule wardrobe, yet you can wear them as layers to keep yourself warm in winter. Due to this reason, this cherished staple has earned a prized spot in the wardrobe of the fashionistas. From A-line celebs to the next-door girls, everyone has atleast one trench coat. If you too have one but is confused regarding how to wear a trench coat, this blog can be your guide.
When it comes to styling trench coats, there's no shortage of options. We've gathered ideas from celebrities to help you out. Ahead, you can check out our collected styling inspiration.
How to Wear a Trench Coat
1. Kendall Jenner
Layer Over an LBD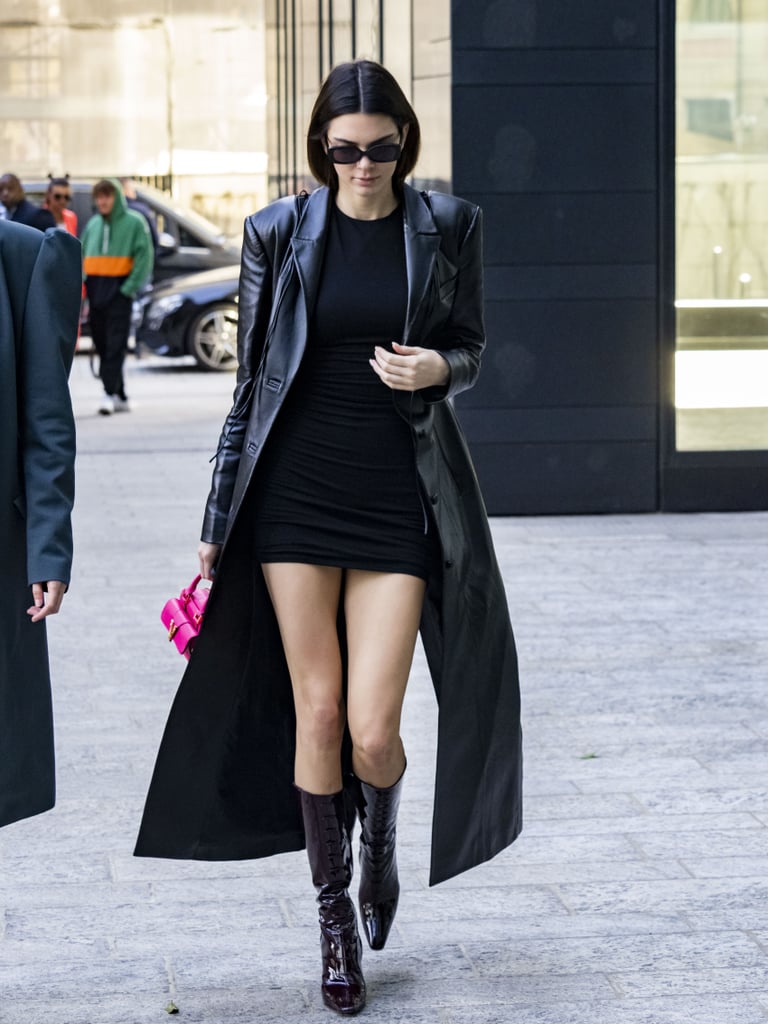 Image: Source
The supermodel Kendall Jenner has paired a long leather trench coat with an LBD. The oxblood knee high boots and the hot pink small Versace bag are working as accessories. If you love monochrome look, give this a try.
Shop the Look
Also Read
10 Stylish Dresses of Kendall Jenner Making Us Admire Her Fashion Sense
2. Irina Shayk
Plaid Trench Coat Over a White Crop Top
Image: Source
Irina Shayk is here sporting an eye-catching plaid trench coat over a white cropped top. The bottom-cuffed light washed blue jeans and the futuristic looking Sorel sneakers are complimenting the look. Indeed, she is offering a masterclass in her street style on her days off.
Shop the Look
3. Amber Heard
With a Gingham Maxi Skirt and a Sweater
Image: Source
Look like a cozy boho queen in this Amber-inspired outfit. This outfit has perfectly balanced elegance, grace, and boldness. The high bun, chic necklace, and the brown wide belt is finishing her look in a beautiful way.
Shop the Look
4. Meghan Markle
Long Wide Collar Wrap Coat with a Beret
Image: Source
The beret hat is taking her style to the next level. If you're looking for a simple look to go to office, consider this. For a totally sophisticated and polished ensemble, grab a stylish leather bag.
Shop the Look
5. Angelina Jolie
Style the Trench Coat with a Scarf and Black Jeans
Image: Source
The perfect airport fashion. Angelina Jolie is here rocking a long camel trench coat. She has teamed it up with a black sweater, a slim pair of dark jeans, and a linen scarf.
Shop the Look
6. Emma Watson
With a White T-Shirt and Black High-Waisted Skirt
Image: Source
Emma looks spellbinding in this trench coat outfit. She has pulled her brown hair off her face into a relaxed ponytail. The simple gold chain and the black heels are elevating the appeal. No doubt, she knows how to look flawless with zero effort in a trench coat.
Shop the Look
7. Zendaya
As a Layer on a Tracksuit
Image: Source
Zendaya always brings something fresh to her red carpet looks. Here, again at Michael Kors Fall 2018 Runway Show, she has given athleisure an uptown spin. Once again, her experiment with style has won the hearts as she has layered a sleeveless camel colored trench coat on a Michael Kors red tracksuit.
Shop the Look
8. Amal Clooney
With a Pair of Black Stockings and Ankle Boots
Image: Source
Amal Clooney's chic ensemble popped against the snow-filled streets of New York City. The bold crimson coat is warm enough and is providing a needed dose of color. No doubt, the coat is both practical and stylish. To up her fashion game, she has teamed it up with a pair of black stockings, black booties, and diamond drop earrings.
Shop the Look
9. Gigi Hadid
Trench Coat Over a Shirt Accessorized with Belt
Image: Source
Silk shirt, tie, and sleeked back hair, a common office look. But do you have the dare to bare your legs and just layer a trench coat over the shirt? Definitely, a bold take. Her sexy legs are giving this tough look a feminine appeal.
Shop the Look
Also Read
20 Gigi Hadid's Hottest Street Style Looks of All Time
10. Katie Holmes
Over a Silky Red Dress
Image: Source
If you're planning to go to a date night, then here's answer of the question, 'how to wear a trench coat?' While attending American Ballet Theatre Fall Gala in 2019, she was looking absolutely gorgeous in a red silk dress. The red-hued trench coats and black heels have enabled her to transform her conservative style with a mix of more youthful and flirty fashion statement.
Shop the Look