There are many hair colors for women over 50 years of age which makes them look younger without damaging the hair too much but hiding or enhancing gray hairs. The main thing is to get the perfect hair color ideas that are suitable for you which can cover your silver strands and keeps your hair healthy. 
You can go for any color that is from silver to red, brunette to blonde, choices are endless. It's not important to choose only the trendy color. It's only the fact that the picking up of color should match with your looks. Still need some guidance regarding the color selection. Okay, read on.
Should You Go Darker or Lighter With Hair Color As You Age?
There's no hard and fast rule when it comes to selecting hair colors for women over 50. But, if you choose a color that is one or two shades lighter than your natural hair color, you can get a more youthful look.
If you are confused about darker and lighter colors,  then always opt for lighter. As our age increases,  hair color lightens naturally. So colors like platinum, blonde, and honey are the best to blend into your naturally gray hair better. 
On the other hand, if you pick very dark hues like jet black, it will cast shadows on your face highlighting the wrinkles.
Hair Colors For Women Over 50 Years
---
1. Caramel Balayage
---
Image: Source
This color is one of the exceptional hair colors for women over 50. It provides you with shine and luster to gray hairs, given tone-on-tone coloration. This is also a soft color. You can try this caramel balayage for refreshing your dull and lifestyle tresses. 
Caramel balayage balances out the lighter shades at the end and suits all complexions.
---
2. Auburn and Burgundy Color Blend
---
Image: Source
This auburn and burgundy color is very sophisticated, classy, and fun that suits the best for an elderly lady. Red tones and deep violet explode all types of skin tones and give a new look to your dull-looking hair. To give your hair a spicy look, try this auburn color with a short, pixie haircut.
The combination of burgundy and auburn will make you look younger.
---
3. Lovely Honey Blonde
---
Image: Source
You can try your hair color at any age no matter whether you are 50 or more. This lovely honey blonde perfectly matches the short waves. Additionally, it makes your thick and short-length mane brighter. Always apply hair oil to improve its glossiness.
The honey shade hair color for women over 50 can hide their gray hair effectively. It works well for any woman who wants to add dimensions.
---
4. Flattering Chocolate Brown Hair
---
Image: Source
Depending on the quality and style of hair like neck-length cuts and waves, the flattering chocolate brown hair color works well. This also gives your hair an extra volume. If you're the one who is looking for superb hair days for older ladies, don't miss adding this hair color to your bucket list.
To make the result classy and luscious on women above 50, apply hair oil for a more stylish look. Whether you've long or short hair, wear this hair color to turn heads wherever you go.
---
5. Bright Copper
---
Image: Source
First of all, find out how much gray and natural hair color you have. So after taking into account, choose the red color since it can give your natural brown hair some brightness that looks great with blue or green eyes and peachy skin tone.
Bright copper shade is one of the best hair colors for women over 50. This hue would be perfect for those transitioning to red from a golden or strawberry blonde.
---
6. Strawberry Blonde and White
---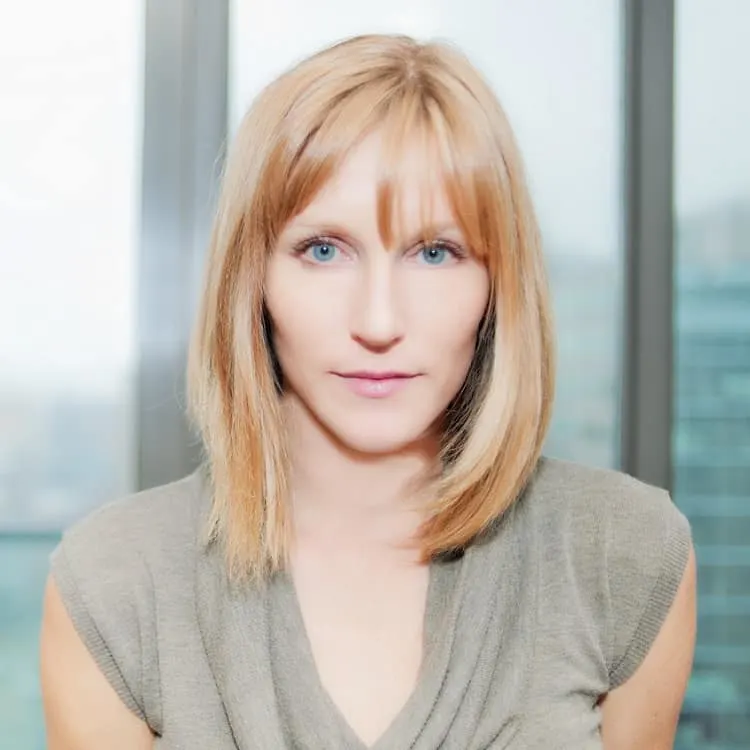 Image: Source
Give your hairstyle a look of a flawless blowout and swooping layers that suits any age. The strawberry blonde and white create a breathtaking combo that oozes warmth and gives your hair a sun-kissed glow. 
This shade makes you look youthful and fresh by warming up your complexion immediately. It shows that you don't need bold colors to make a fashion statement.
---
7. Layered Crimson Pixie For Mature Women
---
Image: Source
Crimson hair colors always make you feel unique. If you need inspiration for hair colors for women over 50, try this.
A punk vibe makes your look sassy and also recognizes your fun-loving personality and shows your active status. For a bold color choice, gives your hair an uneven tapered pixie cut.
To make the crimson red even more dimensional, keep some of your under-layers dark. This color works more effectively if you have black or dark brown hair.
---
8. Piece-y Bright Grey Pixie Bob
---
Image: Source
You can get the perfect haircut with your looks by trial or error. But the choice of hair color is not so easy. It should match your complexions. So never underestimate the power of hair color. Today there are lots of stunning choices for women above 50, that can embrace gray hair for one of many modern metallic blonde shades. 
Generally, women think grey hair makes them appear even older. But, this isn't always the case. According to Paul Falltrick, a team member of Matrix Gold Design, a clean-looking grey can make older ladies look stunning.
---
9. Pastel Pink Highlights
---
Image: Source
Pastel pink highlights are a great option when you want to make your look bolder or try to subtle your color for fun. Pink also goes well with cool undertone skin. It is something different from being loud.
If you have dark hair, you may need to bleach your hair first. If you want your hairstyle to be classy and not too vibrant, then you should definitely go for an ashy shade of pastel pink hair dye for the highlights.
---
10. Teal-Dipped Locks
---
Image: Source
To give your hair a modern look, you can use two-toned shades with a dip-dye technique. Color your hair with a dark brown shade at the roots and give the ends a deep, jewel-toned teal to get a youthful look. 
If you're ready to have a head full of teal-colored hair, go ahead. Definitely, this will be a bold step. This deep hue will cover your grey hair and highlight your eccentric personality.
---
11. Burnt Orange Locks
---
Image: Source
Burnt orange gives your hair the boldest look and is ideal for creative candidates. This shade doesn't suit all people, but women having warm undertones to their skin can pull it off. The bizarre color shows off your creative sides.
The overall light brown is blended with the orange tone perfectly. Soft waves highlight the face-framing color, making the color of your eyes pop.
---
12. Chunky Brown Highlights
---
Image: Source
This shade can enliven any hair color. You can add in warm brown chunky highlights and keep the rest your natural color or opt to mix one new darker color with one new lighter color. The streaky look created by chunky highlights looks similar to natural hair and won't make it look like you're trying too hard to look younger.
---
13. Cinnamon Spice Hair Color for Older Women
---
Image: Source
If you want a vibrant yet soft shade, consider cinnamon spice hair color. This color looks fresh and can be easily mixed with other shades. Embrace this rich shade in full force for a monochrome dye job. The shade looks beautiful on creamy skin and anyone who has peachy warmth.
Keep in mind that red dye like this fades faster. So, never overwash your hair after coloring it red.
---
14. Vibrant Plum Shade
---
Image: Source
The plum shade offers an edgier finish, perfect for any woman over 50. If you're going grey, this shade can be the best pick. Mature women can rock this shade.
Women having natural brown or naturally, dark hair will look amazing with this shade. Various shades of purple are there. Make sure your hairstylist is choosing the right tone, considering your eye and skin color.
---
15. Salt and Pepper
---
Image: Source
Display your salt and pepper hair by dying it in gray ombre style.
Aging turns your hair into a gray shade. Accepting such a change may be difficult for you. However, gray ombre can help you blend the natural gray hair seamlessly. As a result, you'll get a hairstyle you'll feel proud to rock. Such a shade will also look natural with your age.
---
16. Hazel Gray with Turquoise Streaking
---
Image: Source
Hazel gray with turquoise streaking can be a unique combination that will suit any woman over 50. A middle-aged woman who wants to look good without being overly dramatic can consider this shade.
The turquoise streaking in the front section will give an anti-aging effect. Create a neat look by either blow drying or ironing your hair.
---
17. Chestnut Brown Hair Color
---
Image: Source
Get a fresh new feel with chestnut brown hair color.
Chestnut brown is a warm shade having gold or red undertones. If you try this color, your hair will appear more reddish under direct sunlight.
Chestnut brown shade has a younger-looking warm tone. It will snatch away the monotonous feel of your hair. The richness of the hue will give you a subtle look at any age.
---
18. Platinum Highlights
---
Image: Source
Platinum highlights can be a great addition to your style. Such highlights will enhance the texture and dimension of your hair, while darker roots get that body and volume working! Women with cool skin tones generally look better in platinum colors.
There are various shades of platinum hair color. Discuss the suitable shade with your hairstylist to get the job done nicely.
---
19. Purple Ombre for Women Over 50
---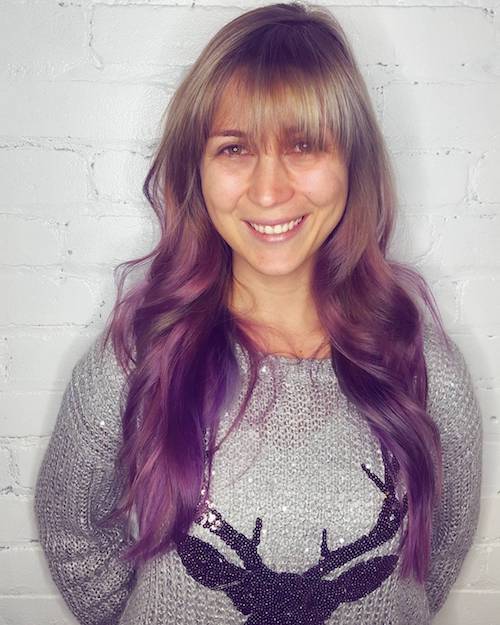 Image: Source
Purple ombre is an extremely fun color to show off your creativity and perk up your bland hair.
To dip your locks into some purple goodness, make sure you have got a lightened base. The woman shown here has natural hair color near the head that is keeping the hairstyle and hair color easy to manage.
---
20. Crisp Apple Cider
---
Image: Source
It is one of the best fall hair colors for women over 50. Versatile, trendy, and beautiful, this color can reverse the aging clock. If you have long tresses, add waves to give your hair a more modern look.
---
21. Bright Blonde With Dark Roots
---
Image: Source
Blonde hair in combination with dark roots looks gorgeous. This shade will add radiance to your face and make you appear younger. Furthermore, it is one of the low-maintenance hair colors.
Colors to Avoid for Women Over 50
Obviously, you're investing your time, effort, and money in hair coloring because you want to look good. Any mistake in your dying job can make you look even older. Here're some of the colors every woman above 50 should avoid.
a) Jet black
b) A full head of neon colors
c) Deep shades like deep purple and deep green
d) Too brassy
e) Extremely light tips on the ends
f) Deep and full rainbow hair
The Bottom Line
All the above-listed hair colors have an anti-aging effect and will make you look fresh. However, just like a dress, there's no single color that will suit everyone. Your age, hair texture, eye color, and skin tone, all matter a lot. Therefore, we suggest you seek advice from your hairstylist.