Hand tattoos for men are rebellious and bold. Tattoo styles at the wrist, arm, and fingers never fail to draw a reaction from the onlookers. Personal messages, masonic tattoos, and love signs can all be made on your hands, elevating your hands' masculinity.
Tattoos have become a cool way to show off your personality and mentality. If you're looking for the best hand tattoos for men, there's no dearth of options here.
Hand Tattoos for Men
---
1. Flying Birds
---
Image: Source
The tattoo of flying birds symbolizes freedom, courage, happiness, and optimism for men. Due to these meanings, they have become increasingly popular among men.
A bird tattoo looks cute and simple. Hands are one of the common body parts where men decide to show off the bird artwork.
---
2. Dark Rose
---
Image: Source
Bored of red tattoos? Maybe it's time to opt for dark roses. Dark roses are arguably the most recognizable tattoos across all styles of rose-related body art.
The Dark rose tattoo reflects strength and rebellion. However, the color black is generally associated with death. Hence, people sometimes choose this tattoo in the memory of their loved ones.
---
3. Snake Tattoo
---
Image: Source
This is one of the easiest hand tattoos for men. Snakes are the age-old symbols of creative life. People also love snake tattoo designs because they have the power to ward off evil.
The skin shedding abilities of snakes make them symbolize immortality and healing. If you want a discreet or minimal tattoo, give this a try.
---
4. Trust No One
---
Image: Source
The Trust No One tattoo stands for caution against manipulation and betrayal. It's a way to guard yourself against being taken advantage of or harmed by others. If you have this tattoo, it's critical to remember its message and never let your guard down.
By choosing such cool hand tattoos for men, you're letting others know that you're not someone who can be taken lightly. In that sense, Trust No One tattoos represent confidence.
---
5. Compass and All Seeing Eye Masonic Tattoo
---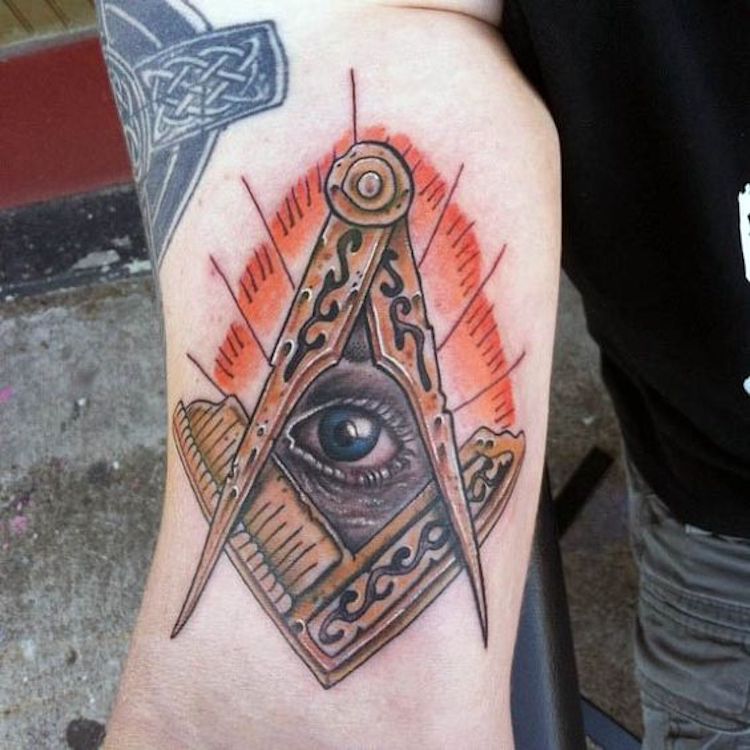 Image: Source
The compass measures the ability to perform actions judiciously within limits. This tattoo also has an All-Seeing Eye, which reminds Freemasons that God is always watching, seeing all of their actions and thoughts.
---
6. Taurus Zodiac Hand Tattoo
---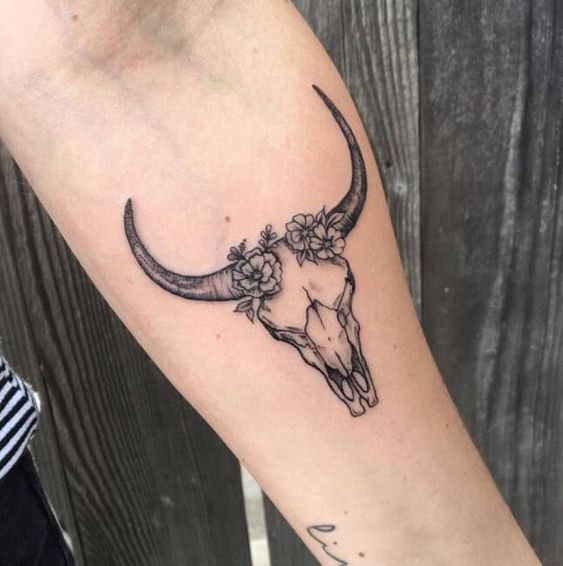 Image: Source
Anyone born between 21st April to 21st May has a Taurus zodiac sign. The bull is the symbol for Taurus. A bull stands for a diligent person. Considering this tattoo design means either you're a hard-working person or are showing respect to those who work hard to accomplish their goals.
Different types of bull skull tattoos are there. Choose one that can convey your message the best.
---
7. Radio Head Bear
---
Image: Source
Many people think the 90s had a great time with the music. Having a tattoo that reps your favorite song or band is cooler than ever.
Cute yet this new art style can make you stand out from the crowd. Came from a track on Radiohead's OK Computer album, Fitter, Happier, created by Donwood.
---
8. Black Devil Tattoo on Arm
---
Image: Source
This simple black devil tattoo can be a good pick for those who don't like to fuss about anything. Such a devil tattoo also stands for a carefree attitude.
The shoulders, arms, and biceps are the best parts to get this tattoo done. Ask your tattoo artist to use black and brown colored inks to get the job done. Anyone having fair or medium skin tone can consider this tattoo.
---
9. Small Triple Triangles
---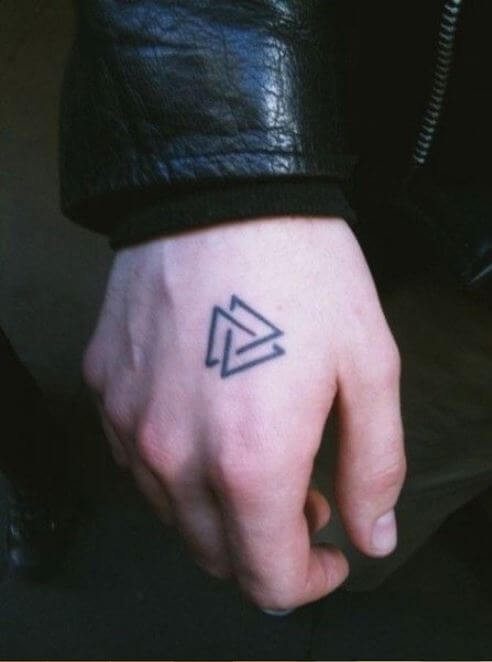 Image: Source
If you're looking for small hand tattoos for men, try this. This symbolic triangle tattoo design in small size is actually a matching sibling tattoo where the three triangles represent the three siblings.
---
10. Face on Knuckles
---
Image: Source
Knuckle tattoos are constantly evolving and come in various shapes and sizes.
Our favorite four creepy cats namely Wolfman, Frankenstein, The Mummy, and The Creature From The Black Lagoon are drawn on the knuckles using white, gray, and black inks. You can portray whatever character you like on your knuckles.
---
11. Spider Tattoo
---
Image: Source
Harmony, balance, and wisdom, that's what a spider tattoo symbolizes. Spider tattoos are considered very trendy by both men and women.
Spider tattoos look best on arms, forearms, neck, and back.
---
12. Eye on Palm
---
Image: Source
Depending on the body part and style you're choosing, eye tattoos can look incredibly beautiful. Eye tattoo meaning is often linked to protection from evil spirits, guidance, and truth, along with spirituality and higher consciousness.
This simple eye tattoo when drawn on palms can be considered by men irrespective of their skin tones.
---
13. Ship Anchor Hand Tattoos
---
Image: Source
One of the common hand tattoos for men is the Anchor of a Ship. The anchor keeps the ship stable during a storm. Therefore, if you're wearing a ship anchor tattoo, it means you know how to remain stable against challenges.
---
14. Japanese Half Sleeve Tattoo
---
Image: Source
A Japanese tattoo like this has authenticity and originality. Your tattoo artist will use Nara ink to do the tattoo design. The needle is dipped in active charcoal(Nara ink) and pricked to the skin to form the art. While it is time-consuming, the process will not harm the soft tissues in your skin.
---
15. I Love U Tattoo Design
---
Image: Source
Show your true love and dedication for her with this love quote hand tattoo. This chic and cool tattoo can rekindle the romance in your life.
Everything we say might fade away, and everything we promise might lose its importance but a tattoo shall never fade out.
---
16. Five Finger Death Punch
---
Love the American heavy metal band, Five Finger Death Punch? Then, you can try its abbreviated form, 5FDP.
---
17. Roaring Beast Tattoo
---
Image: Source
Roaring lions bearing the canines can induce fear in the animal kingdom. Such a lion's tattoo symbolizes power.
The apex of masculinity, and roaring lion tattoos are good ways to show off the wearer's spiritual connection to the King of the Jungle.
---
18. Piercing Through the Heart
---
Image: Source
Dagger tattoos signify many meanings such as magic, intimacy, spying, trickery, bravery, courage, secrecy, and hate towards disloyalty. When the tattoo is showing that the dagger has passed through your heart, it will mean that someone has hurt you emotionally.
---
19. Hannya Mask Tattoo
---
Image: Source
Hannya mask tattoos can be of various shapes and designs. These tattoos when combined with the Japanese traditional style, Tebori, can help you achieve a timeless look. Such tattoos include intricate linework and highlight traditional cultural significance.
---
20. Creation of Adam Line Art
---
The creation of Adam tattoo has two arms outstretched and fingers touching. This tattoo signifies a new awakening, a birth, and the making of a new man. Even if you're not a classical art enthusiast, you can still consider this tattoo for establishing a connection between your life's journey and the Creation of Adam.
---
21. Mandala Black Ink
---
Image: Source
Mandala tattoos have various shapes and overlapping circles. Circles are powerful spiritual symbols across many cultures. Think of prayer wheels, halos, even the infinity symbol. Despite their religious origins, mandalas are common tattoos among people of all ages, ethnicities, and backgrounds.
---
22. Crying Angel Face Hand Tattoo
---
Crying angel tattoos are quite popular these days. These tattoos are sad images representing the loss of a friend or a family member. According to a popular belief, the angel is crying for those who cannot cry for themselves.
---
23. Open Scissors
---
Image: Source
Want to cut out negative thougts or negative people from your life? Maybe open scissors tattoo is the best option to convey this message. you can get really creative with the scissors tattoo and add images that might make sense.
---
24. Number 7 Crown Tattoo
---
Image: Source
Crown tattoos symbolize strength and power. Number 7 is often considered to be a sacred number and is related to contemplation, intelligence, and spirituality. When a crown is placed on the top of number 7, it may symbolize the strength of spirituality and intelligence.
---
25. Spartan Helmet
---
Image: Source
The Spartan helmet tattoo stands for toughness and grit. We need to remind ourselves of the power we hold within and the Spartan tattoo is sometimes used to be that reminder. Most of the times, men prefer to get this tattoo done on their shoulders or chest.
---
26. Symbols on Knuckles
---
Image: Source
Knuckles make excellent canvases if you want to get a tattoo but don't want to attract too much attention when walking around outside. Choose symbols to keep the tattoo design simple. This tattoo can be a perfect pick for those who don't want to be overdramatic with their tattoos.
---
27. Warrior Arrow Tattoo
---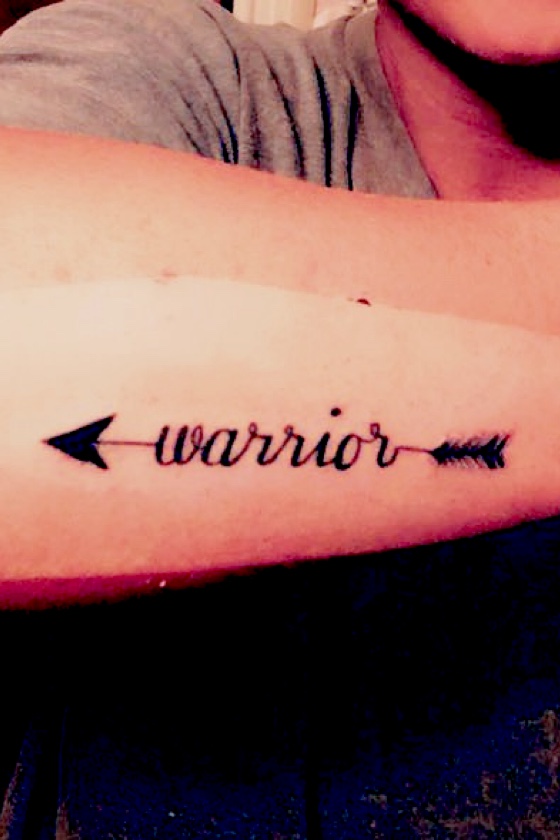 Image: Source
An arrow tattoo can represent the warrior side of who you are. Often seen as a symbol of strength, there are many variations of the design and varying interpretations of its meaning, including endurance and struggle.
---
28. Anubis, the Ancient Egyptian God Tattoo
---
Image: Source
Anubis is the Egyptian God that symbolizes the Underworld and Death. These Anubis tattoos are pretty popular because they show the wearer's ability to fight off negative energy and evil spirits.
If you have a soft corner for Egyptian mythology or love bold symbols, go for this hand tattoo.
---
29. Personal Name Tattoo
---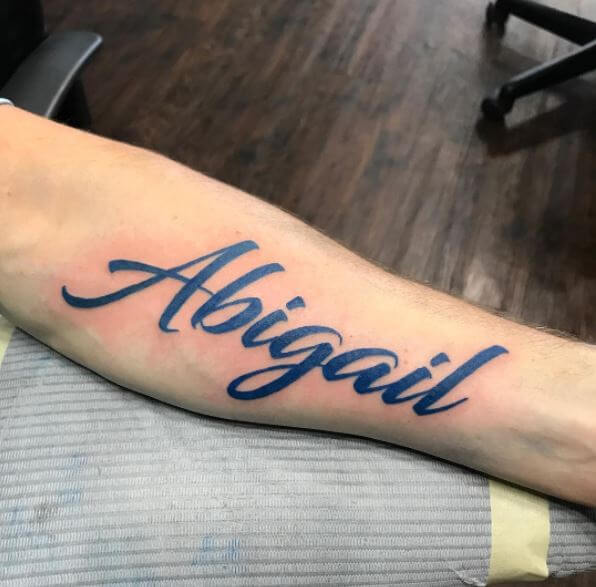 Image: Source
Getting a name tattoo of their own is a very common practice in many cultures. Personal name tattoos allow you to celebrate the powerful bond you share with yourself.
---
30. Life and Death Hourglass Tattoo
---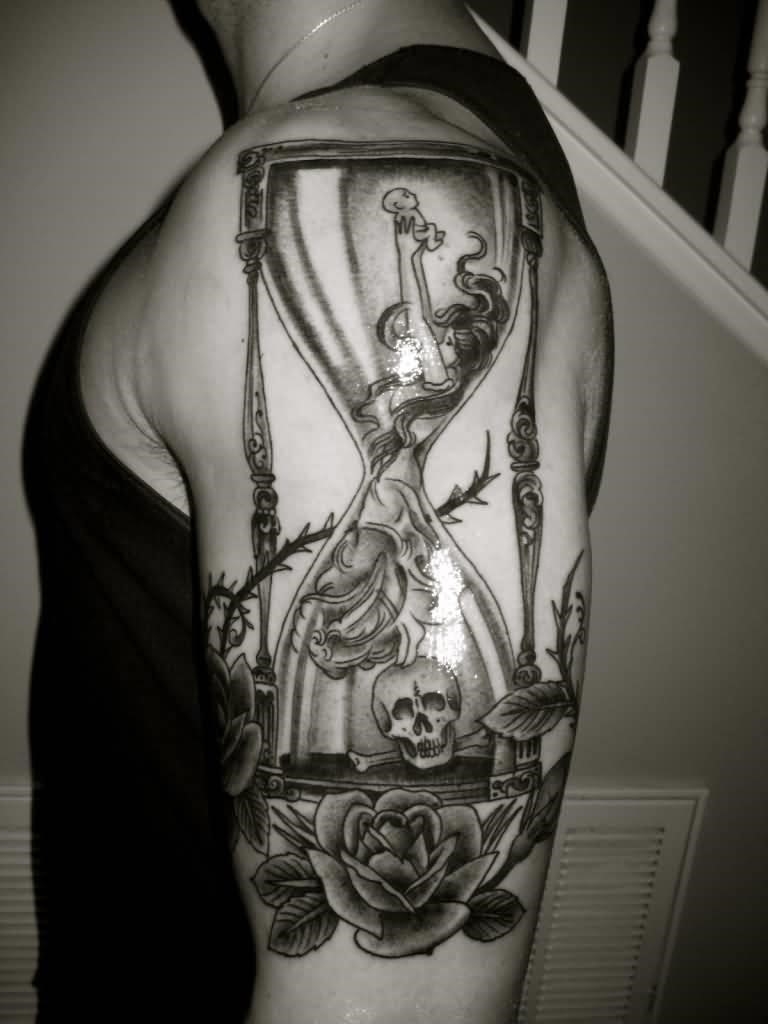 Image: Source
Mirror the philosophy of life and death with this tattoo. The girl holding a child at the upper part of the hourglass represents life. On the other hand, the skull at the lower part of the hourglass stands for death.
---
31. Tribal Hand Tattoo
---
Image: Source
Tribal tattoos can make excellent designs. Oftentimes, these tattoos have intricate designs. These tattoos tell the story of the wearer, often as a coming of age, or design related to their place within their people's culture.
---
32. Marsala Clock on the Arm
---
Image: Source
Clock tattoos symbolize many meanings like mortality, time to life and death, stability, endless love, and more. The design of the clock is unique and will cover a major part of your hand. If you want to opt for calm colors, then marsala can be a good pick. Other calm or neutral colors your can choose are black and grey.
---
33. 3D Key Tattoo
---
Image: Source
3D tattoos create a realistic design. These 3D tattoos can be beneficial for people having surgeries to hide their scars.
The key tattoo may represent your deepest secrets. Actually, the key stands for different meanings. It can also signify powers that you or anyone can lock or unlock.
---
34. Powerful Eagle Hand Tattoo for Men
---
Image: Source
An eagle never fails to catch its prey. It is one of the most dangerous predators in the world.
Eagle tattoos symbolize resilience, power, virtue, and bravery. Having an eagle tattoo means always dreaming of flying as high as an eagle flies. Such a tattoo can induce positive vibes in you.
---
35. A Simple Tree Tattoo
---
Image: Source
A tree tattoo represents the journey of life. The deep roots and the many branches portray the strong foundation and increasing family members – as one can only add branches to the family tree.
---
36. Phoenix on Upper Half Sleeve
---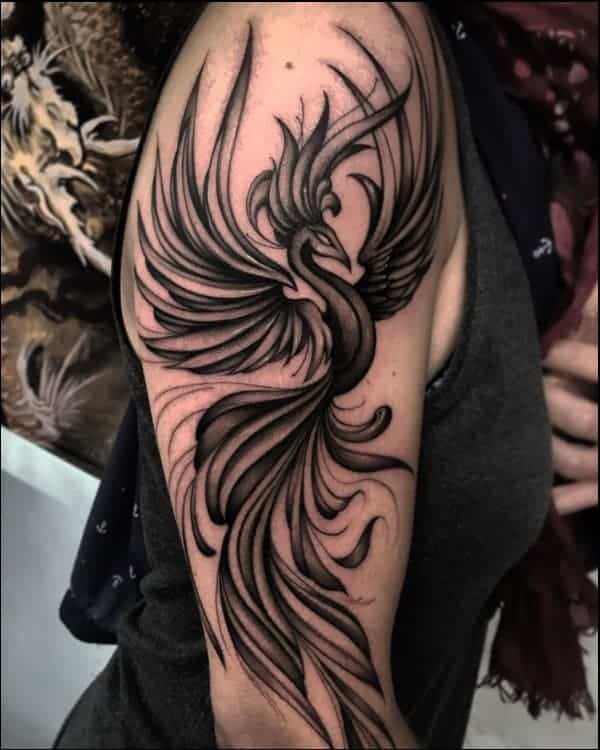 Image: Source
The phoenix symbolizes birth, death, and rebirth. It has become a symbol of change, strength, and growth.  Most Phoenix tattoo designs for men depict this long-lived bird in black, white, red, yellow, and green.