Hair coloring means getting a newer and better version of yourself. In fact, that's what you expect while dyeing hair. But, frequent hair coloring can damage your hair permanently. For this reason, you should know how to keep dyed hair healthy. Fortunately, learning how to protect your color-treated hair is almost the same for every hair type.
Once you dyed your hair, stop following the pre-coloring hair care routine. It's the time when you should start sticking to a hair care regimen that is specifically for colored hair. Colored hair needs some more TLC. Or, you'll end up having lifeless, rough, and untamable locks.
Here're our 15 key rules on how to keep dyed hair healthy and make your hair feel at its best.
How to Keep Dyed Hair Healthy
---
1. Wash Your Hair After 72 Hours
---
After coloring, wait for 72 hours to wash your hair again.
Most people wash their hair immediately after coloring it. This is a common mistake that results in fading the dye soon. For the first time when you wash the dye out, let it dry naturally. The color takes almost 72 hours to settle completely. Washing your hair before this time period may affect the color.
According to Eva Scrivo, a hairstylist in NY, the cuticle layers take up to 3 days to trap the color molecules, making them last for a long time.
---
2. Use a Sulfate Free Shampoo
---
It's very important to choose the proper hair products to cater to your hair requirements. It is clear after a lot of studies that using sulfate-free shampoos can slow down the process of color fading. As compared to ordinary shampoo, sulfate-free shampoos don't disturb the cuticles of the hair. 
Sulfate-based shampoos have high foaming capacity than sulfate-free formulas. They also wash away conditioner layers and free lipids present inside your cuticle, leaving your dyed hair defenseless against damage and rapid color fade. But sulfate-free shampoos have less tendency to strip the hair color. 
Sulfate-free shampoos help in balancing the natural protective oils of our hair. It also ensures that color pigments are locked inside the hair shaft by sealing the cuticles of the hair. This gentle shampoo protects your hair color from premature fading as well as keeps your hair clean and hydrated. 
Bio Follicle Sulfate-free Shampoo
Cruelty-free and rich in antioxidants, this vegan shampoo has rosemary and mint to restore moisture and repair color-treated damaged hair.
Dermorganic Shampoo With Argan Oil
Blending of lipid and amino acid in the shampoo rebuilds, moisturizes, and strengthens your hair.
---
3. Massage Oil before Shampooing
---
Castor oil and coconut oils are best for massaging your hair. Castor oil encourages hair growth while coconut oil prevents hair damage. Mix 3 teaspoons of coconut oil with 1teaspoon of castor oil. Apply it at night before going to bed. Make sure the ends of your hair are getting enough oil. Generally, people have rough hair and straw-like edges after hair coloring. Moisturizing the edges of hair properly with these two oils will enable you to maintain their shine and softness for a long. Go for a hot oil treatment 2-3 times a week.
Warm the oils slightly before applying. This hot oil treatment works great for dyed hair. Dyed hair oftentimes, has split ends, lost shine, brittle, and frizzy. You can overcome all of these hair-related issues with hot-oil treatment.
Image: Source
---
4. Never Skip Conditioning
---
Your colored hair needs Lots… and Lots… of moisture. And, for that, conditioning is a must. Deep conditioning minimizes frizz and keeps your hair moisturized for days. You will be able to increase elasticity and improve the hair texture if you deep-condition your hair twice a week.
This is another important step for those looking for how to protect color-treated hair. Apply conditioner every time you shampoo your hair. Conditioners seal the cuticles and lock in moisture.
However, it's best to use conditioners made from using natural ingredients. Applying a homemade conditioner will not contain any harmful chemicals.
Watch this video to learn how to make conditioners at home.
---
5. Wash Your Hair Less Often
---
If you want your color to last longer, avoid washing your hair frequently. Over-shampooing may strip the color from your hair. Shampooing the hair just 2-3 times a week is enough to keep the hair clean, dyed, and moisturized. Moreover, use a color-safe dry shampoo. This type of shampoo is mainly designed for making the color-treated hair look fresh for days.
Erika Szabo, the senior colorist at The Arsen Gurgov Salon in NY says, "The more often you wash your hair, the quicker your color fades." Apart from this, you should also avoid using warm water while shampooing. Rather blast your hair with cool water. Cool water can be a recipe for healthy strands as it doesn't steal moisture from your hair.
---
6. Avoid Using Heat
---
Hydration is crucial for maintaining the health of your dyed hair. Using hair styling tools causes cuticle splitting and damage. Therefore, try to avoid using heat as much as you can. Skipping heat altogether will keep your hair hydrated. Plus, you'll be able to sport the new color for a longer time. How long your hair color will stay also depend on how much heat you're applying to your hair.
Even then, if you've to apply heat, use a heat protectant spray. Heat protectant sprays work as a leave-in conditioner and strengthen your hair.
---
7. Hair Masks Are Your Friends
---
If you want to know how to keep dyed hair healthy, you can't avoid this step. Marshall Lin, the NY-based hairstylist, tells Allure.Com that applying a hair mask at least once a week will further moisturize your hair. You can prepare a hair mask at home or shop for a good hair mask online.
Whether you've permanent colors or bleached your hair, applying a mask once a week is essential. Hair masks repair and strengthen all kinds of damages caused by bleach and other hair dyes.
Consider your hair type and need while shopping for a hair mask. If you're looking for any shopping advice, we're here to help you out.
 XTEND COLOR LOCK KERATIN REPLENISHING MASK – 4 OZ
This hair mask magnifies hair color and adds sheen to your mane. It suits all hair types.
SCHWARZKOPF BC BONACURE COLOR FREEZE TREATMENT – 6.8 OZ
Go for this treatment twice weekly to nourish and repair your damaged color-treated hair.
You can also prepare a hair mask for colored hair at home. This remedy is for those who are looking for how to keep dyed hair moisturized. Here's the procedure.
Process of Making Hair Mask for Color-Treated Hair
Honey and Egg Hair Mask
a) Beat 2 eggs in a bowl to create a smooth paste.
b) Add a teaspoon of honey and mix well.
c) Apply the mixture to your hair and wait for 30 minutes before washing.
---
8. Cover Your Hair with a Scarf
---
Image: Source
Is your hair damage-prone? Then, you may need to wrap a silk scarf around your hair. Make sure all of your hair is covered with the scarf. Wearing a scarf before sleeping reduces the friction between your hair and the pillowcase. If possible, use a silk or a satin pillowcase to further minimize the friction.
---
9. Use A Color Protectant Shampoo
---
Your shampoo plays a crucial role in maintaining your hair color. While buying a shampoo, make sure it's specifically designed to treat colored hair. Color-safe shampoos balance the natural pH of your hair. Using such a shampoo will add volume and shine to your colored hair.
Massage your scalp thoroughly with the shampoo using your finger pads. Don't worry if you're not seeing big bubbles. Color protectant shampoos don't create big bubbles like the shampoos containing sulfates. And yet, you'll get effective results.
---
10. Avoid Using Hot Water for Washing Hair
---
Rinsing your hair with hot water fades the color fast. The heat opens the cuticle and it will wash away all the hair color. Using hot water also makes your hair static and frizzy.
On the other hand, cold water hydrates and moisturizes the scalp. Furthermore, it prevents excess oil and dirt from entering the scalp by sealing the pores.
---
11. Install A Filter
---
Don't skip this step if you want to know how to keep dyed hair healthy. The iron in water damages hair. Sometimes, water in the swimming pool contains chlorine. This is also harmful to your hair. Therefore, put a filter on your shower head.
Using a filter will help you prevent iron and chlorine from affecting your hair. As a result, your dyed hair will remain soft for a long time.
---
12. Rinse Out the Color Thoroughly Before Shampooing
---
Before your post-color shampoo, rinse out the color in your hair thoroughly with normal water. According to Rex Jimieson, the color educator at Maxine Salon of Chicago, if you don't wash your hair thoroughly after coloring, color residue may be there on your scalp. The color residue can lead to sensitivity to color in the long run. In addition to it, color residue on your scalp can cause hair breakage.
---
13. Use Vinegar As the Last Rinse
---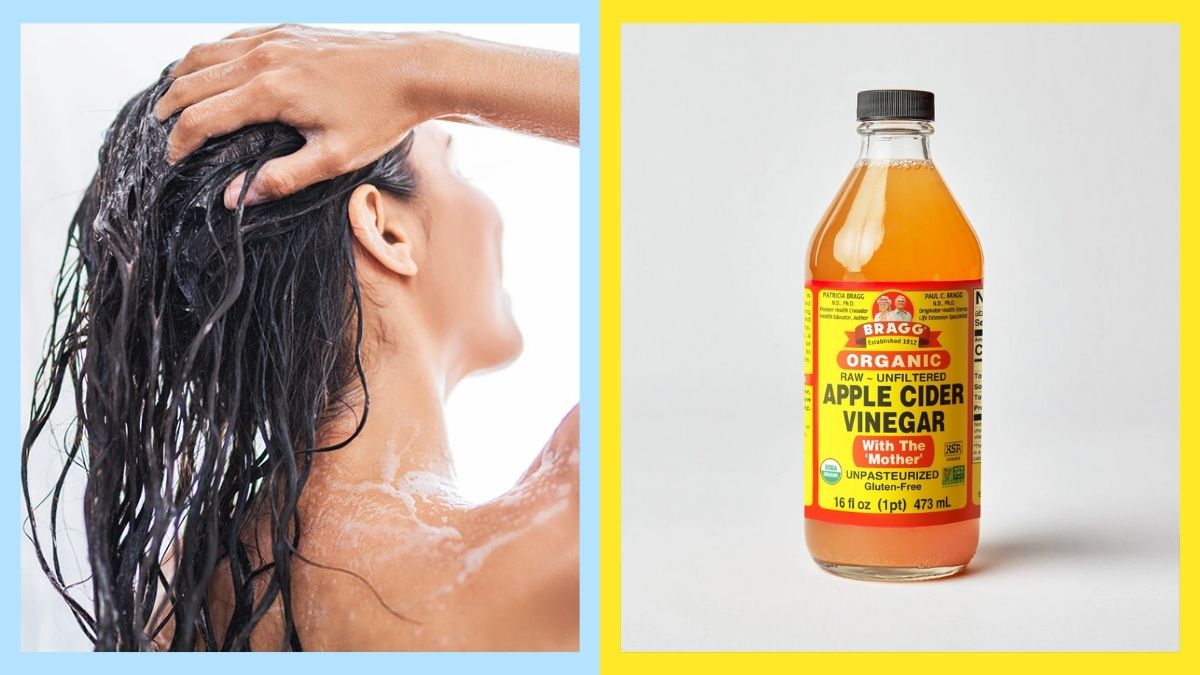 Image: Source
Here's another much-ignored trick for those who want to know how to keep dyed hair healthy.
Vinegar helps protect hair color. It balances the pH level of your hair and prevents the color from fading. Vinegar is a powerful antibacterial ingredient that will keep your hair clean and will keep the color radiant.
How to Use Vinegar for Healthy Dyed Hair
a) Shampoo and condition your hair.
b) Pour a small amount of vinegar into a bowl.
c) Add fresh water to dilute the vinegar.
d) Apply it as the last rinse.
Do this every time you shampoo your hair.
---
14. Add Dye to Your Conditioner
---
Purple, pink, and many such colors tend to fade fast. Therefore, add a small amount of your hair dye to the conditioner while shampooing. According to Michael Duenas, a celebrity hairstylist, adding a little bit of your dye to the conditioner can keep your color fresh for a long time. This is an often ignored dyed hair care routine.
Doing so means adding color every time you wash your hair. Consequently, the color will continue to remain on your hair until the roots grow out.
---
15. Go For Leave-In Treatments
---
Leave-in treatment is essential to prevent post-coloring hair frizz. The silicones in leave-in conditioners create a protective layer on your hair shaft. This increases the strength of your colored hair making them manageable.
This is another effective method about how to keep dyed hair healthy. Look for a leave-in conditioner that is specifically designed for color-treated hair. Using such a conditioner will help minimize sun damage and detangles hair easily.