Having a chrome dome isn't always bad. Many bald actors have already proved that sometimes going bald is more masculine. In fact, their bald head are more praised than their haired head. If you're experiencing hair loss, don't get disheartened. Rather, take inspiration from those bald actors. You can also look dashing when you embrace baldness. Have a look at some of the bald celebrities when they had hair.
Bald Celebrities With and Without Hair
1. Dwayne Johnson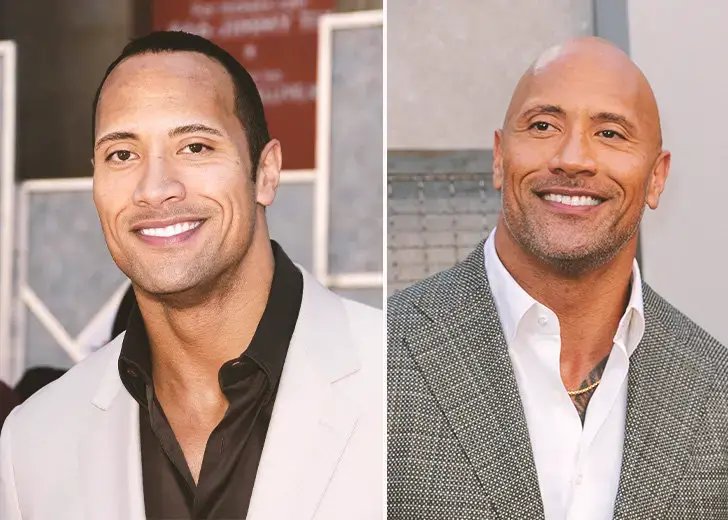 Image: Source
When he used to play football, he had thick hair. However, most of his fans loved this Hollywood celeb with no hair. A Twitter user even stressed, "Dwayne, 'The Rock' Johnson with hair should never be allowed to exist.
2. Vin Diesel
Image: Source
One of the hardcore aesthetics of Vin Diesel is his bald head. That being said, his fans think that Vin looks older with hair.
3. Bruce Willis
Image: Source
Long time Hollywood hunk Bruce Willis never lost his confidence when he observed his hair is thinning. Rather he once said, "I will kick anybody's arse who tries to tell me I am not one because my hair is thinning.
4. John Travolta
Travolta-bald mania, that's what we've seen on Instagram when he posted one of his bald look. All of his fans liked John without hair so much that he decided to keep the cool bald look for a while. In fact, his Instagram followers crossed the mark of one million after seeing Travolta with a sleekly shaved head.
5. Samuel L. Jackson
Image: Source
From exquisite extensions to bizarre wigs, people have seen Samuel in various hairstyles. In his five decade career in film industry, there's hardly any look that doesn't suit him. But, we think he is one of those bald black men who looks best while in bald head than a head full of hair.
6. Howie Mandel
Image: Source
Early in his career, Howie had noticeable curly and dark hair. But, in Deal or No Deal, 2005, we have seen him bald. However, he has not completely shaved it off because of hair loss issue or his love for bald look. Actually, he suffers from Mysophbia (phobia of germs). According to him, a shaved head makes him feel cleaner.
7. Patrick Stewart
Image: Source
The iconic bald head of Patrick is as much loved as his acting. He started to suffer from Alopecia from a young age. This shattered his confidence. Later, he got the confidence for 'No more hiding', when his friend's wife 'lifted his hair, and cut it all off.' His friend's words, 'now you be yourself' gave him the courage to embrace baldness.
8. Ben Kingsley
Twenty years have passed since we have first seen him debuting a chrome dome. We don't think this Oscar Winner need any kind of words for appreciation. He is such a personality that even his bald head couldn't bring down his number of followers. On the contrary, he looks smarter and more masculine without hair.
9. Billy Joel
From jet-black curly hair to completely shaved off head, Billy Joel rocks in every look. The main reason behind his hair loss was heredity. His father and grandfather was bald. And, so is he. However, he says that his excessive use of heat damaged his hair's natural texture, leading to fall them off. But, when the hair loss issue became severe, he decided not to hide it with a toupee.
10. Pitbull
Image: Source
Not only Pitbull (Mr. Worldwide) has embraced baldness but also has encouraged Travolta to gain confidence in bald look. However, he has never revealed his reason of going bald. And, we don't even care. His bald look is so loved that he is even considered one of the hottest bald men in the world. The image is taken from a TikTok went viral. People even loved his look with hair so much that one of them commented, "Ain't Mr. Worldwide anymore. That's Mr. Universal."
11. Jason Statham
When his hairline began to recede, Jason decided to go bald. Once he got rid of all his hair, he started to look even hotter. He too thanked God for his bald look. In his words, "Hair just doesn't suit me." Even his girlfriend Rosie Huntington also thinks the same. Actually, she is proud of his look. We also are of the opinion that Jason looks more happening and hot in bald head. What do you think?
12. Larry David
Larry David proudly accepted his baldness. Though he had to undergo many criticism for belonging to the bald community yet he never tried to hide his bald head with a toupee. He even despises people who get hair transplant or use minoxidil. According to him, hair loss should never make one feel embarrassed. Men should never allow the receding hairline stopping them from becoming living legends.
13. Mark Strong
Image: Source
The sharp facial features and bald head, the complete look of a villain. That's what Mark Strong believes. For this reason, as soon as he noticed his receding hairline, he decided to cut it all off. However, he prefer to wear toupees while on-screen. But, being follicularly challenged, he thinks his casting directors consider him only for a villainous role and not for a leading role.
14. Common
Image: Source
At the age of 44, Common (American actor, singer, producer, and a director) faced baldness. He immediately took the decision of going bald. Before that, we have seen him trying various hairstyles like undercuts, corn rows, and many more. This actor thinks that baldness is overrated.
15. Billy Zane
In 'Titanic', we have seen Billy with sleek black hair. But, in later years, he has gone bald. As such, he is one of those bald celebrities with hair who love to wear toupees in most of his movies.
Related Articles