As winter approaches, many of us start thinking about the essentials that keep us warm and stylish at the same time. Whether you're looking to make a statement or just stay cozy during the cold months, there are plenty of options available to help you stay fashionable while battling the chill. In this blog post, we'll be sharing the top winter essentials for women that are both cozy and stylish – so you can enjoy the winter weather in style!
Winter Essentials for Women
---
1)    A Good Coat
---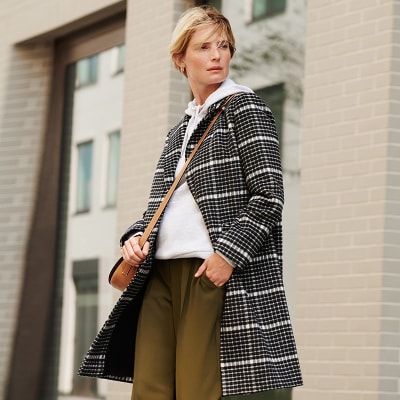 Image: Source
When winter arrives, there's no better way to stay warm than with a good coat. Whether you're looking for something cozy, classic, or stylish, investing in a quality coat is always a good idea. A great winter coat should not only be warm but also comfortable and easy to wear. Make sure it has plenty of pockets for storage, and look for one with features such as a hood or waterproof material to ensure maximum protection from the elements. Additionally, try layering other garments underneath your coat to maximize warmth and insulation.
---
2)    Letterman Jackets
---
Image: Source
Letterman jackets are a great way to stay warm and stylish during the winter months. They offer a unique combination of comfort, style, and protection from external elements. Not to mention, they look great when paired with just about any outfit. So, add a patch of your choice to your letterman jacket and create your own exclusive look this winter.
---
3)    A Pair Of Boots
---
Image: Source
When it comes to winter essentials, a good pair of boots is important. Not only will they help keep your feet warm and dry, but they also make a great fashion statement. Choose a pair that suits your style and comfort level—from knee-high boots to ankle boots, there's something for everyone.
Look for boots with waterproof materials and insulation if you want extra protection from the cold. They come in a variety of colors, so you can easily find a pair that goes with any outfit. And don't forget to wear socks—choose a pair with wool or thermal insulation for maximum warmth.
---
4)    A Scarf
---
Image: Source
A scarf is a flawless way to add some extra coziness and style to your winter wardrobe. Choose a classic wool scarf in a neutral color palette or opt for something more eye-catching such as a faux fur or leopard print scarf.
Choose scarves made from natural fibers like wool or cashmere for an extra dose of warmth. Scarves are also perfect for adding color to an otherwise monochromatic winter attire.  You can go classic with a solid-colored scarf, or pick up a patterned style with some embellishments such as fringe, embroidery, or beads.
---
5)    A Hat
---
Image: Source
Winter hats are an absolute must-have for staying warm during cold weather months.  Hats look cool while providing maximum protection from the chill.  Look for styles like knit caps or beanies that can keep your head nice and toasty without sacrificing style. For extra warmth, choose styles lined with fur or fleece.  Or, if you're feeling adventurous, try a stylish trapper hat that has ear flaps.
---
6)    A Pair Of Gloves
---
Image: Source
Gloves are essential for keeping your hands protected against cold weather. Look for ones made from durable materials like leather, nylon, or wool that will provide insulation while still being breathable and lightweight. Mittens tend to provide more warmth than gloves, so if your climate requires extra insulation, consider opting for those instead.
But for those who prefer more freedom of movement than mittens offer, gloves are a great choice for keeping hands snug in the colder months. Leather gloves work great as a classic option, while knitted gloves add a fun pop of texture and color to any outfit.
---
7)    Fleece-Lined Leggings
---
Image: Source
Fleece-lined leggings are a great way to stay warm during the cold winter months. They come in a variety of styles, from full-length leggings to cropped ones, and they offer a layer of warmth that you don't get with regular leggings. Plus, they look fashionable and can be worn to dress up any outfit. They're perfect for throwing on when you want to take a winter walk or just lounge around the house. Look for ones made of quality material so that they will last for many winters to come.
---
8)    Shacket
---
Image: Source
A shacket is a hybrid of a shirt and a jacket, usually made of a heavier material like flannel or corduroy. It's the perfect in-between option for the cooler months when you don't want to commit to a full coat, but want something more substantial than a long sleeve shirt.
Shackets are typically slightly oversized and come with a variety of details, from drawstring waists and hoods to zip-up pockets and utility pocket styling. They come in an array of colors and patterns and can be dressed up or down for any occasion.
---
9)    Matching Loungewear Set
---
Image: Source
Loungewear is a must-have during the colder months. You can't go wrong with a comfortable and stylish matching loungewear set. It can be as simple as a classic t-shirt and sweatpants, or you can switch it up and go for something like a cozy knitted two-piece set.
Loungewear sets are perfect for running errands or just lounging around the house. You can find matching loungewear sets in a huge variety of colors and styles, so you're sure to find something that fits your taste.
---
10)    Ribbed Tops
---
Image: Source
When it comes to winter essentials for women that are both cozy and stylish, ribbed tops are a must. Not only do they look great with almost any outfit, but they also provide a comfortable fit and extra warmth.
Whether you prefer a classic turtleneck, a slim-fitting crewneck, or an off-the-shoulder sweater, there's a ribbed top out there for you. Look for fabrics like wool, cashmere, and cotton blends to ensure your ribbed top is both breathable and warm. Pair these stylish tops with a pair of jeans or even a skirt for an effortless winter look.
---
11) Wool & Knit Sweaters
---
Image: Source
Wool sweaters are the classic choice for winter style, but modern knits offer plenty of style and warmth too. Choose from slouchy oversized sweaters or structured cardigans for a more polished look. Pair them with leggings or jeans and your favorite boots for an easy, comfortable outfit. You can even find some with trendy details like off-shoulder silhouettes, puff sleeves, or bold colors. Whatever your style, wool and knit sweaters are sure to keep you cozy and stylish this winter.
The Bottom Line
Winter weather can be difficult to deal with, but it doesn't have to be boring and frumpy. With the right items, you can keep warm while still looking stylish. Whether you're heading to the office or planning to spend a cozy night inside, these winter essentials for women are sure to keep you looking fashionable and feeling comfy all season long.