Dry skin can crop up any time of the year. But, it becomes a very common skin issue during fall and winter. The fall in temperature leads to dry skin under eyes. In addition to it, there are many other factors that are responsible.
No worries. It's totally normal. Thankfully, it's a problem you can get rid of with slight changes in lifestyle, natural remedies, and creams.
To combat dry skin under the eyes, let's have a look at its contributing factors.
What Causes Dry Skin Under Eye?
Different factors like seasonal changes and aging can cause dry skin under eyes. Here're some of the common causes:
---
General Causes
---
---
1. UV Rays
---
The skin around our eyes is super-sensitive. Long-term exposure to the sun's rays can steal away moisture from our skin. Ultimately, you'll have dry patches under the eyes. However, applying sunscreen can prevent dryness under the eyes.
---
2. Seasonal Changes
---
Oftentimes, seasonal changes lead to dry and flaky skin around the eyes. The cold weather of winter can dry out our skin. We start to rub and scratch it. This, in turn, increases the dryness further. Therefore, take special care of your skin during winter.
---
3. Inadequate Skincare Routine
---
As the skin under our eyes is delicate, we should take care of it regularly. Keeping the skin hydrated all day can prevent early signs of aging and dryness around the eyes.
---
4. Often Using Hot Water on Skin
---
Washing your face often with hot water also makes your skin dry. Moreover, if you use hot water regularly during winter, the surface of your skin can get damaged.
Medical Causes of Dry Skin Under Eyes
---
1. Atopic Dermatitis
---
Atopic Dermatitis is a chronic dry skin condition that can happen to anyone. The skin becomes red, cracked, and itchy. Any body part that gets easily exposed to the sun (including the eyes) can get affected.
---
2. Facial Psoriasis
---
The National Psoriasis Foundation says scales due to Facial Psoriasis can cover lashes. Consequently, the area around your eyes becomes crusty, dry, and red.
---
3. Eczema
---
According to Nichelle Temple, the owner of Inderma Studio in New York City, eczema commonly occurs under the eyes. Eczema makes the skin dry, inflamed and cracked.
What If You Ignore Dry Skin Around Eyes?
Have flaky skin under your eyes? Start to take care of it when you still have time in hand. Chronic dryness affects elasticity. When your skin loses its elasticity, premature wrinkles start to appear. Moreover, cracked skin opens the door for bacteria, leading to infections.
How to Treat Dry Skin Under Your Eyes?
General causes of dryness under the eyes can be treated at home. All you should keep in mind is that your skin becomes dry when it loses its moisture. And, the eye area is not an exception to it. Therefore, you should emphasize keeping the skin moisturized and hydrated.
Here're some home remedies to get rid of under-eye dry skin.
---
1. Almond Oil and Honey
---
Benefits: Almond oil when mixed with honey can improve your skin's texture. The retinoids in the almond oil improves cell turnover and reduce acne. Honey gives a youthful glow to the skin and prevents premature wrinkles.
How to Use:
a) Wash your face with a mild cleanser.
b) Mix a teaspoon of honey with 4-5 drops of almond oil.
c) Massage it gently into the beneath your eyes.
d) Do this daily before going to bed.
e) Wash your face thoroughly the next morning.
This remedy is especially effective for those who have very dry skin under the eyes.
Fashiondrips Tips
For best results, use sweet almond oil and raw honey.
---
2. Aloe Vera Gel and Vitamin E Capsules
---
Benefits: Aloe vera gel prevents new signs of aging around your eyes. It increases collagen production in your skin making it appear smooth. Vitamin E capsules soften the appearance of wrinkles and hyperpigmentation. Vitamin E oil is also very effective in treating dark circles.
How to Use:
a) Squeeze out the vitamin E oil from two capsules. Mix them with 1 teaspoon of aloe vera gel.
b) Apply it under your eyes and tap it in with your ring finger.
c) Let it sit overnight to get the desired results.
Fashiondrips Tips
You can replace vitamin E capsules with vitamin E oil. However, you need to use 100% pure organic oil to heal the skin around your eyes. Also, do a patch test first to make sure you're not allergic to the oil.
Also, Read
How to Use Aloe Vera for Skin- Step by Step Tutorial
28 Amazing Aloe Vera Uses for Your Health and Skin
---
3. Green Tea Bags
---
Benefits: Green tea is rich in astringent tannins and antioxidants. It fades the appearance of fine lines and wrinkles. Moreover, it aids relaxation and heals swelling under the eyes. Vitamin E in green tea makes it work as a perfect hydrating agent. Green tea when applied to the skin under the eyes regenerates new cells and reduces dryness.
How to Use:
a) Dip two green tea bags in hot water.
b) Extract the liquid from the tea bags.
c) Let the liquid cool down slightly so as to use it for a warm compress.
d) Place the tea bags on closed eyes for up to 15 minutes.
e) Do it whenever needed.
Fashiondrips Tips
Avoid using hot tea bags on your eyes as our eyes are very sensitive. While using a hot tea bag remedy, check whether you can tolerate the temperature.
---
4. Shea Butter
---
Benefits: Shea butter has rich moisturizing properties. It is used to treat many skin conditions like psoriasis and eczema. Moreover, fatty acids in this butter help the skin to retain moisture.
How to Use:
a) Mix 2 tablespoons of unrefined shea butter with 2 tablespoons of coconut oil in a glass bowl.
b) Put the glass bowl into a saucepan and heat it on a medium flame to mix the oils.
c) Now, remove the saucepan and let the mixture cool down.
d) Once cooled, put it inside a refrigerator for 1 hour.
e) Beat the oils to make them fluffy using a mixer.
f) Keep this eye cream in a glass container. Store it at room temperature.
g) Apply it every morning and night to keep the skin under your eyes moisturized.
Fashiondrips Tips
Use this homemade eye cream on a wet face to increase its moisturizing and hydrating effect.
---
5. Banana Peels
---
Benefits: Banana peels are packed with many vitamins like vitamins A, B, C, and E. They also have other nutrients like manganese, potassium, iron, and zinc. All these nutrients work together to trigger collagen production, improve blood circulation and heal wrinkles.
How to Use:
a) Scrape out the white fibers from inside of a ripe banana peel.
b) Mix those scrapings with water to create a smooth and thick paste.
c) Gently apply the paste under your eyes where you have dry skin.
d) Wait for 15 minutes. Then, wash it off with normal water.
Just applying the above-mentioned ingredients won't help. Massaging it properly will help you keep wrinkles at bay. At the same time, it will heal dryness under the eyes more effectively.
Watch this video to know how to do eye massage correctly.
Skincare Routine to Overcome Dryness Under Eyes
Sticking to a certain skincare routine is vital to get rid of under-eye dryness. These are some of the factors you should consider to get younger-looking skin for a long time.
---
Get Enough Fluid
---
Your skin needs water to stay hydrated. Drink eight to ten glasses of water every day. People who drink this much of water won't show as many aging signs as those who drink little water.
Also, eat lots of fruits and vegetables to give your body enough fluid.
---
Use a Gentle Facial Cleanser
---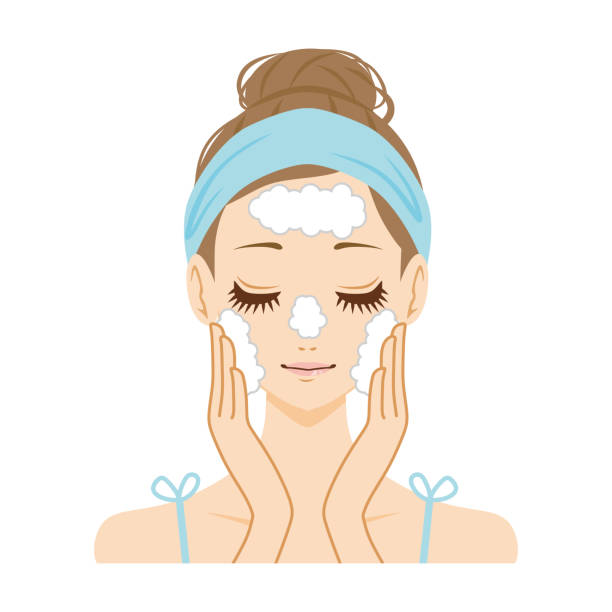 Wash your face twice daily with a gentle cleanser. According to Mayo Clinic, strong cleansers can steal natural oil from your skin. On the other hand, gentle facial cleansers are safe to use around your eyes. It will keep your skin moisturized.
---
Massage with a Cream/Oil After Cleansing
---
Moisturize your skin immediately after cleansing. You can use the oils recommended above or any hydrating cream to heal dry skin around the eyes. Make sure you're applying the cream or oil on damp skin to lock in the moisture.
Some of the oils that are very effective in keeping the skin moisturized are jojoba oil, mineral oil, and almond oil. You can also use glycerin for massaging.
---
Use a Humidifier
---
A humidifier boosts the moisture in your skin. Set up a humidifier near your bed. This setup will keep your skin hydrated while you're sleeping. Using a humidifier is especially recommended during winter as this season is mainly responsible for causing dryness.
What to Avoid To Fight Dry Skin Around Eyes?
---
Avoid Rubbing or Touching Your Eyes
---
Rubbing or touching frequently with unwashed hands can affect your skin. Unwashed hands have germs, which will transfer to the skin under your eyes.
Moreover, rubbing your eyes persistently can make your eyes squint. Squinting sometimes leads to wrinkles.
---
Don't Wash Face with Hot Water
---
Hot water relaxes the tired muscles instantly. But, hot water is definitely not good for your facial skin. Using hot water for washing your face can strip natural oils. Especially, from around your eyes. Hence, deal with this area with extra care.
---
Wearing Makeup Before Sleeping
---
Leaving the makeup overnight can also dry out your skin. Use a cotton pad and a makeup remover to remove makeup. Gently press the pad on your skin and then drag it outwards. Repeat until you get rid of the last traces of makeup.
---
Quit Smoking
---
Smoking adds premature wrinkles. Additionally, regular smoking speeds up the aging process. Therefore, if you want to overcome the dryness of the skin around your eyes, quit smoking.
Foods to Eat to Fight Dry Skin Around Eyes
Foods rich in antioxidants can revamp the dryness under the eyes. Fill your plate with skin-friendly foods. The foods you chose to eat should boost your skin health and moisturize it. Some of the foods to include in your diet are salmon, nuts and seeds, green leafy vegetables, avocado, olives, sweet potato, oat milk, egg whites, and asparagus. You can also consult a dietician to get a customized diet plan.
When You Should Seek Professional Treatment
When the above-mentioned remedies fail to heal the dryness, consult your dermatologist. If the dry skin is interfering with your vision, contact a renowned healthcare provider without delay. Maybe, you need immediate medical attention.
In certain cases, dryness around the eyes becomes painful. Seeking professional treatment can help.