From neutral brown to grey, there are many curly hair color ideas to make your curls Pinterest-worthy. Curls can brilliantly handle bold shades. At the same time, your curls will equally glow in light shades. The choice is yours.
As you know, all curls are not the same. So, if a shade suits your friend's curls, it may or may not suit yours. Generally, hair colorists trained in curls prefer to go with balayage. Balayage highlights make the curls pop while allowing the colorist to color individual curls.
Below, we've shared 25 curly hair colors, in case balayage isn't the color you like.
But, before we proceed, dig into how to choose colors for your curly hair.
How to Choose the Best Curly Hair Colors?
When it comes to coloring your curls, the availability of endless options may baffle you. For your ease, we have discussed some tips to help enhance your curls' beauty by choosing the right shade.
a) Determine Your Skin Tone
Mike De Canter, the Creative Director at Zeba Hair Dressing has created a detailed video on how to choose hair color according to skin tones.
b) Consider Your Curls' Pattern
Coloring curly hair can be a bit tricky. The curls can obscure the color application. Ask your stylist for advice on which colors will work best with your particular curl pattern.
Curly Hair Color Ideas
---
1. Chocolate Brown
---
Image: Source
Chocolate brown hues boost the glossy effect of your curls. This color refreshes your face and reverses your aging clock apparently. You can opt for this color as it will never go out of style and will highlight your curls more. 
Chocolate brown has a rich and warm tone, which flatters any skin tone.
---
2. Jet Black
---
Image: Source
Embrace your existing curls with jet black shade. From shorter cropped to long loose curls, jet black suits almost all hairstyles and skin tones. Definitely, this can be your failsafe bet. Apply hair serum to get more gorgeous curls.
---
3. Brown with a Touch of Red
---
Image: Source
An effortless and smooth hair color trend for curly hair. The brown shade having a tint of red is bright enough to make the passersby envious. Simultaneously, the hue is neutral enough to give your curls a subtle look. And YES, it works on all types of curls.
This shade has the perfect rich deep red color, with added radiance and richness. It is one of those warmer shades which requires less maintenance.
---
4. Rose Gold Highlights
---
Image: Source
If you want to make individual curls stand out, the rose gold highlight is the shade for you. For this reason, the color is very popular among the curlies. When applied, the color will create a dramatic effect that no one can ignore.
Rose gold highlight is one of those curly hair colors which add the right amount of definition to your already textured hair.
---
5. Grey
---
Image: Source
Are you bold enough to carry unnatural grey curls? Go grey. Grey color is not only for hiding the grey hairs that are growing in but also for getting your curls dipped in a shade that's easy to notice. This color will give your face the warmth it needs.
If you don't want to color all your hair grey, use the grey balayage technique. It will look especially good on those having dark hair.
---
6. Caramel Brown Curly Hair Color
---
Image: Source
If you're not ready to change your look drastically, caramel brown for curly hair colors is refreshing. This is a less dramatic color to give a completely natural look to your curls. Effortlessly cool. You can easily make a fashion statement with this caramel brown hue.
---
7. Mix of Blonde and Brown
---
Image: Source
The summertime blonde look? Yes, we love it, especially on the curls. If you're looking for curly hair color ideas, consider this. Blonde mixed with brown best flatters dark skin.  Hold the curls' shape by scrunching a bit of styling cream. However, you can experiment with many other blonde shades available because the blonde hues are for all skin tones.
---
8. Pink Shade for Curls
---
Image: Source
When you're willing to proudly show off your curls, dye them in pink. The pink shade will make your curls look even vibrant and brighter. Use your creative mind and give yourself a makeover. Moreover, this shade will bring back the fun memories of your childhood (the days when you used to be crazy over candies).
---
9. Shades of Honey
---
Image: Source
Honey highlights are exclusively for curlies who want to color hair in small doses. With some brown lowlights and paler highlights, you'll look like a born blonde girl. Finally, your hair will look as if it is getting the glow of the sun always.
---
10. Light and Soft Green
---
Image: Source
Ready to bring a heavy dose of badass to your short curls? Go green. Green is one of the most underrated curly hair color ideas. The green dye job is perfect for those searching for a Slytherin-related fantasy hairdo.
Adventure, bold, carefree, and youth- one color saying many things. Wear it on your curly hair and create a more subtle accent.
Also, Read
21 Short Hair Color Ideas to Refresh Your Look
---
11. Turquoise Ends
---
Image: Source
Turquoise looks damn gorgeous on curls. Whether you're blonde or brunette, aqua ends can be a good option if you're not ready to commit to a full head of turquoise.
Dying only the ends is an age-old method to save time and money while having fun coloring your hair. However, you may have to lighten your curls first, if you're a brunette.
---
12. Ombre Curly Hair with Blonde Balayage
---
Image: Source
Blonde ombre balayage can enhance the brightness of your face. Your long loose curls can be a great canvas for this hair color for curly hair.
If you've natural, dark brown roots, this hairstyle can be easy to upkeep.
---
13. Curly Lavender Hair
---
Image: Source
Want to have some fun with your appearance? A Lavender hue can bring out your playful side. This shade will also add to the shine of your curls.
From highlights to rich vibrant colors, you can choose whatever shade you like in lavender.
Remember to use a curl cream to prevent your curls from getting overdried from the hair color treatments.
---
14. Auburn Curly Hair Color Idea
---
Image: Source
Auburn is the combination of brown and red shades, which will give your curls a sunkissed natural brown color.
This is a vibrant shade. Therefore, you need to take special care of your curls to prevent them from appearing dull after coloring. We recommend you apply scrunch mousse to enjoy frizz-free auburn curls.
---
15. Black Ombre
---
Image: Source
Whatever the type of your curl is, visiting the right curl expert will bring out your best version through the ombre hair coloring technique.
Black ombre is strategically for those having naturally dark hair. You may want to fade your natural black hair into blondes, red, or even brown. This ombre coloring method will make you go from a dark shade to a warm-tone tip.
---
16. Red Highlights
---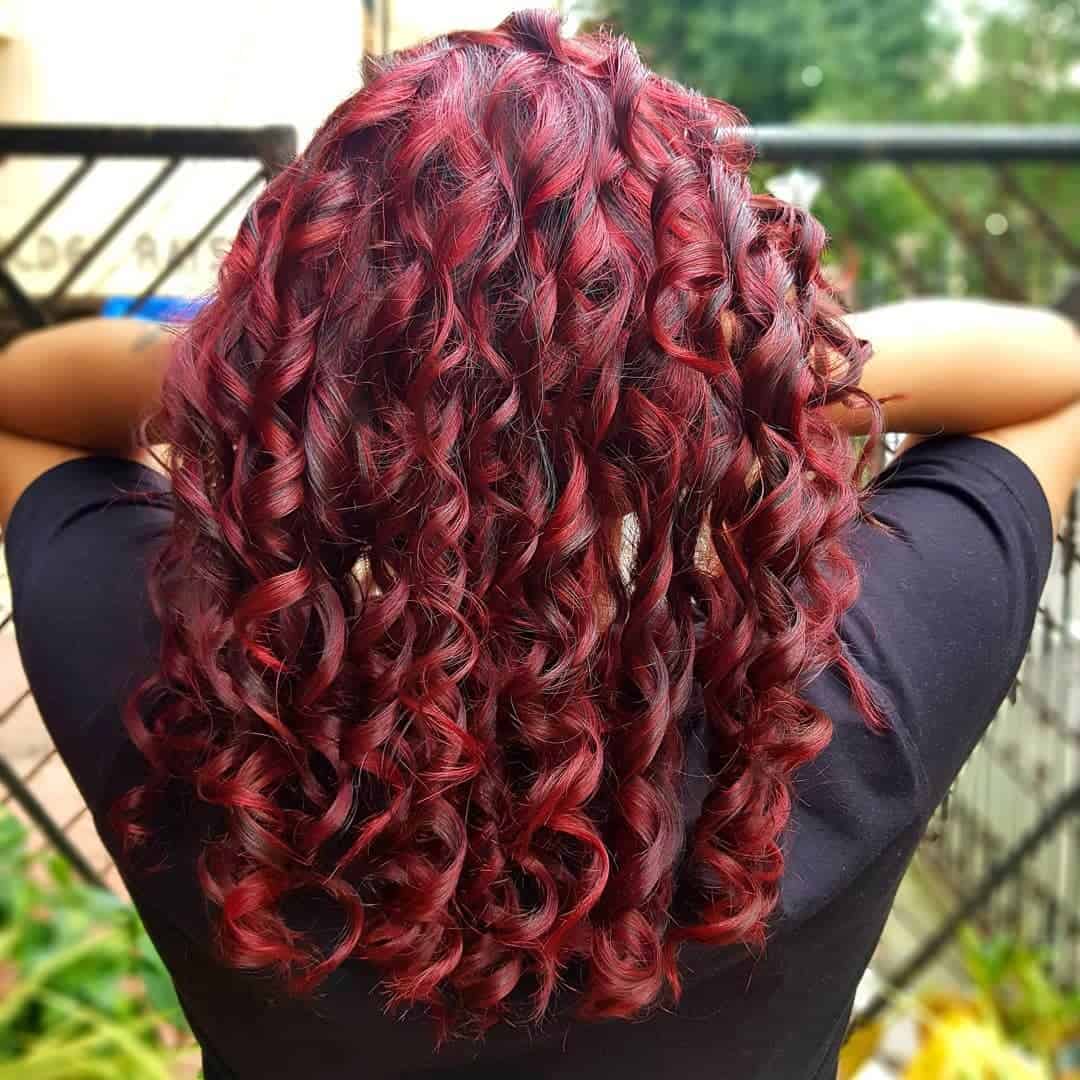 Image: Source
Colorful wavy curly look. Rock the red highlights on your gorgeous curls. It will look stunning especially if you have thick and voluminous hair.
Select a red shade that will complement your skin tone and eye color. If you pick the right shade, it will add dimension and brightness to your curls.
---
17. Color Blocking
---
Image: Source
Color blocking is the technique used to color a big section of your curls to add brightness.
Applying this technique around your hairline will create a bright pop around your face. On the contrary, if you want to color block on the top of your head, it will create a beautiful ribbon effect with a contrasting dimension as the curls intertwine with the coloring underneath. 
---
18. Fiery Red Wine
---
Image: Source
Willing to give your coily hair a fiery look? Try red wine shade. This shade may be matte, but definitely not quite. Whether your skin tone is light or dark, this shade works for everyone.
Go for lowlights and highlights if you want to make your curls look more interesting.
---
19. Golden Brown Highlights for Curly Hair
---
Image: Source
Place highlights sporadically throughout your curls to add shine, texture, and interest. Wear golden brown in small doses to mimic the color that your hair turns to when hit by sunlight. 
---
20. Violet and Midnight Blue
---
Image: Source
Violet at the root and midnight blue at the tips. This color combination will remind you of the galaxy.
Long and curled hair colored like this is perfect for special occasions – weddings, engagements, and birthday parties.
---
21. Sunset Curly Hair
---
Image: Source
Wear the calming colors of sunset on your curls.
Sunset shade isn't a single color. Here, different colors are used. Think orange, red, purple – but it doesn't always involve these colors.
If you're interested to know more about the sunset coloring technique, read this blog.
---
22. Rainbow Curls
---
Image: Source
Rainbow hair is all over Instagram. If you're ready to look outside the common dye box, you might like to consider the rainbow hair color trend.
Here, the pink shade is blended into light blue. The tips of the curls are green.
It is one of those curly hair color ideas, which can give your curls a neat look while creating an ombre effect.
---
23. Auburn and Red
---
Image: Source
This ultra-chic hair color can enhance the personality of your curls. It mainly incorporates warm brown undertones.
The rich pigments of this color combination will add incredible luminosity to your hair while also brightening up the appearance of your skin.
---
24. Dark Purple Curly Hair
---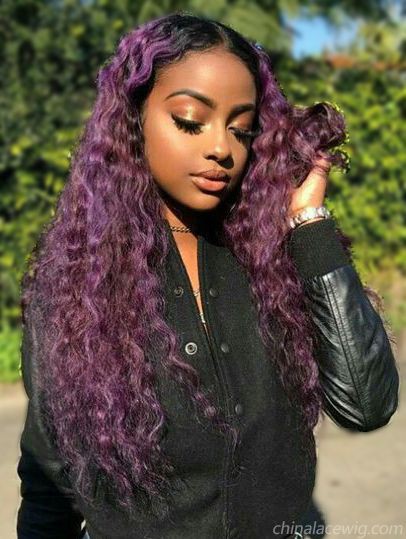 Image: Source
Dark purple is the new shade of the moment. This deep rich shade is a lot easier to wear than other color palettes.
If you have a big natural volume, embrace it with a cool-yet-subtle color to match. This is one of the interesting long curly hair color ideas. You can style it in a variety of ways, but leaving the coils untouched is a look totally worth copping.
---
25. Warm Copper Curls
---
Image: Source
One of the most popular curly hair color ideas. It falls under the category of red hair colors. Any older woman can opt for this color without a second thought.
How to Preserve Colors on Curly Hair?
To make your curly hair color last for a long time, follow these tips.
a) Use a color-friendly cleanser
b) Get a conditioner free from color-distorting ingredients like Stearalkonium Chloride, monoethanolamine, and Aminopropyl Triethoxysilane.
c) After coloring, toss your gels, serums, and creams and opt for a superlight spray styler that delivers silky, frizz-free curls.
Frequently Asked Questions (FAQs)
a) Do Colors Ruin Your Curls?
Curly hair is more delicate and drier than other hair types. If you don't know the right way of coloring your curls, it may cause irreparable damage to the curls.
b) Does Hair Color Loosen Curl Pattern?
Hair colors can make the curls loose. The chemicals in the hair colors loosen the curls' pattern by affecting its elasticity. Once the curls are colored, use lots of hydrating products to restore elasticity.
c) How to Prepare for Coloring Curly Hair?
First of all, use a shampoo to clear all debris build-up on your hair strands. Once shampooed, apply a super hydrating light conditioner afterward. After hair coloring, skip pooing for a few days. Then, go for shampooing with a shampoo having curl-strengthening ingredients.